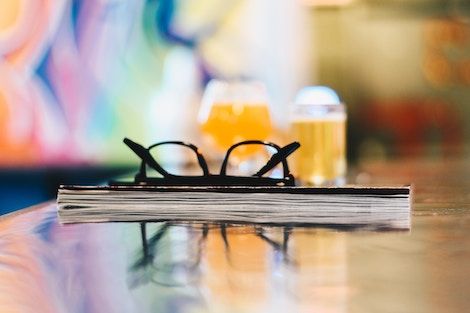 Pop Culture
Dark Books and Dark Beer for the Fall Season
This content contains affiliate links. When you buy through these links, we may earn an affiliate commission.
Many people will shy away from the much cooler weather that will sweep across the country this fall. I, however, welcome it! This could be because I am from South Texas and summers here prove to be like the pits of hell. Indeed I am ready for the dog days of summer to be over. With cold weather comes more opportunities for readers to snuggle up next to a loved one to read a book. This also means more opportunities for adults to sport their favorite PJs and onesies. But I am excited for the fall beers that hit market shelves to welcome the change in weather and season.
I look forward to pairing my next dark beer (Oktoberfest or amber for fall, porter or stout for winter) with Iain Reid's psychological thriller Foe. I am not claiming to know an actual science behind which dark beers should be paired with which dark read. You could pair your favorite dark beer with any dark book, but I have a few book and beer recommendations. Whether you could choose to utilize them or not is up to you. Either way, here they are: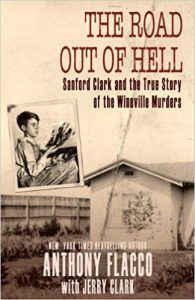 This book is dark, horrific, nearly unbelievable and mesmerizing all at the same time. It was hard for me to read it due to the gruesome details, but it is a read that I feel was worth the near puking sessions. Ever even heard of Wineville, California? If you haven't, that's because it no longer exists. The town changed its name to Mira Loma after the horrific chicken coop murders that occurred there from 1926 – 1928. The movie Changeling is loosely based on the murders/kidnappings of young boys in that town. Without giving away too much detail, Sanford Clark, who was the nephew of murderer Gordon Stewart Northcott, was taken from his home in Canada to his uncle's chicken ranch in Wineville. Sanford and his mother did not have a great relationship, so she willingly allowed her murderous brother (she did not know at the time he was a murderer) to take her only son away to work on the chicken ranch. Only, the chicken ranch was all a front for Northcott's sadistic murder scheme. Boys were lured onto the ranch by Northcott's false promises and were never seen again. Forced by Northcott to take part in the murders, Sanford carried tremendous guilt all his life. Yet despite his youth and the trauma, he helped gain some justice for the dead and their families by testifying at Northcott's trial―which led to his conviction and execution. It was a shocking story, but perhaps the most shocking part of all is the extraordinarily ordinary life Clark went on to live as a decorated WWII vet, a devoted husband of 55 years, a loving father, and a productive citizen. This book is certainly not for the squeamish. It can only be paired with Grimm's Sumi Zest, an imperial stout whose ABV is 11.5%. Good luck getting through this one.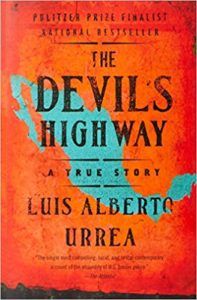 This national bestseller and Pulitzer Prize finalist is the kind of book that will send a cold chill up your spine. Not only is this book true, but it is all the more relevant considering the hot topic of border issues. This true story details the live of 26 Mexican men who attempted to cross into the United States using a part of the Arizona desert known simply as "The Devil's Highway." 12 made it across safely, while the other 14 met their fate in the desolate, blistering desert that has consumed the lives of so many. Their enemies were many: the U.S. Border Patrol (La Migra); gung-ho gringo vigilantes bent on taking the law into their own hands; the Mexican Federales; rattlesnakes; severe hypothermia and the remorseless sun, a 110 degree nightmare that dried their bodies and pounded their brains. Not only do I think this is a fantastic book, one of the best I have ever read, but I think it is also a must-read for those who think that building a wall is the answer. This book will blow you away. Urrea, a well-respected author and member of the Latino Literature Hall of Fame, captivatingly tells how a dozen men squeezed by to safety, and how 14 others—whom the media labeled the Yuma 14—did not. This one should be paired with either Dos XX Amber or Modelo Negra. Either beer will quench your thirst. Enjoy!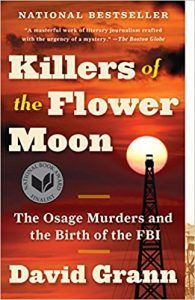 This book was on so many lists of "best books of 2017" that I knew I just had to give it a try. And I certainly was not disappointed. What makes this book dark is the scheme that was hatched by just a few individuals. They schemed to basically eradicate the Osage Nation in the hopes of securing their money. The depths to which those individuals sank to is truly shocking. What many people do not know is that in the 1920s, the richest people per capita in the world were members of the Osage Nation in Oklahoma. After oil was discovered beneath their land, the Osage rode in chauffeured automobiles, built mansions, and sent their children to study in Europe. One by one, members of the Osage nation were being killed. But the family of Mollie Burkhart in particular became a prime target. Why, you ask? You'll have to read to find out. The newly created FBI took up the case and the investigation was led by former Texas Ranger, Tom White. What he uncovered was one of the most chilling conspiracies in American history. This book is a great read that can be paired with any amber, but I recommend pairing it with Prairie BOMB. This Imperial Stout brewed out of Tulsa, Oklahoma has its headquarters located just forty nine miles from Osage County. Is there any other beer that makes sense? I think not. Enjoy!
Beloved by Toni Morrison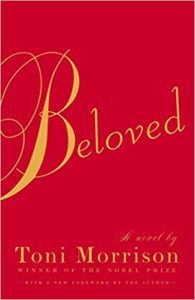 Toni Morrison, respected author, literary critic and professor emeritus at Princeton University, won the Pulitzer Prize in fiction for this amazing book. She is recognized as one of the most influential writers in American literary history. Beloved is a mesmerizing novel that stares into the abyss of slavery. The story's protagonist, Sethe, was born into a life of slavery but eventually escaped this peculiar institution and fled to Ohio. But was she ever truly free? Thoughts of home run rampant and a yearning to return fill her mind. To make things worse, Sethe is haunted by the ghost of her baby. Her baby died with no name and the tombstone was inscribed with a single word: Beloved. This book is filled with suspense and will definitely leave readers entertained. This book should be paired with Bourbon Barrel Champion Ground, an American Imperial Stout brewed by Jackie O's Pub & Brewery of Athens, OH. With an ABV of 12%, this beer is sure to make Beloved all the more entertaining. Cheers!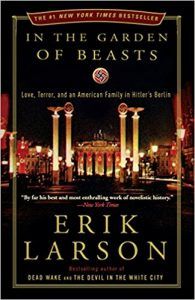 Anything Erik Larson puts out is certified bad-ass. His scholarship is unmatched and he knows how to keep readers engaged. In the Garden of Beasts is the epitome of a dark read because it takes place during one of history's darkest times in one of the world's darkest places: Nazi Germany. Most people during the early 1930's were oblivious to what was occurring in Germany. They heard rumors about the rise of the Nazis and Adolf Hitler but were still left in the dark about what was actually going on. This was not the case for William E. Dodd and his family. Dodd became America's first ambassador to Hitler's Nazi Germany in a year that proved to be a turning point in history. He and his family watch with alarm as Jews are attacked, the press is censored, and drafts of frightening new laws begin to circulate. It was certainly a terrible time for the Dodd's to be in Germany, but they also provided a much-needed first-hand account of an ideology that changed the world. This book is sure to please history buffs. I recommend reading this one while drinking Live Oak HefeWeizen. This beer is considered by many to be the best Bavarian-style HefeWeizen brewed in America.
I hope you enjoy these book recommendations. I also hope you enjoy the much cooler weather heading our way pretty soon. Stay warm, but most importantly, stay hydrated…with beer. Happy reading, and drinking!