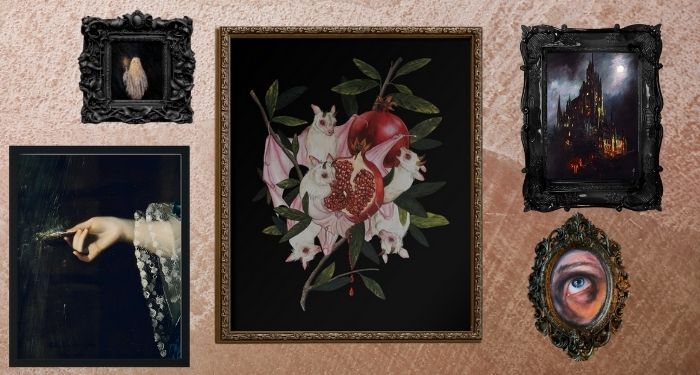 This content contains affiliate links. When you buy through these links, we may earn an affiliate commission.
If you've spent anytime in online bookish spaces you've probably heard of Dark Academia. If you haven't, don't worry, we've got you covered. It's fair to say that this growing trend is gaining popularity because it has become not only an aesthetic, but also a sub-genre in literature that has led to a lot of dark academia art.
As both the literary genre grows, so too does the aesthetic. Dark academia operates with a lot of emphasis on old fashioned and vintage pieces in combination with bookish trinkets. When you start to look you see a lot of people using busts, books, and typewriters to decorate their space with. There's also a huge emphasis on unique pieces of art.
When looking for Dark Academia art you want to keep a few things in mind. You want to look for art that has more muted tones, as opposed to bright sunny colors. A lot of dark academia art has something to do with death — you will find a lot of skeletons —but that's not all that's out there. You can also keep an eye out for art made from a diagram or encyclopedia page. Old maps make wonderful art as well. Don't only look for one type of painting or photograph, and don't be afraid to mix and match styles on your walls.
To help you get started, here are 10 amazing prints that will transform your space into a dark academia oasis.
There is so much more to love about the dark academia aesthetic. Looking for more information? Check out this look at why the aesthetic has maintained and grown in popularity over time.