This content contains affiliate links. When you buy through these links, we may earn an affiliate commission.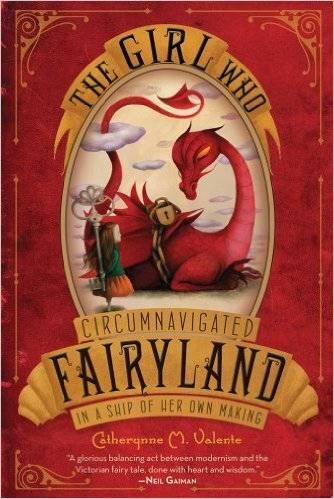 The Girl Who Circumnavigated Fairyland in a Ship of Her Own Making is one of my favorite books; I have quotes from it around my office at work, and I'm planning on re-reading the series this year. (Confession, I haven't read the last one yet because I don't want it to end. I went to a reading and cried my eyes out and fully embarrassed myself.) I started reading the books at a time when there was a lot of upheaval in my life, and I found them full of courage and humor and bravery. Every year I read a new one and held it close, as it seemed to be just for me. When September faced down death, I thought of the losses I had gone through in my early 20s. When she talked about shadow-friends, I thought of people I thought I knew who turned out to be quite different. When she talked about revision and wanting to change the shape of her life, I looked around at my career and thought "I need to be somewhere else. I can move on from this." I did move on to a new path, and part of it was through the magic of fairytales.
After the election, Catherynne Valente published this short story: The Beasts Who Fought for Fairyland Until the Very End and Further Still, and it has stuck with me for the past two months or so. In the past seven or so days, some of the words have been ringing in my ears. Its about three fairytale creatures who are tired and brokenhearted over losing their fight: they want better answers than the ones they have about how the evil Marquess could have won. The Green Wind looks at A-L, (the Wyverary-half wyvern, half library) and explains that she won by telling a story. The story is simple: "Someone has to be at fault. And if you are the hero, it stands to reason that folk who do not look like you or talk like you or like to eat the same things you like to eat must be the villains. After all, the world is easy and simple, is it not?"
I will refrain from quoting the whole story, though I want to, but what it boils down to is the fact that sometimes you have to live in the middle of the story–the part where the dark side wins. In those moments you fight back by saying no to tyranny, by saying no to the insidious idea that some people deserve freedom and others deserve fear.
Its a short piece of work, but one part in particular has stayed with me. It had it posted on my door at work last week:
"We must say Yes to each other. We must say Yes to the needful, to the suffering, to the lonely, to those the Marquess punishes for saying No to her. We must band together, back to back, and say Yes to everyone who lost today, for we are all family now, and our loss is our new last name… But most of all, we must say Yes to the truth and the speaking of it. We must say No to silence."
Fairytales shaped my youth; they taught me that good always wins, and that brave girls just have to be kind in order to conquer. The real world is messier, and sometimes full of loss. Sometimes the story doesn't end the way we want it to, and people suffer. Not everyone makes it out okay in the end. But for the past two months, I've been re-reading parts of this story as a comfort and as a reminder of what I believe, deep down and the hope that we are just in the middle and if enough people say Yes we can make it through to the end together.