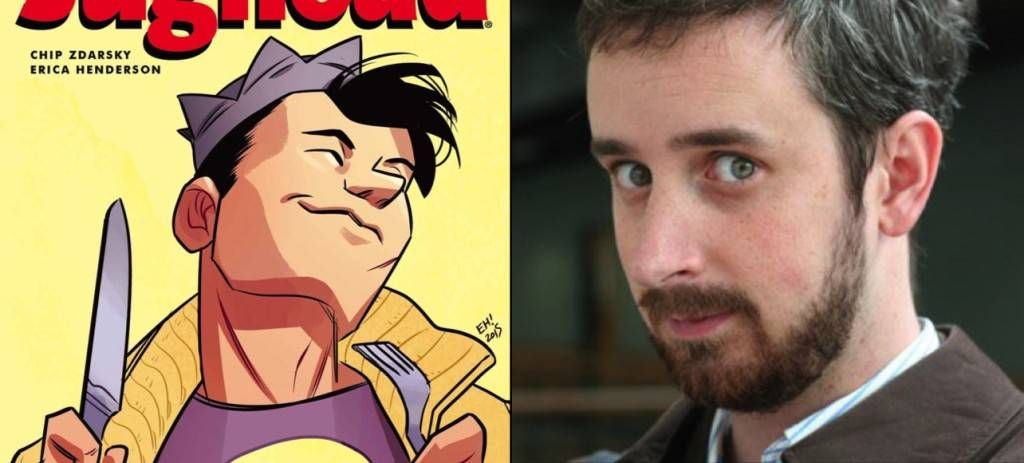 #cuteJughead: A Conversation with Chip Zdarsky about JUGHEAD #1
When the first images of the revamped Archie Andrews were released, the Internet rejoiced. Archie was no longer a goober; dare we say he was, in fact, #hotArchie. Soon after Archie #1 was announced, the people at Archie Comics bestowed with us with another (possibly even better) gift: the announcement of Jughead #1, written by Chip Zdarsky and drawn by Erica Henderson.
Our resident Archie expert, Preeti Chhibber, was in fact so excited that she promptly declared Jughead Jones her new boyfriend (though she knew he could never be hers because, well, Jughead), and coined the hashtag #cuteJughead:
Preeti and I had the chance to talk to Chip Zdarsky about renewing an old favorite character, what he has in store for Juggie, and, of course, #cuteJughead.
SK/PC: What was the most challenging aspect of modernizing an established, beloved character? What was the most rewarding?
CZ: I wouldn't say the modernizing process itself was too challenging. Mark and Fiona have laid the groundwork with the ARCHIE reboot, so that made it much easier for Erica and I to swoop in and just be a part of it and expand the world slightly. A lot of the modernization comes through in the artwork and the fact that Erica is young, even though she has an old person interest in things like the 1989 Batman movie and Tremors. She's got a great eye for youthful fashions and styles which helps a ton. If I were drawing it everyone would have mullets and trenchcoats and grunge plaid.
SK/PC: It really feels like you've modernized Jughead's characterization by giving him a little more snark, and a little less pun. Was it difficult to find a balance between old and new?
CZ: I think his classic voice is still there, but just given more room to breathe with the potential of multi-part stories. But I do want to give Jughead a little room to grow, so I've definitely ramped up his snarky qualities initially! There's a core to Jughead, but enough flexibility that the next writer may play up puns a lot more than I have and downplay his teen snarkiness. It's what happens when you tackle classic characters. My Jughead will be different from Mark's Jughead, but not enough to make people shake their heads and wonder why there are two wildly different Jugheads in these books, hopefully.
SK/PC: What kind of research did you do to prepare for writing Jughead? How many hamburgers did you, in fact, consume?
CZ: The day I got the news I legitimately ate a lot of hamburgers. It just felt right. And then so, so wrong.
I revisited a bunch of classic stories, but also had an advance look at what Mark and Fiona were working on in the main ARCHIE series, so that helped a ton. In issue two we revisit JUGHEAD'S TIME POLICE, something I didn't have a lot of familiarity with, so I went back and read those. Jughead makes out with a future descendant of Archie, so there's not a lot I can do in our book that's weirder than that.
SK/PC: Now that we have Archie and Jughead revamped, who do you want to see next? Dilton? Chuck? Big Ethel?
CZ: Dilton and Chuck make appearances in our series! I'm kind of sitting back to see what Mark and Fiona have in store for Big Ethel before we make her a presence…
I just wrote my first scene with Reggie and I love him. Having a guy be, in a sense, the villain of the piece, but also an essential part of the gang, is such a fun, weird idea.
(Minor Spoiler Alert) SK/PC: In the first issue, you shake up the status quo at Riverdale High. What prompted you to show Mr. Weatherbee the exit?
CZ: I feel like we needed a situation for Jughead to tackle, to shake things up and see where they land and how the gang deals with it. The new principal, Mr. Stanger, is a hard-nosed, rules-oriented guy who instantly clashes with Jughead. There was wiggle room with Weatherbee, but there's no such thing with Stanger and Jughead will feel the repercussions of crossing him.
SK/PC: Did you have specific references to classic Archie you knew you wanted to write in?
CZ: The "alternate universe" Archie stuff! Like SuperTeens, Agents of R.I.V.E.R.D.A.L.E and the aforementioned Time Police! I really wanted to tackle those and have weaved them into the main stories as Jughead's dreams and fantasies.
SK/PC: The Internet erupted when the first images of new Archie surfaced; we called him #hotArchie. Now that #cuteJughead is on the scene, will there be war?
CZ: #CuteJughead doesn't care what you think about him.
SK/PC: You're currently playing both writer and artist roles in the various series you're working on. How does the collaboration process differ, depending on what role you're in?
CZ: Well, so far I've been supremely blessed with amazing artists. Joe on Howard, Kagan on Kaptara and now Erica on this. They're all pros and invested in the final product, which makes everything pretty seamless. Being an artist myself I feel a pang of guilt when I write "Jughead walks into a full classroom," but no one's stormed off their book yet, so I can't be doing too badly.
With Matt on Sex Criminals, we are one weird being made of light and the process is full of surprises and beauty and crying, lots and lots of crying.
SK/PC: Tell us what you're reading and loving right now that you're not seeing enough about in comics press.
CZ: I think the comics press is doing a bang-up job! Good going, comics press!
Trying to catch up on the work of friends is my goal these days, and my friends make some great comics. They're all pretty well covered though! The one I consistently read and champion is Mike Winters's CARTOON MACHINE. It's online and there are a couple of collections available and they always make me laugh.
SK/PC: Any hints on what's to come for Jughead? Will we indeed be seeing more Game of Jones?
CZ: No more GAME OF JONES on the horizon, sadly. But I think everyone will be pretty happy with SLACKBEARD JONES in issue four…
Jughead #1 by Chip Zdarsky, Erica Henderson, and Jack Morelli is available online and in comic book stores on Wednesday, 10/7.