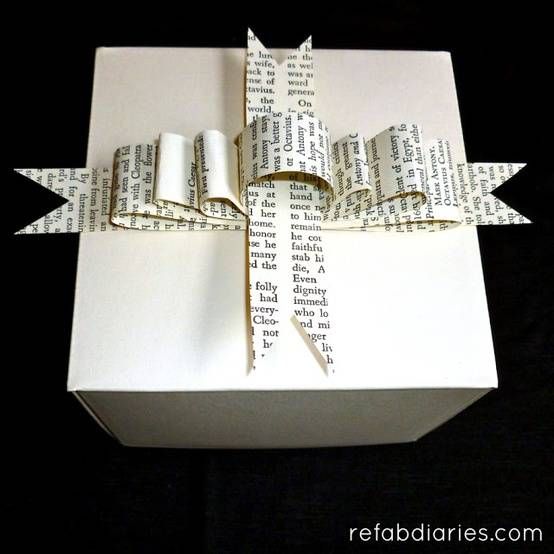 Cute Ideas for Wrapping Books
You went to all the trouble of picking out the PERFECT book (or books) for one of your favorite people on the planet.
And now you're going to wrap that book (or those books) in the most boring way possible?
No, no, a thousand times no! Book Riot to the rescue, making sure your presents look as cute as a boot under the Christmas tree.
WHEN CHILDREN'S BOOKS BECOME WRAPPING PAPER
This easiest-DIY-on-the planet (hole punch, pages from reclaimed kids books, thread, sewing machine [though am sure you could do a looser version of this sans machine]) would be the sweetest way to wrap books for kids…
However, it should be noted that we all know that kids treat wrapping paper like velociraptors treat Jurassic Park scientists (RIP RIP RIP), so this method might be more appreciated by an adult friend who's really a kid at heart. For all the manic pixie dream boys and girls in your life, wrap it up with Madeline and Babar.
STRING THEORY
It's like you're in a contemporary art gallery… or standing in front of an Anthropologie window display…but it's ALSO like you wrapped a book in ab-fab paper and string and it took all of ten minutes and in those ten minutes you won at life.
This blog post includes more great ideas for wrapping books like you are the fanciest princess in the land, including some very well placed peacock feathers.
MATCHY-MATCH-MATCHERSON
I know, I know, I know, this photo is Valentine's Day-themed, but people, you are readers, USE YOUR IMAGINATION. You could easily Christmas this up. How A+ adorable would this be for a couple similar-sized paperbacks that you're planning on giving your best friend?
HAVING FUN ISN'T HARD WHEN YOU'VE GOT A LIBRARY CARD
With the pocket in front covered in doily and ribbon and a cabochon bookmark? Get out of town. Just get out of town. And if you use the library card to write the sweetest message in the world? You are officially your parents' favorite child. Or your girlfriend is officially going to marry you. You officially win and you win hard.
BIRDS OF A FEATHER READ BOOKS TOGETHER
I know that Portlandia sketch made fun of putting a bird on it. But they can't shame me out of putting bird stuff on everything, including wrapped books!
PINWHEELS AND POINSETTIAS
https://www.pinterest.co.uk/pin/536772849311687696/
I have officially been rendered speechless by cuteness. Pinwheel instructions here, poinsettia instructions here.
NEWSPAPER WRAPPING AND MAGAZINE BOW
The best I've seen this idea done. Stop, it hurts so cute. Bow tutorial here.
SNOWFLAKE WRAPPED BOOKS
To quote every eighth grade girl ever, yeah DOY, of course you should wrap your books in snowflakes!
COOKBOOKS IN DISHCLOTHS
https://it.pinterest.com/pin/239816748879708830/
If wrapping a cookbook up in dishcloths and ribbon topped off with a spoon is not the sweetest way in the world to wrap up a cookbook… then I don't know what the sweetest way in the world to wrap up a cookbook is.
WRAP BOOKS IN BOOKS
It's so obvious it's awesome again.
Or use the pages as runner on top of brown wrapping paper– classy times!
This is just awesome. Instructions here. Surprisingly, does not look impossible to recreate, unlike every other cool DIY project on the interwebs.
https://www.pinterest.co.uk/pin/63331938494471186/
And now I need to cover everything I own in book washi tape.
What about you guys? How are you wrapping your books this year???