Crossover Appeal is a weekly feature that challenges the idea that you have to choose a side between YA and adult fiction. Each week we'll feature a book that has been marketed as YA and a book that has been marketed as adult and tell you why everyone should be reading them, no matter what happens to be your comfort zone.
__________________________

YA Books for Adult Lit Readers
The Monstrumologist by Rick Yancey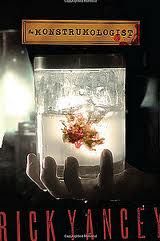 These books received a lot of buzz a month or so back because Yancey's publisher Simon & Schuster pulled the series before it was completed, much to the surprise of Yancey and his fans. Loved by critics and fans, unfortunately, doesn't always translate into money earned and books sold, but all it took was a little controversy to boost sales and push Simon and Schuster to reinstate the series. Like a lot of people, I was drawn to the novels because of the outpouring of love from Yancey's fans.
The Monstrumologist is a series that takes the monsters of your nightmares very seriously, but you won't find vampires or werewolves here. Instead, Dr. Warthrop and his assistant, narrator Will Henry, hunt and study the biology of some truly terrifying beasts, like the horrific Anthropophagi. Will Henry's journals are found by the character Rick Yancey and with every journal he begins to believe in the stories a little bit more. Like all good Victorian ghost stories, you're left wondering if it's all a fabrication of a bewildered narrator, and the story within a story is sure to captivate readers of any age.
Why You'll Love It
Yancey's gore-filled monster stories are filled with historical allusions, Victorian tropes, and enough violent chase scenes to satisfy any reader. If horror's not your poison, you'll fall in love with narrator Will Henry and the mysterious Dr. Warthrop, his caretaker and mentor. I know YA is inundated with series and you're wary to take on another one, but trust me. The Curse of the Wendigo is an even better novel than The Monstrumologist, with Yancey probing deeper into the psychologies of the characters and keeping up with the heart-racing action of the first installment. The Monstrumologist is a smart and thrilling series that, above all, is a joy to read.
__________________________
Adult Books for YA Lit Readers
World War Z: An Oral History of the Zombie War by Max Brooks
Keeping with the monster theme, this is a story that features some beasts you're probably a little bit more familiar with. Even though this book is a little bit older, with the filming started on a movie slated to come out in 2012, starring Brad Pitt no less, this one's going to get big again. If you're not suffering from Kit's zombie fatigue, this is the one zombie novel that I think you need to read.
Zombies have come and gone and we're left with a world full of people who have stories to tell about their experiences during the zombie war. Of all the novels and films that take zombies seriously, this one does it with a precision that is absolutely terrifying. By the end, you'll believe zombies could be real and you'll know exactly how it will pan out if they are.
Why You'll Love It
World War Z's strength, in my mind, is its story structure. Like Yancey in The Monstrumologist, Brooks makes an appearance as a United Nations Postwar Commission interviewer, but like all good interviewers, he fades into the background for most of the story. The novel is comprised of a collection of interviews from around the world and is impeccably researched, relying heavily on real-world disaster scenarios and politics. But what is most captivating about World War Z are the human stories of tragedy, terror, frustration, greed and, finally, hope. If you're a fan of apocalyptic or dystopian fiction, you will find a lot to love here. If name-dropping those genres doesn't make you want to get out and read World War Z, then maybe the character element will. Though these interviews are structured like connected short stories that feature different characters facing the same obstacle, Brooks does more with some of his characters in ten pages than some authors take entire novels to accomplish.