Crossover Appeal is a weekly feature that challenges the idea that you have to choose a side between YA and adult fiction. Each week we'll feature a book that has been marketed as YA and a book that has been marketed as adult and tell you why everyone should be reading them, no matter what happens to be your comfort zone.
__________________________
YA Books for Adult Lit Readers
The Knife of Never Letting Go by Patrick Ness
Plot summaries of The Knife of Never Letting Go, one of my favorite YA reads of the last few years, are difficult at best. No short paragraph can describe how awesome this novel truly is. If you trust me at all, get yourself to a bookstore and buy it without knowing anything else. If you need a plot summary, here's the best I've got: Todd Hewitt can hear the Noise, just like all the other men in his town. No one's thoughts are private – they all make up the loud cacophony that the local men call simply the Noise. One day, Todd stumbles upon something he hasn't seen in years – a girl, who somehow survived the mysterious disease that brought on the Noise, a disease that only killed women.
Why You'll Love It
The Knife of Never Letting Go is, without a doubt, one of the smartest, most harrowing, and interesting novels I've read in years. This science fiction, dystopian young adult novel is fast-paced, but emotionally driven. Todd, on the verge of becoming a man, has the rug completely ripped out from under him as he discovers that nothing is as it seems in his town or his world and the reader takes that journey right along with him.
Adult Books for YA Lit Readers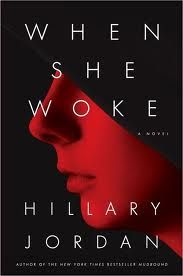 When She Woke by Hillary Jordan
Hannah Payne was a pious girl, devoted to her church and her family, but when we first meet her she is waking up in prison, accused of murder. Her skin is dyed red, the color of murderers, as part of a program that allows convicted criminals to walk to the streets advertising their crime. Hannah's crime? She had an abortion in a not-so-distant future that treats it as one of the worst crimes you could commit. When Hannah re-enters society as a Red, the common term for murderers like her, she realizes that nothing is ever quite as simple as she imagined before she became a Chrome.
Why You'll Love It
Even though this wasn't my favorite dystopian of 2011, it holds its own and would be a great read for folks who prefer YA over adult literature. When She Woke is an exciting, fascinating story about one girl's awakening that also shines a light on our own society. Based on The Scarlet Letter by Nathaniel Hawthorne, Jordan reinvents the story of a girl on the fringes of society who has been publicly shamed because of her society's stringent norms. At the very least, When She Woke will give you something to think about, but it's also a novel I read in one sitting, unable to turn away.
__________________________
Leslie Fannon is a blogger, crocheter, graduate student and, most recently, an assistant at a publishing company. She writes about poetry, graphic novels, and Spanish literature at Regular Rumination. Follow her on Twitter: @lulu_bella