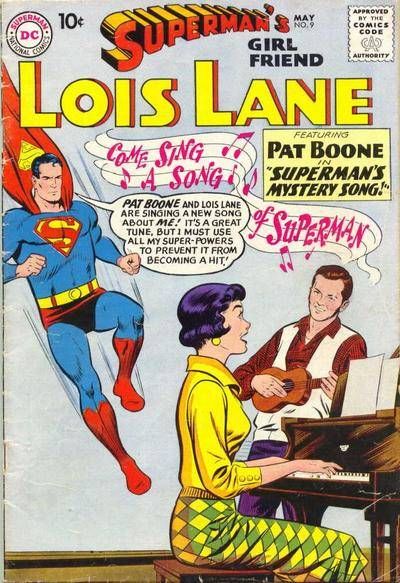 Crossing the Streams: Pat Boone and Lois Lane
Here at Crossing the Streams, we check out those moments when characters who don't normally interact suddenly do.
We've all got our little things that we love to pieces. For some people, that's the soap operas they grew up watching. For others, it's a series of novels set on the continent of Westeros. But for Lois Lane, it's two things: Superman and crooner Pat Boone. When those two obsessions meshed in 1959, Lois Lane was never happier.
"Superman's Mystery Song!" opened with Lois Lane inviting Clark Kent over to help her donate some books. It was a thinly veiled excuse for Lois to show off her massive Pat Boone fangirl collection, which featured not only all of the singer's records but also every novelty piece of memorabilia Lois could get her hands on. Instead of displaying everything in an attractive way, Lois took to simply piling it all on top of each other. If Clark was concerned about Lois's hoarding ways, he kept his mouth shut.
Soon, Perry White got wind that this Pat Boone character might help sell some newspapers. So, he sent Clark Kent to a Pat Boone concert. The music critic must have been out that day so Clark was called in to pinch hit. Luckily, Clark knew a thing or two about music but even the indomitable will of Superman couldn't resist the sweet sounds of "Tenderly" sung by a golden-throated 25 year-old Pat Boone.
Considering Boone was known mostly for slow ballads, I'm not sure how he managed to bring grown men in suits to their feet in such rapture but such is the mystery of the mighty Pat Boone. I'm assuming Lex Luthor used a hypno-ray tied to Boone's voice or something. It's really the only thing that makes sense.
Anyway, Superman soon helped Pat Boone escape from a mob of devoted fans by bringing him to the Daily Planet. There, Boone spotted the Planet's staff rehearsing for their annual office party. Perry White was blowing dozens of smoke rings, Jimmy Olsen was juggling, and Clark and Lois sang a song. Boone quickly shoved Clark aside and said he wanted to sing a song with Lois about Superman. Lois, who always thought of Clark as the Bernie Taupin to her Elton John, suggested her mild-mannered co-worker write the lyrics.
Instead of pointing out that he wasn't really trained in the art of pop music, Clark quickly got to work. He brainstormed and wrote well into the night while trying to strike a balance between talking about how great Superman is and not tooting his own horn too loudly. When he woke up early the next day, inspiration struck and he wrote down the following lyrics.
I mean, it was no worse than any of the lyrics found in It's a Bird… It's a Plane… It's Superman.
Then, Superman began an epic freak-out. He decided that Pat and Lois couldn't sing that song together on Pat's show (which was a real thing awkwardly named The Pat Boone Chevy Showroom). So, he began using his godlike powers to disrupt the live television feed. When Pat and Lois were booked to sing the song at the Gotham State Fair, Superman again intervened and shut the pair in a soundproof bubble. Finally, at a sold-out concert, Superman blew in a thunderstorm to drown out the song.
These were all acts of unimaginable dickery. Here was Lois Lane fulfilling an issue-long dream to sing with Pat Boone in front of an audience and Superman was mucking it up each and every time. Near the end of the story, he finally revealed to the reader why he was doing this: The lyrics secretly contained the words "Clark Kent" in it. When reading the first letter of each line, "Clark Kent" is revealed. In his early morning haze, Superman didn't realize what he was doing when he wrote the words. He was sure this would give away his secret identity.
But this explanation makes no sense. It was known that Clark Kent wrote the lyrics to this song. It would have been a perfectly acceptable explanation for Clark to say, "In a moment of weird hubris, I hid my name in the song." No one would ever assume that Clark Kent was Superman just because he hid his name in the song he himself wrote! Apparently, Superman was hit with a bout of super-paranoia.
Also, this explanation explains why Superman disrupted the first time Lois and Pat attempted to sing the song together, but not the next two times. Realizing the problem, Clark could have submitted new lyrics to the song while giving some sort of flimsy excuse. The second and third times Lois and Pat sang together happened days and even a week after the first. He had plenty of time to write new lyrics if it meant that much to him. But no, it made more sense to mess with Lois and her wonderful dream of song.
In the end, Superman told Pat to switch out the lyrics and he did. So, Lois and Pat sang the new, modified version of the Superman Song on the next episode of The Pat Boone Chevy Showroom.
After this little mini-adventure, Lois Lane never again mentioned her Pat Boone obsession. I'd like to think that Lois assumed Superman hated the singer after he disrupted several of Boone's musical performances for no reasonable explanation. I imagine she kept these thoughts to herself and only wrote her concerns about Superman's unknowable actions in her Pat Boone diary which she kept beside her Pat Boone lamp and never again brought up the singer's name for fear of Superman's wrath. Superman could stop her from singing everywhere but in her true heart.
____________________
Follow us on Facebook for more comics fun.