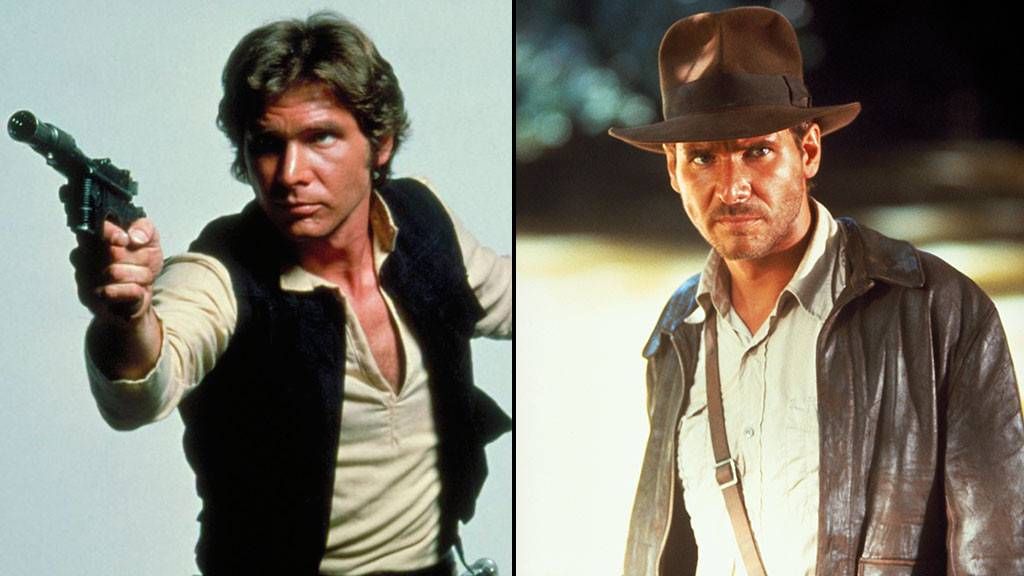 Here at Crossing the Streams, we check out those moments when characters who don't normally interact suddenly do.
Harrison Ford has many memorable film roles in his career. Rick Deckard in Blade Runner, the president in Air Force One, and that guy who was the fugitive in The Fugitive have all been played by the former carpenter. But his two most iconic roles, those of Han Solo and Indiana Jones, made him legendary. Though those characters were both created by George Lucas, they only shared a single story together and it was found in the pages of a comic book.
Star Wars Tales was a short anthology series originally published by Dark Horse Comics which detailed small side stories dealing with characters in the Star Wars Universe. Some were more canonical than others, though all of them currently have the designation of being "Legends," along with the rest of the former Expanded Universe. In the nineteenth issue of this series was a story whose non-canonical nature was more evident than most of its peers.
The 10-page story "Into the Great Unknown" opened simply enough. Han Solo and Chewbacca were in the Millennium Falcon where they were being pursued by TIE fighters. The duo needed a quick escape. Without time to plug coordinates into the navicomputer, Han and Chewie randomly jumped to hyperspace.
When they exited hyperspace, a caption read "No longer far, far away…" After drifting for a bit, the Millennium Falcon came upon a very familiar planet.
The damaged Falcon made a crash landing in a spot that reminded Han of Endor. The smugglers got out to explore their surroundings in a location that looked an awful lot like the future Redwood National Park.
Soon, Han and Chewie met the local population who responded less than kindly to the strangely dressed human and his giant, hairy friend. The fact that these two had fallen from the sky probably had a lot to do with it too. While Chewbacca was able to take their party out, the natives' arrows found purchase in Han. He implored Chewie to take him back to the Falcon, where he died from his wounds while sitting in the cockpit.
Chewie's anguished wails reverberated through the forest where its indigenous peoples took to calling the Wookie "Sasquatch".
Another caption box jumped the action forward a full 126 years. An adventurer working for a museum ventured into California looking for the Bigfoot which locals claimed had lived there for generations. A guide showed him to the spot where the creature was usually heard. There, the adventurer and his young associate discovered the Millennium Falcon. After climbing inside, Han Solo's body was found.
It's clear that these two characters are Indiana Jones and his sidekick from Indiana Jones and the Temple of Doom, Short Round. Neither name is spelled out fully, but nicknames for both are used.
The adventurers declined to continue hunting the Sasquatch and readers were shown that Chewbacca was still alive, roaming the earth alone.
Indiana Jones and Han Solo share only two panels together and, unfortunately, Han is dead when it happens. It's not the crossover fans were demanding but it's the only one they got. Han and Indy never got to fight back-to-back against Nazis and Stormtroopers. They never got to woo ladies together. They never got to share compliments about how handsome each other were. No, they just got to meet here in this one very sad and lonely story.
Disney now owns both of these characters. Will they ever crossover again in the future? I tend to believe it's only a matter of time. And maybe next time it won't be quite so depressing.
––––––––––––––––––––––––––
Join us for Book Riot Live this November—hang out with people who love books, comics, and geeking out!