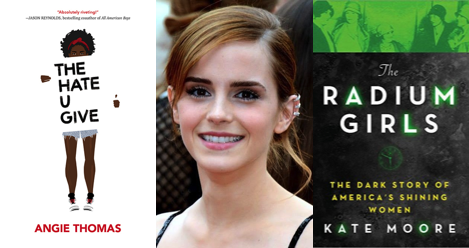 Emma Watson Picks THUG and THE RADIUM GIRLS for Book Club: Critical Linking, May 7
Today's Critical Linking is sponsored by Everywhere You Want to Be by Christina June, Blink YA Books.

---
If you haven't been reading along with Emma Watson's feminist book club Our Shared Shelf, it looks like this summer is the perfect time to join up. Because it was just announced on the Our Shared Shelf Goodreads page that the picks for May/June are Angie Thomas's stunning YA novel The Hate U Give, and Kate Moore's nonfiction release, The Radium Girls — and both of them need to be stacked on your summer TBR right now.
---
JR.R. Tolkien, author of The Lord Of The Rings, and C.S. Lewis, creator of Narnia, once attended a New Year's Eve party dressed as polar bears. It wasn't even a fancy dress party.
Would read this book of unusual literary facts about Britain's literary greats.
---
Just got verification, I am the first African American author to win book of the year at the James Beard Awards. I am also one of only two non cookbooks to win BOY. Wow. #jbfa pic.twitter.com/po6oYhAxbi

— Michael W. Twitty (@KosherSoul) May 2, 2018