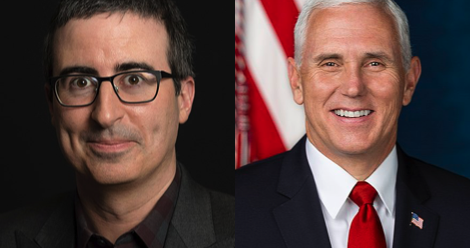 John Oliver Challenges Mike Pence With Parody Children's Book: Critical Linking, March 20
Today's Critical Linking is sponsored by Flatiron Books, publisher of Sometimes I Lie by Alice Feeney.

---
In an effort to blunt the potential success of the Pences' book—but also to highlight the vice president's extreme views—Oliver unexpectedly announced the release of his own book, available immediately via PDF, titled A Day In The Life Of Marlon Bundo which tells the story of a White House rabbit who falls in love with another rabbit called Wesley and how, despite the odds and bigotry, they marry.
There's also an audio version of A Day In The Life Of Marlon Bundo.
---
Readers, writers and editors of romance books are grappling with the genre's record on diversity, after a week where a report found that books by authors of colour were on the decline, an imprint specialising in diverse romances closed, and another publisher was forced to apologise for telling a writer they avoided putting people of colour on book covers because they didn't sell.
Keeping track of all the bad news coming out of Romance lately is a full-time job.
---
For more than a year, PBS NewHour reporter Elizabeth Flock had wanted to start a book club. Her audience loved reading, and Flock wanted to use discussions around topical books as a way to form a tighter-knit NewsHour community. After considering several options, PBS reached out to Pamela Paul, the editor of The New York Times Book Review, and together they launched the Now Read This Facebook group in January, 2018.