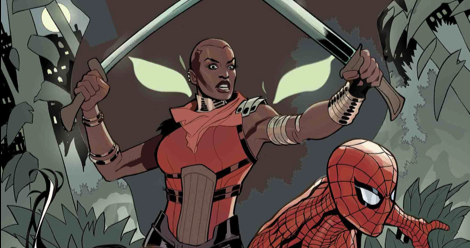 Nnedi Okorafor Will Write WAKANDA FOREVER: Critical Linking, March 19
Today's Critical Linking is sponsored by Flatiron Books, publisher of Sometimes I Lie by Alice Feeney.

---
In Wakanda Forever: The Amazing Spider-Man, the Dora Milaje are finally getting their own arc, with Okoye, Ayo, and Aneka headed to New York to investigate a threat to national security, and connecting with Peter Parker in the process. Written by acclaimed sci-fi and fantasy author Nnedi Okorafor, with illustrations by Alberto Jiménez Alburquerque and Terry Dodson, the three-part comic will shed new light on the heroes who have become fan favorites.
---
Board members tapped the candidates one by one, like pledges to an exclusive club. They were asked to submit memos and then summoned for 45-minute sessions in the riverside townhouse. The search committee, which includes novelists Mona Simpson and Jeffrey Eugenides, presented fairly conventional questions (e.g., which Review story they liked best, and why) — without revealing what they're actually looking for in a successor to Stein. "It sounds a bit like being brought before a tribunal," says one friend of a candidate. "It seems there was some theater of power." Interviewees were told they'd hear more in a few weeks.
Investigating the Paris Review's search for an editor to replace Lorin Stein, who resigned amid sexual-harassment allegations.
---
This week, publisher Grove Press announced that 39-year-old Lisa Brennan-Jobs is bringing out a book, "Small Fry," about growing up with the late Apple cofounder and her mother, artist Chrisann Brennan. The Associated Press reports it will be released on September 4, 2018.