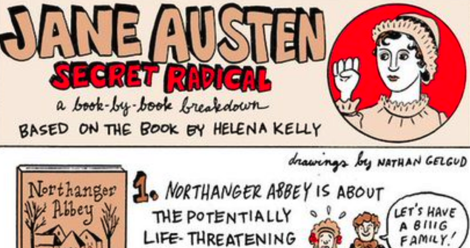 A Closer Look at Jane Austen in a Literary Infographic: Critical Linking, July 9
Today's Critical Linking is sponsored by Flatiron Books and I'm Not Missing, the YA debut from Carrie Fountain.
---
Helena Kelly's closer look at Austen in a brief infographic. @AustenQuotes @Austenprose @JaneAustenLIVES @pemberleydotcom @MsAshtonDennis pic.twitter.com/A9nmkEtgou

— Jane Austen Centre (@JaneAustenBath) July 5, 2018
I can't resist a good bookish infographic!
---
Our recent research indicates so. We found that three rare books on various historical topics in the University of Southern Denmark's library collection contain large concentrations of arsenic on their covers. The books come from the 16th and 17th centuries.
---
Most of the talk here at the show among graphic novel supporting librarians was the proposal to start a Graphic Novel Roundtable. upgrading the current interest group to a full fledged mini organization within the ALA. I know this is esoteric library talk, so here's the layperson's version.
Today the ALA's governing council approved the roundtable. That means within the library structure, much much more can be done in the future for graphic novels, including (potentially) awards, events, guests and much much much more.