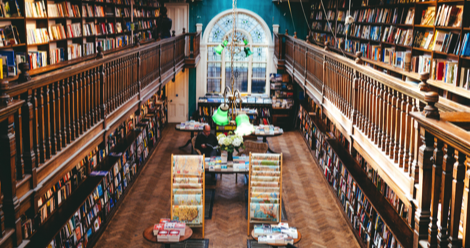 Grandma Gets Locked in Bookstore Overnight for Her Birthday: Critical Linking, January 10
Sponsored by HMH Teen, publisher of Meet Cute.
---
According to their blog post, Greyling turned 60 on Sunday, 7 January and saw her wish granted at the Hyde Park store, where she was surprised with a pop-up bedroom, snacks and drinks, and the freedom to roam the store all night, browsing and reading to her heart's content.
Locked overnight in a bookstore–living the dream.
---
They trio take their job seriously. From the onset, they had a clear vision for their curatorial work. In an interview with racked.com, Chisom says, "My aunt's always been hopeless with social media…[My sister and I] wanted to have a say in which pictures were posted because some of the pictures she liked looked really, really dodgy to us." Adichie needed the help. And they answered the call.
Chimamanda Ngozi Adichie's nieces to the rescue! And curating fashionable pieces made by Nigerian designers.
---
Hansen said that he first saw the spike in sales late last week when, after joking about his book doing well he decided to check. Upon doing so he saw that it had shot up three Amazon bestseller lists. Hansen said he doesn't currently know just how many copies of his book moved but will know how much his book gets when he gets his royalty check next month.
People are mistaking a WWII book with the White House tell-all Fire and Fury, sending it up Amazon bestseller lists…