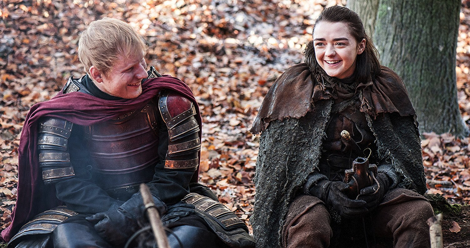 [UPDATE] Maisie Williams Denies Reports of GoT Premiere Date: Critical Linking, January 31
Enter to win your very own library cart (in your favorite color!) Click here, or on the image below to enter:
---
Arya Stark herself said, "We wrap in December and we air our first episode in April [2019]. That's a four-month turnaround for these huge episodes."
Next question: will The Winds of Winter be out by then?
*Correction–Williams has denied reports that she let slip the premiere date.
---
George R.R. Martin has created the Worldbuilder Scholarship for budding science fiction and fantasy writers, which will pay for tuition, fees and lodging for a six-week intensive in Seattle known as the Clarion West Writers Workshop.
Calling all budding (and in need) SFF writers…who can take six weeks off work!
---
Like an avid Instragrammer—or like my mother and probably yours—Woolf kept careful record of her life in photo albums, which now reside at Harvard's Houghton Library. The Monk's House albums, numbered 1-6, contain images of Woolf, her family, and her many friends, including such famous members of the Bloomsbury group as E.M. Forster (above, top), John Maynard Keynes, and Lytton Strachey (below, with Woolf and W.B. Yeats, and playing chess with sister Marjorie).