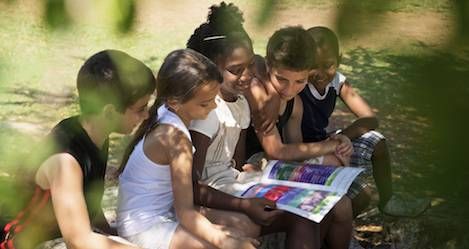 One Million Moms Condemns Scholastic for Books About Transgender Kids: Critical Linking, January 17
Live your best bookish life with a calendar of upcoming book releases, exclusive podcasts and newsletters, and Insiders-only giveaways. Join Book Riot Insiders!

---
In a post on its website, One Million Moms took particular issue with one book, George, a chapter book intended for kids in grades 3 to 7. Written by the queer activist and author Alex Gino, George tells the story of a transgender fourth grader. The 10-year-old hopes that by playing Charlotte in her school's upcoming production of Charlotte's Web, she'll finally get her parents and teacher to look past the gender that was assigned to her at birth and accept her as a girl.
Apparently, children should be protected from diversity.
---
The Pulitzer Prize-winning author, whose books include The Brief Wondrous Life of Oscar Wao and This Is How You Lose Her, is making his first foray into children's writing with Islandborn. The picture book celebrates cultural diversity in the U.S. and poses questions about identity and belonging, as Díaz tells the story of a young girl's imaginary journey back to her birthplace: "The Island."
Junot Díaz announced tour dates for his first children's book!
---
On Saturday, A widely-shared tweet from Sara Benincasa, a screenwriter and author, called for a journalist to "very seriously" ask Trump "his opinion on our nation's relations with Wakanda"—the fictional country from Marvel's Black Panther comics.