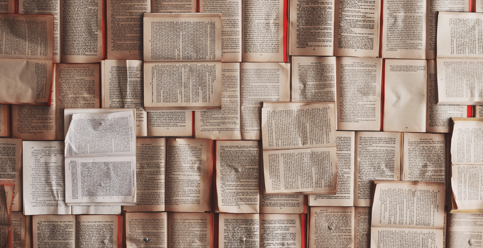 How to Use Bibliomancy to Divine Advice From Your Books: Critical Linking, April 4
Wishlist upcoming releases you're dying to read. Get exclusive podcasts and newsletters. Enter to win swag. Do it all when you join Insiders — and between April 15 and 30, you can get a free 2-week trial for Novel Monthly or Annual!
Subscribe to Book Riot Insiders!

---
Stand the book up on its spine.
Ask your question.
Let the book fall open to a random page.
With your eyes closed, place your finger on the open page.
The passage on which your finger lands contains your answer.
---
Wu Ming-Yi was put on the long list for the Man Booker international prize this month and posted the news on his Facebook page. "Even though this is only the first stage of the long list, I am extremely honoured to be on it and even more so given that my nationality is listed as Taiwan. I hope this novel will allow readers to see Taiwan's history, view, and spirit."
Top authors make mass call on Man Booker to drop American writers.
A little over two weeks later, his nationality, as described on Man Booker's website, was changed in line with Beijing's stance that the self-governed island almost 200 miles (320km) east of mainland China is part of China.
Man Booker said it was "seeking clarification" on the UK's official position on Taiwan…
---
Lydia Valledor, the Café Zoetrope's general manager, says the dispenser has been a huge hit since it was installed a year and a half ago. "I love the idea, especially for us," she says. "[We're] all about art; we have a lot of art on our walls. We also have Mr. Coppola's magazine, Zoetrope: All-Story, which is a short story magazine. So [the dispensers are] very related to our place." Valledor adds that the dispenser comes in handy since the café tries to encourage patrons to stay off their phones and digital devices. "When people ask [if] we have wifi for the kids, we point to the machine and say, 'No, but you have a story—you can read.'"