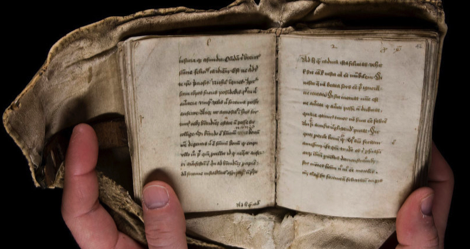 Would You Wear a Book on Your Belt? The Girdle Book: Critical Linking, April 23
We're giving away 15 of the best mysteries and thrillers of the year so far. Click here to enter, or click the image below:

---
Girdle books had to be small, and they had to be light. From the bottom edges of their bindings extended an length of leather, usually gathered into a knot at the end. This extension of the cover could be used to carry the book like a purse or could be tucked into a girdle or belt. To read, the owner wouldn't even have to detach the book; when taken up, the book would be oriented correctly, just as if it had been pulled from a shelf.
As long as it doesn't end up looking like a fanny pack.
---
Amazon is getting into the Gillian Flynn business. It was announced today that the studio will go ahead with Utopia, a drama from Flynn that is based on a British series of the same name. They've also signed an overall development deal with the Gone Girl author.
I will watch/read anything she creates.
---
I've heard separately from several people in the book world that Barnes & Noble has confirmed that they will be adding a standalone kids graphic novel section to their stores in the near future.