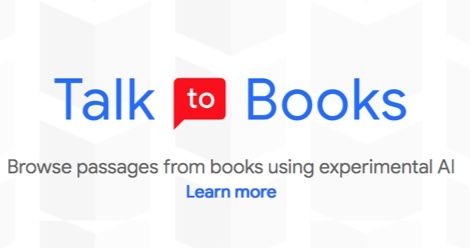 Google's New Search Tool Scans Thousands of Books to Answer Any Question: Critical Linking, April 17
Today's Critical Linking is sponsored by The Myth of the Nice Girl by Fran Hauser.

---
Type a question into "Talk to Books," and AI-powered tool will scan every sentence in 100,000 volumes in Google Books and generate a list of likely responses with the pertinent passage bolded.
Talk to Books will tackle any query you have, however trivial, esoteric, or abstract.
---
"'Tiddely what?' said Piglet.' (He took, as you might say, the very words out of your correspondent's mouth.)
'Pom,' said Pooh. 'I put that in to make it more hummy.'
And it is that word 'hummy,' my darlings, that marks the first place in The House at Pooh Corner at which Tonstant Weader Fwowed up."
Ouch, Dorothy Parker. And more famous authors who dissed classic works of literature.
---
Many of the journals have also created a supportive network for new writers sharing their experiences of 21st century Africa. Kwanini, which published Wainaina's essay, is the print publication of the Kwani Trust. The trust began as an email chain to the question, "Are Ngugi wa Thiong'o and Meja Mwangi the only writers Kenyan publishers are interested in?"
On literary journals offering Africans a space to "write back" at global culture.