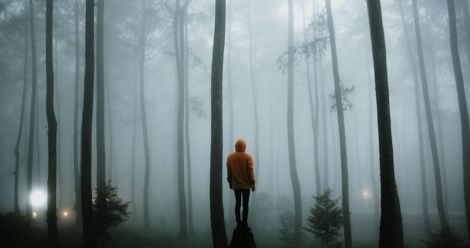 Horror
Halloween Withdrawal? Snuggle Up With These Creepy Autumnal 2018 Books
This content contains affiliate links. When you buy through these links, we may earn an affiliate commission.
Halloween is over, but you're still craving for a spine-tingling read? No worries, this November all you need to bring back the Halloween vibes is to cozy up with your favourite hot drink and one of these seriously spooky reads.
Melmoth by Sarah Perry
The writer of the critically acclaimed The Essex Serpent is back with another haunting Gothic novel.
It has been years since Helen Franklin left England. In Prague, working as a translator, she has found a home of sorts—or, at least, refuge. That changes when her friend Karel discovers a mysterious letter in the library, a strange confession and a curious warning that speaks of Melmoth the Witness, a dark legend found in obscure fairy tales and antique village lore.
Whether you want an unsettling autumnal read or a compelling piece of literary horror, this book will satisfy your craving and keep you hooked till the very last page.
Foe by Iain Reid
If you are a fan of Black Mirror and David Lynch movies then this subversive mind-bender is for you.
In the near-future, Junior and Henrietta live a comfortable, solitary life on their farm, far from the city lights, but in close quarters with each other. One day, a stranger from the city arrives with alarming news: Junior has been randomly selected to travel far away from the farm…very far away. The most unusual part? Arrangements have already been made so that when he leaves, Henrietta won't have a chance to miss him, because she won't be left alone—not even for a moment.
An ingenious work of psychological horror, Foe will disturb and shock you with its eerie blend of existential dread and atmospheric thriller.
No horror books list is complete without the mention of Stephen King.
This creepy story is set in King's favourite Castle Rock and is about a man whose mysterious affliction brings a small town together—a timely, upbeat tale about finding common ground despite deep-rooted differences.
A surprisingly charming fairytale, this is a perfect comfort read for cold nights.
A vivid Victorian gothic tale from the acclaimed writer of The Silent Companions.
Dorothea and Ruth. Prison visitor and prisoner. Powerful and powerless. Dorothea Truelove is young, wealthy and beautiful. Ruth Butterham is young, poor and awaiting trial for murder.
This is an atmospheric and chilling mystery about womanhood with a supernatural edge.
Shortlisted for the Man Booker International Prize 2018, this award-winning novel is by far one of the best books I have read this year.
From the rubble-strewn streets of U.S.-occupied Baghdad, the scavenger Hadi collects human body parts and stitches them together to create a corpse. His goal, he claims, is for the government to recognize the parts as people and give them a proper burial. But when the corpse goes missing, a wave of eerie murders sweeps the city, and reports stream in of a horrendous-looking criminal who, though shot, cannot be killed.
Lacerating satire, macabre horror, and surrealism combine in this ingenious tale of speculative fiction.
From the bestselling author of The Hatching series comes another spooky thriller. A family moves into a home equipped with the world's most intelligent, cutting-edge, and intuitive computer ever—but a buried secret leads to terrifying and catastrophic consequences.
Classic haunted house tale meets Black Mirror in this addictive read.
Billed as "Dexter meets Secretary", this is a wicked and subversive read.
Claire studies forensic science, Victor is the Gentleman Killer. Subverting expectations, Clair seduces Victor and keeps him in her apartment as her pet, her darkest secret. Beautifully written, provocative to read, Seidlinger delves into Claire's motivations and impetus to present a compelling psychosexual portrait of a woman obsessed with performance, with power, with sex, and with gore.
Turning the serial killer genre on its head, My Pet Serial Killer explores the convoluted dynamics of power, sex, and desire.
Historian and Bram Stoker Award nominee W. Scott Poole traces the confluence of history, technology, and art that gave us modern horror films and literature.
Starting from the Great War, Poole exhaustively traces the evolution of horror and how it was impacted by history. If you are a horror books aficionado then you need this book for your TBP pile.