News
Creative Book Promotion and Jen Miller's Quest to Set a Book Club Record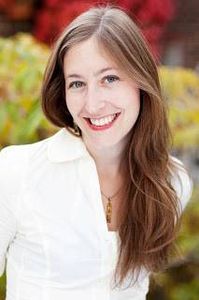 As authors become increasingly involved in and responsible for their own book promotion, examples of what not to do abound. Happily for all of us, this is not a post about clueless authors fumbling blindly through the interweb and into our inboxes in hopes of getting a little love for their book babies. Nay, my friends, this is a post about one author who is doing it right.
Jen Miller's debut novel The Year of the Gadfly came out last spring, and she hit the streets to get the word out. Literally. Miller built a Novelade Stand and travelled to busy street corners up and down the east coast to sell books the old-fashioned way: one at a time, directly to readers. Now, with Gadfly freshly out in paperback, she is swinging for the fences in a quest to visit 100 book clubs in the month of July and set the official record for the most book club visits in a single month.
Miller calls it Month of the Gadfly (click to have your book club added to the list). I call it awesome. Here, we discuss the project and Miller's take on self-promotion.
Rebecca Joines Schinsky: We hear all the time now that authors have to be their own marketers and that finding creative ways to reach readers is the key. Last year, the hardcover release of Year of the Gadfly saw you selling books on street corners at your traveling Novelade Stand. Where did that idea come from?
Jen Miller: I often feel like I need to personally hand-sell every copy of my book. Partly I'm compelled by the traveling salesmen of yore and by memories of going door to door selling girl scout cookies. In New York, it would be very difficult to schlep around that many books though, so I thought: why not stand in one place and let people come to me? It has been extraordinarily successful. People are curious. They also think I'm self published and are kind of astounded when they discover that I've got the backing of a major publisher and am still standing on the corner all day long.
RJS: Why focus paperback promotional efforts on book clubs? Why go after this record instead of, I don't know, most bookstores visited in a single month?
JM: Signing up a book club in advance guarantees I'll have an audience, that people will already have read the book (which definitely makes for a more interesting conversation), and saves me a lot of money in terms of travel costs! That said, I'll be visiting bookstores in Virginia, New Hampshire, and New York that are having multiple book clubs come out to meet me. I do like your most book stores in a month idea, though…maybe for my next novel?
RJS: You're going to have to average more than 3 book club visits per day to meet your goal. How are you preparing for all that talking?
JM: Some days I already have five book clubs on the schedule! I guess I'll drink lots of water and suck on many throat lozenges.
RJS: So, 100 book club goal aside, how will you decide if this project was a success? I imagine it's quite time consuming. What will it take for it to have been worth the work?
JM: The project is already a success. I've got 60 clubs signed up so far, which is an absolutely insane number of clubs to visit in a month. Which is not to say that I don't want to get the other 40 signed up!
RJS: What cool ideas have you seen other authors trying lately?
JM: I'm writing about this at Fast Company's Co.Create site, where I'm a regular contributor. Come on by to check out what I've learned.
RJS: And because I'm nosey: what's on your reading list this summer? I'll be teaching a course in YA literature at Columbia, so I'll be re-reading a bunch novels from my childhood–like A Separate Peace, The Chocolate War, and Ender's Game–as well as current titles–like the The Absolutely True Diary of a Part-Time Indian and Pure.
Check out the video below for more details about Jen Miller's Month of the Gadfly project, and visit her website to sign up your book club.
[youtube]https://www.youtube.com/watch?v=OHBHyQ1QOK0[/youtube]
Watch this video to more about Month of the Gadfly, and visit Jennifer Miller's website for details.
video: https://www.youtube.com/watch?feature=player_embedded&v=OHBHyQ1QOK0