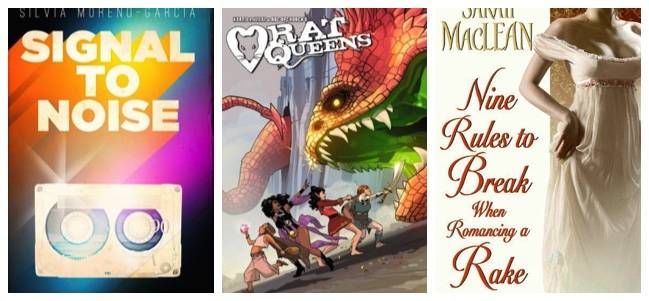 Crazy About Kamala Khan? You'll Love These Superheroines, Too
Kamala Khan is everyone's favorite teenager from Jersey City. She's devoted to her family, she excels in school, and oh yeah she's one of the best superheroes around.
Ms. Marvel was the first capes-and-tights book I read (one of the first comics I read at all, actually) and I was instantly hooked on this whole comics thing. Kamala is a great introduction to the comics world–but there are plenty of other kickass young ladies keeping her company. Here are a few comics to check out while Marvel gears up for Kamala's relaunch this fall.
Silk by Robbie Thompson, Stacey Lee, Ian Herring, VC's Travis Lanham, Dave Johnson, and others

After a decade spent hiding herself from the world, Cindy Moon is now trying to piece her life together. First, Cindy must figure out how to control her powers, much like Kamala does when she first discovers hers. Family is one of Cindy's top priorities; Cindy is driven to find out what happened to them while she was gone. In her memories, she teeters between love for her parents and her kid brother, and the usual teenage desire for freedom that drives a wedge between them. And there's a good bit of potential romance and confusion over guys in Cindy's life, too. It's tough to fit relationships into the life of a working superhero!
The Adventures of Superhero Girl by Faith Erin Hicks and Cris Peter
Superhero Girl is the superhero version of the girl next door–she's kind of clumsy, she has a love/hate relationship with her perfect older brother, and she buys her superhero outfits, such as they are, at thrift stores. But she's also determined to prove her worth. She wants to show that appearance and apparent perfection don't mean a thing; what matters is that the day is saved. The Adventures of Superhero Girl is a very amusing twist on superhero tropes that plays upon the format traditional comic strips–it was originally published in a local newspaper and online–while also delivering a big punch. (And Superhero Girl is the type to approve of such puns.)
The Unbeatable Squirrel Girl by Ryan North, Erica Henderson, Maris Wicks, Rico Renzi, VC's Clayton Cowles, and others

Doreen Green is, as this title suggests, unbeatable. She's the best there is! Kamala's powers are also incredibly strong–even Wolverine comments on how cool they are. But she's not egotistical; instead, she maintains a sunny attitude and a fantastic sense of humor. Kamala, when she gains super powers, pays homage to Captain Marvel; similarly,
Squirrel Girl
's first issue opens with a riff on the
Spider-Man
theme song. Like Kamala, Doreen is trying to navigate superhero success and school without revealing her identity–a balancing act tough enough for the best superhero.
Batgirl by Brenden Fletcher, Cameron Stewart, Babs Tarr, Maris Wicks, Jared K. Fletcher, Kevin Nowlan, and others
The Batgirl of Burnside is hip and fun, but with her newfound popularity comes a whole new set of problems. How does she navigate a world of smartphones and social media fame? It's a question facing Kamala as well, like the time she saves a bratty girl from school and video footage other students take winds up on the news. They are technological girls, and they are living in a technological world–and, as often happens in social media, keeping a secret (and a low profile) can prove an enormous challenge.
Storm by Greg Pak, Victor Ibanez, Scott Hepburn, Ruth Redmond, VC's Cory Petit, and others

Storm is basically how I see Kamala later in life. She's unapologetically kick ass, but she uses her powers to protect others and keep the peace–between and among mutants and non-mutants. As the headmistress of the Jean Grey School for Higher Learning, she too knows the value of a good education. Most importantly, Storm maintains a very strong focus on serving marginalized communities–even when it gets her in trouble. That is perhaps her strongest shared attribute with Kamala. They both want to help others, above all–especially those who aren't able to help themselves.
Who am I missing? Any other recommendations for superheroines like Kamala?