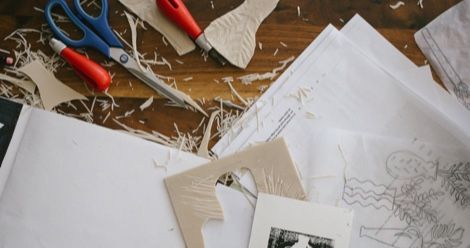 Crafting
Craft Ideas to Transform Unwanted Books Into Objets d'Art
Have some books lying around you don't want, but also don't want to impart to anyone else? And to make things trickier, you cringe at the thought of recycling it or burning it or what-have-you. So you've got these books cluttering a dark corner in the attic that you hope never see the light of day again. Now what?
Well, why not turn them into something beautiful? Take a book you hate and take away its power by turning it into a completely new thing, giving it a new purpose.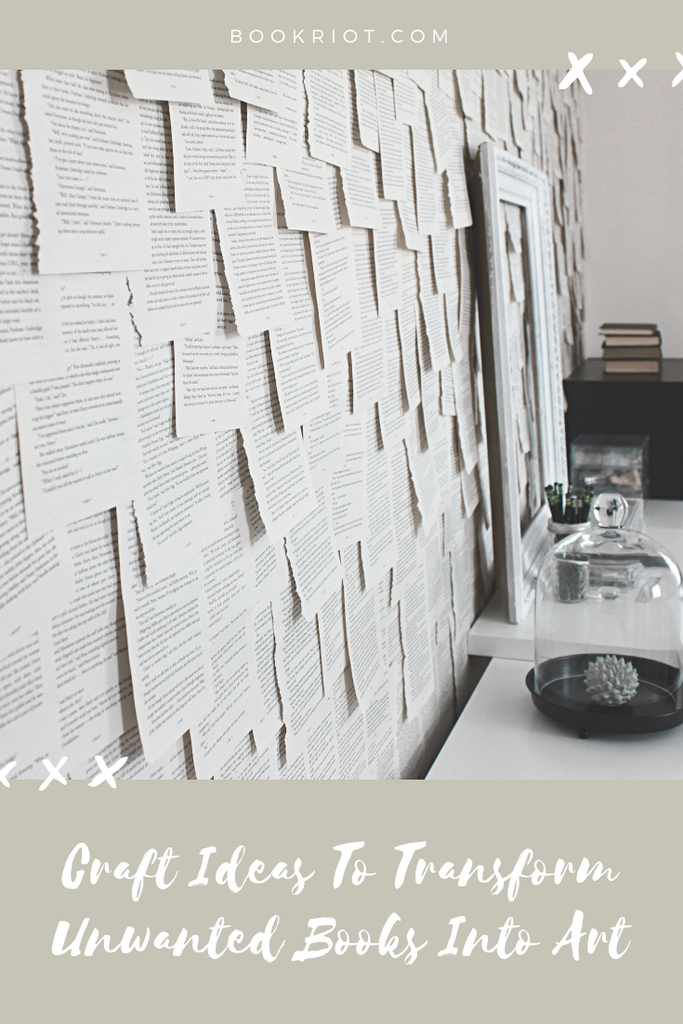 Here are some suggestions for how to get a book you hate and turn it into an object you love.
I'll start off with an easy one. Rip up a bunch of pages from books and use them to decorate boxes and things around your home. It'll add a nice vintage/bookish atmosphere, and that jerkity-jerk author can't do anything to stop how great it makes people feel to look at your prettily decorated storage boxes full of vacation photos. If you don't want the words to show, painting over or covering certain sections is a simple affair.
Make some cute paper stars. These can be colorful or not, and since they're small they're great for all kinds of things like extra cute stuffing for gift boxes and bags, table scatter decorations, decor around the house in a jar, and more.
Mount their heads on the wall…literarily! There's a great tutorial here for using papier maché techniques to create an animal head. In this case, the example is of a unicorn, but the world is your oyster. I love this because there is no cruelty towards actual animals involved, but I can totally make a dragon or something if I like.
Now if mounting heads a la Gaston isn't quite your style, you can always go with cute little birds and other animals as ornaments that can live on your various surfaces. A lot of tutorials take it all the way to painting and making these things look realistic, but it's up to you whether you want to leave the book pages exposed or not.
Not feeling confident you can mold beautiful animal ornaments using book pages and whatnot? Here's a super easy project you can make with a balloon: an airplant pod. I would venture that these can work as little succulent terrariums as well, and you can paint them over in any color you like, if any.
Make a paper fan! Again, you can paint over it if you don't want the words to show, but these are a great idea for a craft that serves a purpose. I like making and gifting things that will have some sort of use, even if it's decorative, so this would scratch that itch. There are plenty of great tutorials out there, but I chose one easy video for ya.
If you, like me, weren't blessed with a green thumb, then paper cactuses might be the way to go. These are super cute and won't dry up on you if you look at it the wrong way or forget to water it that one time. You don't have to make them look realistic, and you can make them whatever size. It's a win-win.
Make some paper butterflies. These are great to attach to gifts rather than a bow, can be hot glued to an alligator clip and made into a bow, can be used for table settings (place cards, napkin rings, and more), and the sky is the limit.
There are all kinds of beautiful little projects, both easy and challenging, that you can use those old books for. They make great backgrounds and scraps for scrapbooks, wrapping paper, wrapping for books you might want to ship to people via media mail (I've received books wrapped in magazine pages—genius), and much more.
What would you do with a dismantled book by an author you dislike?