How To
Your Cozy Reading Nook Inspiration
This content contains affiliate links. When you buy through these links, we may earn an affiliate commission.
You already have a favorite place in your home to read — we all do. Before I created a cozy reading nook in my home, mine was the living room couch. It's one of the L-shaped couches that let you stretch out. The problem was that it was easy to get distracted there, because someone else might be watching a show, or I could hear my fiancé taking a work call from his office five feet away, and the lighting was not great.
You deserve a reading space without distractions. Your own reading space. A dedicated reading nook that you retreat to for the sole purpose of reading and nothing else. Having a dedicated space to focus on your reading will encourage you to read more, and put you in the right frame of mind for a great reading session. Especially if you have the opportunity to decorate it how you'd like.
Cozy Reading Nook Inspiration
We'll show you 10 examples of different types of reading nooks to give you some inspiration while you think about how you want to create your own, if you don't already have one, or, how to spruce up your current one. Then we'll give you five tips on the must-have components of any reading nook, and different ways you can incorporate them into your dedicated reading space.
Let's look at some reading nooks!
This landing space was repurposed into a cozy reading nook, which is a great reminder to think of areas in your home or apartment that might be oddly shaped or too small to use for anything, but large enough for a reading chair!
If you do have the space for it, a big comfy chair is the way to go. Add some throw pillows for support and a soft blanket to snuggle up in, and you are ready to read! Also note the great use of lighting: natural light from the window, and an overhanging lamp for perfect light at night.
Another great example of a narrow space repurposed into a window seat that becomes a reading nook! You can also measure the space and use a padded bench instead. If you want shelves nearby but are working with smaller square footage like this, narrow floating bookshelves (like these!) can keep your reading materials close.
Not someone who loves sitting in a chair when they read? Prop up a bean bag chair or even mounds of pillows in one corner of the room (dog not included). Another way to liven up your reading nook space is through greenery, like this space uses with potted plants on the bookshelves and by the window.
A chair with a matching foot rest is a game changer for those who like to really stretch out while they read. The bookshelf cart is also a great way to store your TBR pile if you don't have enough space for full on bookshelves in your reading nook.
When it comes down to it, a reading nook is this: a comfortable place to sit, a blanket to stay warm, a shelf to set your drink on, and more books right at your elbow. That can show up however you want it to — here, it's in the form of an outrageously cozy-looking chair, throw blanket/pillow, and simple bookshelves.
Why not two places to read? This reading nook has a window seat and a chaise lounge to give you options, depending on what you're feeling that day. Built-in bookshelves are also the dream. One aspect of this reading nook that's great to incorporate: overhead lighting for reading at night.
This is another example of doing something unique with an unused bit of space, like the little area underneath a staircase. The built-in bench is just large enough to seat you comfortably, and the built-in shelving serves two purposes: a place to set your tea or coffee and a place to store your books.
Another example of making use of unique little spaces you may have. This one turned a hard surface into something cozy, which you can do with large pillows or even cut-to-size foam mattress toppers. Throw in some pillows, some gorgeous scenery, and brilliant natural light, and you have the reading nook of your dreams.
This last reading nook is actually my own! When we moved into our house a year and a half ago, we were delighted to find a small room underneath the basement stairs that had been carpeted and fitted with a swinging door that blended into the wall. We knew immediately that it had to be a reading nook, so we repainted it, insulated it, added some LED strips along the ceiling, and stuffed it full of soft, plush throw pillows and blankets. I bought a thick mattress foam topper that I cut into the shape of the space to make it more comfortable to sit in. It's not quite done yet — we're installing some shelving next — so I've been using a tea tray for drinks and placing my books right underneath the last step in the meantime.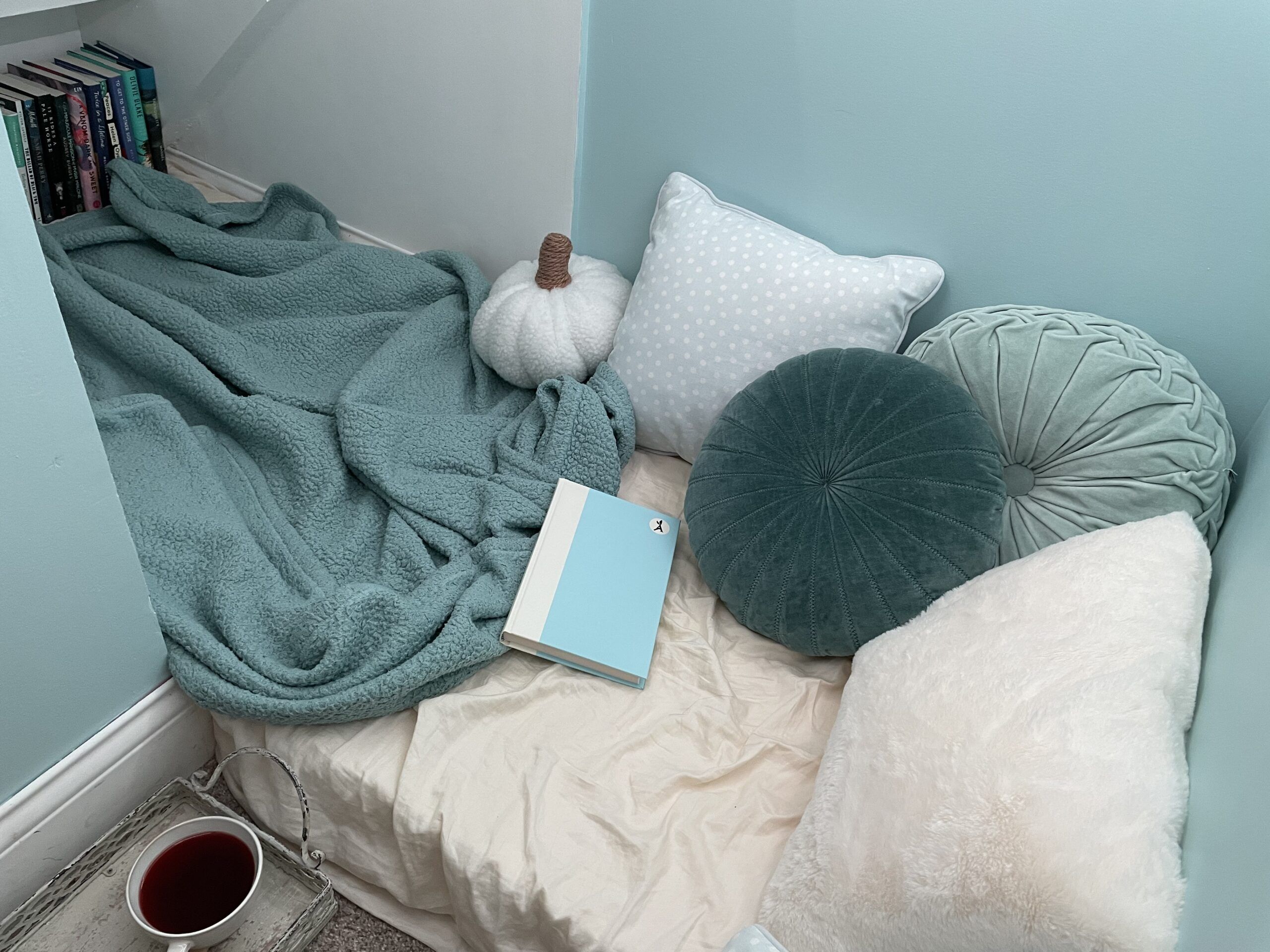 How to Create a Cozy Reading Nook
Here are some tips and ideas to get you thinking about how you'd want to create your own cozy reading nook.
It Doesn't Have to Be Fancy
Not everyone has a window seat or a room under the stairs or a dedicated room to create a reading nook, but you shouldn't let that stop you. Every room in your house or apartment may be spoken for, or you may live in a studio or you just don't have a ton of space to work with. You can still have a reading nook if you can carve out enough space to fit a comfy chair and a little nightstand. My first apartment was a studio, and I was lucky enough to have bay windows overlooking my building's courtyard. I placed my reading chair right next to the window and used my ottoman/coffee table as a foot rest while I read.
A reading nook is a dedicated reading space, and that can be anything you want it to be, anywhere you can fit it, whether that's a seated bench in your closet or a bean bag chair on your floor or a small corner in your living room.
Comfort Above All Else
Your reading nook should be the coziest place in the house. Check out resale shops for super comfy chairs with high enough armrests to support you if you want to sit against an armrest while you read. Even better — keep an ottoman nearby to rest your feet if you want to. Drape a soft blanket over the chair in case you get cold, or store a few blankets in a basket nearby. Use a soft pillow to prop up your book to avoid neck pain. If you use ereaders, you can get a tablet pillow like one of these to help prop it up while you read.
Put Shelving Near You
Whether that's an entire bookshelf or hanging wall shelves, having some space to hold books within grabbing distance will keep you inspired to read. This can also double as decor, so you can make this space uniquely yours with what you decide to put on those shelves besides books.
Don't Forget an End Table
An end table, a crate, a storage bin — this can be anything as long as it's a solid surface next to you where you can place a drink or set your book down. You'll want to have something refreshing and delicious within easy reach so you don't have to get up. Unless you need a refill.
Create Ambiance
How you do this is entirely up to your preference. That could mean scented candles, plants to surround yourself with fresh greenery, artwork that soothes and inspires you, and a color palette that evokes whichever aesthetic that pleases you most. That could be light and airy and cottagecore-inspired, or dark and antiquated like an old library. The palette I chose for my reading nook was soothing blues, with fleece blankets and warm lighting to help quiet my mind.
Speaking of, lighting comes into play here, too. Choosing a spot near a window is a great option to maximize your natural light exposure. This is much easier on your eyes than relying on just lamp light (although a good reading lamp is also essential). If you're in a windowless room like me, LED strips and smaller lamps can help bring that warm light in with you.
May you create the cozy reading nook of your dreams with this inspiration! For more tips, check out these posts: