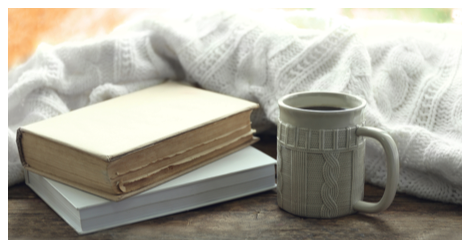 This content contains affiliate links. When you buy through these links, we may earn an affiliate commission.
Brrr! It's nearly winter in some parts of the world, and I am so not ready. I need about five more months to stockpile fluffy jackets and treasure the fading warmth of the great burning ball of gas in the sky. I've never been much good at coping with winter (says the person born and raised Californian, whoops). The one thing I am looking forward to, though, is curling up with a stack of books and a steaming mug of hot chocolate.
Heartwarming reads are my way of dealing with winter. If my heart is warm, my body is warm. That's how it works, right? Of course, everyone has a different view of what they consider heartwarming—whether that's sweet romances, chilling horror (I'll never understand that), or something else entirely.
For me, a heartwarming read means a funny, familiar fantasy read, one that somehow covers both the crackling excitement of magic and the classic war of manners over afternoon tea. That may sound curiously niche, but trust me, there are plenty of books that fit the bill. Lucky me! My top few cozy fantasy reads are as follows:
Faris Nallaneen, despite being heir to Galazon, is shipped off to Greenlaw College to study magic. Before she can claim her rightful place as head of her small dukedom, she must survive magic college and all the challenges it brings. A College of Magics is the ultimate slice-of-life magic school book. The stakes are raised later in the story, but until then, it's just a delightful confection of magic all-nighters, three volume novels with tea, and school drama. It's just so incredibly good in a quiet, wonderful way.
Zacharias Wythe is England's first black Sorcerer Royal, and he is burdened with the tough job of figuring out just what is going wrong with England's magic. Along the way, he encounters the kickass Prunella, who can more than match his magical powers (and yes, women can do magic! Excuse you). You've got old witches and different magic systems and more…Really, it's absolutely everything you could want out of a post-colonial fantasy book. If you haven't read this, you should get on it—especially if you love books by Jane Austen or Georgette Heyer.
Looking for some middle-grade fantasy fare? Well, here you go. Kat, Incorrigible is all about Katherine Ann Stephenson who is, well, incorrigible—she's scrappy, magical, and definitely going to learn how to use her inherited magical talents, all while saving her family from ruin. This book is cute, hilarious, and fun. Absolutely something you want to read on a chilly winter day.
What do you consider a cozy winter read? Is it fantasy? Mystery? Romance? Or something else entirely? Or did the cold never bother you anyway? (Sorry! Had to say it.)
Save
Save