Nonfiction
Cozy Cookbooks for Fall: Fall into Fall Readathon
This content contains affiliate links. When you buy through these links, we may earn an affiliate commission.
Our Fall into Fall Readathon is sponsored by Swoon Reads — publishing the latest and greatest in YA fiction recommended by readers like you. See all the readathon posts here.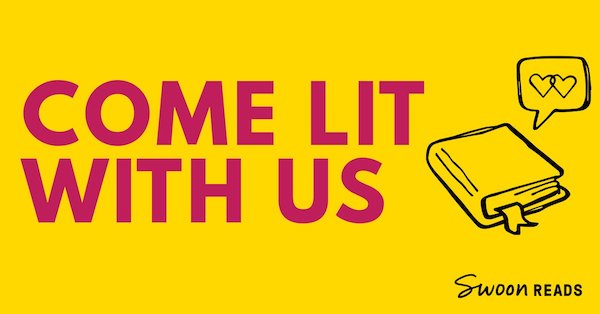 You've got the power to get books published! Swoon Reads publishes the latest and greatest young adult fiction recommended by readers like you. From heroic epics, to alien adventures, to all-the-feels romance—if you're loving it, we'll publish it. Readers who sign up for Swoon Reads or download the app get unlimited access to the latest and greatest unpublished manuscripts. You can rate, comment on, and share your favorites. Then, Swoon Reads uses your feedback to help decide which get made into real, ink-on-paper books. The best part is it's all completely free. So, come lit with us!
---
September is here, and (in some latitudes, at least) it's finally no longer too hot to even think about turning on the stove. I'll miss summer, but one thing that helps me make my peace with crisp, blustery days is getting to spend more time in the kitchen. If you're also looking forward to cooking (and eating!), here's some cookbooks to give you a few ideas for cozy fall menus:
This book provides timelines for all the components of your meal, from the things you can make in bulk months in advance and keep in the freezer to tips on spicing up (zing!) the leftovers. Turshen breaks her book down by season, kicking things off with fall recipes, including holiday meals. I wish I'd had her Rosh Hashanah leftover tips before my aunt tried to load me down with a Tupperware full of brisket and two kinds of kugel!
(Turshen is also the author of Feed the Resistance. Hey, you know what else is happening this fall? Are you registered to vote?)
I loved American Cake, Byrn's chronological journey through America's most celebratory sweets, so I can't wait to get my hands on this more everyday version. If Bryn's previous book is any indicator, American Cookie is sure to be loaded with both fascinating historical notes about each entry, and molasses, the coziest of sweeteners.
The Smitten Kitchen website is a bible for me, and the source of a good half of my favorite autumn staples. Naturally I've gotta tip my hat to this, as well as her first book, The Smitten Kitchen Cookbook. And then I'm gonna fill that hat with Baked Oatmeal with Caramelized Pears and "Fall-Toush" Salad with Squash and Brussel Sprouts. (I don't really wear hats. It's fine.)
I don't know about you, but after living on peaches and tomatoes all summer, I struggle to fit fruit and vegetables into my diet once the weather turns cooler. Six Seasons breaks the year down into, well, six seasons, offering a slate of recipes for all the veggies available in each timespan. Carrots and turnips, here I come!
Kass worked at the White House as both a food policy advisor and the Obamas' personal chef, so he knows what he's talking about. In this book he provides tips and strategies for eating "better" under every definition of the word: tastier, healthier, and more ethically. That "little" is important too. Rather than demanding a full-scale overhaul of your dietary habits, he suggests manageable changes to guide you towards a better plate and a better world.
Ansel intersperses his soup recipes with hilarious, charming tales of his time bicycling around to deliver his homemade concoctions to the residents of Austin, Texas. The soups aren't actually difficult, but the title (and the book) is a counterpoint to the plethora of "quick and easy" recipes out there. And what's a better way to spend a fall Sunday than stirring a fragrant pot of soup?
When the weather gets colder, I start looking for food that'll stick to my ribs, and nothing does it better than soul food. I love that this book emphasizes veggies, and the Sweet Potato Pudding with Clementines looks like a good way to use up those crates of clementines that seem to start molding the second I haul them into my apartment!
Waning daylight always sparks my wanderlust, and reading gorgeous cookbooks featuring the cuisines of other countries is a lot cheaper than hopping on a plane. Syrian-born Habeeb and his daughters have researched culinary traditions going back to the 18th and 19th centuries—recipes that are still eaten today. Even better, partial proceeds go to the Syrian Cultural Centre, a nonprofit which aids Syrian refugees.
And speaking of wanderlust…! Though to be fair, Filipino food isn't exactly rare in America, given that Filipinos make up the second-largest Asian population in the States. Still, it's not as well known outside of the diaspora as other Asian cuisines. Restaurateurs Ponseca and Trinidad are looking to change that with this book. Personally, I can't wait to be introduced to this vibrant, new-to-me culinary tradition.
I'm not vegan—or from Mississippi—but this book looks to combine two of my previous requests on this list: plant-based recipe ideas as we move out of summer, and the stick-to-your-ribs comfort of Southern cooking and soul food. Yes, please!
I live alone, and between all these soups and casseroles this list has got me queueing up, there's only so many leftovers I can eat (even with help from the first book here!). For the weeknights when I'm not up for three hours laboring over a pot of potage, this Michelin starred NYC chef could be my lifeline.
I wouldn't leave you without (more) dessert! There's savory pies (my favorite) in there too, but if you've been tapped for the apple, pecan, pumpkin, or chocolate pudding pie for Thanksgiving this year, this is the book to pick up.
Okay, now I'm hungry. What are your favorite fall recipes?