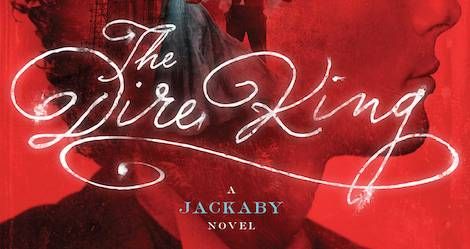 This content contains affiliate links. When you buy through these links, we may earn an affiliate commission.
The first time I heard about William Ritter's Jackaby series, it was described as "Sherlock meets Doctor Who or Buffy," which is basically the best mash-up in the history of mashups. The series has gone on to become a Book Riot reader and writer favorite, and we're so thrilled to have the first look at the fourth book's cover! Without further ado, the cover of William Ritter's The Dire King, coming out August 22nd (followed by an exclusive excerpt!
---
The thrilling conclusion to the New York Times best-selling series the Chicago Tribune called "Sherlock Holmes crossed with Buffy the Vampire Slayer" sends the eccentric detective R. F. Jackaby and his indispensable assistant Abigail Rook into the heart of a war between magical worlds.
Read on for an Exclusive Excerpt:
Hanging over the entry to the house was the same wrought iron sign that had greeted me so many months ago when I first came trudging up the icy cobblestones of Augur Lane in that cold January of 1892.
926—INVESTIGATIVE SERVICES
Private detection and consultations:
unexplained phenomena our specialty
Beneath this stood the detective himself, hammering in the final nail to rehang his horseshoe door knocker. The new door was a bit wider and sturdier than its predecessor, but it was already painted the same brilliant red. Built into the frame above it was a new narrow window as well—a single pane of frosted glass, into which were etched the words:
R. F. JACKABY
Private detective
"Good morning, Mr. Jackaby," I said. "The new entryway looks lovely."
"Contextual relevancy," he said, although the words had to wend their way through a mouthful of spare tacks.
"Come again?"
He spat the nails into his hand. "The transom. Here, come closer."
I stepped up to the landing, and the frosted glass clouded over momentarily, clearing just as quickly to reveal a revised set of words:
R. F. JACKABY
Mentor & employer
"That's incredible!" I said.
"Bit of a special order. The limited clairvoyant effect is achieved through a psychic crystal suffusion in the glass. It senses the needs and expectations of each caller and generates a respective title. Come, see it from the inside."
I followed him in. The letters should have been reversed, but the transom read the same from within as it did from without.
"The house now knows what our potential clients really think of my services before we even open the door," he said. "I thought that might be a convenient forewarning, given a few of our most recent visitors."
"A wise precaution."
"Yes. I took the liberty of having them enchant it with a glamour-inhibitor charm, as well. I have no trouble telling who is what and what is who, but I thought you might appreciate knowing who you're dealing with. Now then, speaking of visitors," he said, depositing his hammer and spare nails casually into a drawer marked Receipts, "have you fed our unwilling guest this morning?"
"Yes, sir. And I locked up tight behind myself."
"Good. Checked the exterior wards?"
"Just now, sir."
"It's Tuesday. Be sure you leave a saucer of honeyed milk out for the pixies."
"Wednesday, sir. And I already put out fresh strawberries for the sprites."
Jackaby gave a satisfied nod. "Excellent. Get yourself ready, then. We leave within the hour."
"Yes, sir. Where are we going today?"
"Seeley's Square, and from there through the veil to see a king about a council."
"The king of the Annwyn?" My breath caught in my throat. A pair of blood red eyes burned in my memory. "Sir, we aren't remotely prepared yet!"
"What?" Jackaby said. "Oh, not that king. There are as many kings in the otherworld as there are kings on earth. As many bad kings and as many good, but there has never been one king to rule them all, in spite of what that nasty nixie's father says. No, no. It has taken some time, but I finally arranged a meeting with king of a very different sort. If there is anyone in the Annwyn with a vested interest in protecting the barrier between that world and this one, it is the Fair King, Arawn. His emissaries will meet us at noon precisely to escort us through the veil-gate."
"I suppose at this point I shouldn't be surprised to learn you're friends with the magical king of the good fairies," I said. I occasionally wondered if would ever wake up from my bizarre life in New Fiddleham to find I had really just dozed off on a pile of storybooks and scientific journals, and that I was back home in Portchester, still in England where life made sense and fairy tales were fiction. "Friends is not necessarily the term I would use," said Jackaby. "I am in Lord Arawn's debt. He presented me with the dossier of the seer when I was a boy, just as he had presented it to the seer before me. I would know nothing of the history of my gifts if it were not for—" Jackaby froze and looked up at the open door.
I followed his gaze to see a white-haired old man stumbling up to the landing panting heavily, his skin wan. He reached out to steady himself on the door frame, but missed, collapsing to his knees on the threshold.
Above him, the cloudy glass of the transom window was already clearing.
R. F. JACKABY
Desperate last resort