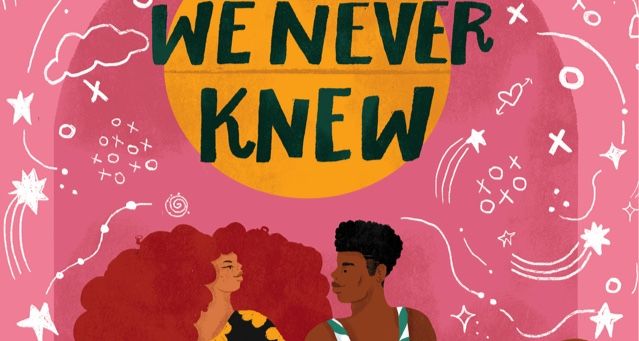 This content contains affiliate links. When you buy through these links, we may earn an affiliate commission.
We're making hearteyes at this teen romance set around the courts. Check out the cover for All the Things We Never Knew by Liara Tamani, out June 2020, and read the exclusive excerpt below!
From the moment Carli and Rex first locked eyes, they both knew it was love. That kind of connection, of immediate understanding of another person, just doesn't come along very often. And as rising stars on their Texas high school's respective basketball teams, destined for futures in professional leagues, it seems like a match made in heaven.
But Carli and Rex both have secrets. Carli hates basketball and the only reason she hasn't quit is that she can't picture what comes next, what dream she's going to pour her soul into. And in the wake of her parents' crumbling marriage, where lies and betrayals are coming to light, Carli uses Rex as a crutch—someone to cling to while her life falls apart.
Rex comes home to an empty house and an absent father, one he is convinced blames Rex for his mother's death. He's hardened himself against the lack of affection, but now he has Carli. Carli, who wants to love him. Carli, who can give him everything he's been missing his entire life.
But how much love can you give another person, when you don't love yourself?
Acclaimed author Liara Tamani's luminous second novel explores first love, family, destiny, and heartbreak. For fans of Nicola Yoon's The Sun Is Also a Star and Jacqueline Woodson's If You Come Softly.
---
The Very First Kisses
Carli
Nobody ever warned me about love. Nobody ever warned me that when the greatest thing in the world hits you too hard, too fast, the blast can crush the organs in your belly, send heat flying up the right side of your face, and make your heart forget how to beat normally.
I'm trying to stay in my body, on the sidelines of the gym, but the pain in my belly is making the sound of the bouncing basketball grow fainter. The fluorescent lights keep giving way to darkness.
The boy is the only one who can see the pain. The boy at the free-throw line in his high socks with his high-top fade and his inverted triangle face, drenched with tenderness. The boy who just came out of nowhere blowing me a kiss in the middle of his game. Who even blows kisses these days? But it wasn't corny like you'd think. It came from somewhere deep, like all of his years and hurts and hopes were attached to it—his whole history.
And now our histories are mixing.
Pain on high, feeling like I'm about to die, an old fact flickers at the front of my mind:
The very first kisses were blown in Mesopotamia as a way to get in good with the gods.
Tacked that up on my bedroom wall after Bradley Dixon blew me a kiss in the fifth grade. The next day he told everyone the kiss wasn't meant for me.
The boy drops the basketball at the free-throw line and runs toward me, just off the court.
Darkness briefly takes me, but the sharp sound of a whistle blown scares the darkness away. I bite some skin peeling on my bottom lip and try to stay in the gym. Keep my focus on him.
He's wearing number twelve—ten less than the number on the jersey underneath my warm-ups. I need to take off these stupid polyester pants, this jacket. I'm burning up, drenched in sweat. Zipper. Where's the zipper? My fingers fumble to find it, but the pain . . . . the darkness . . . I can't fight it anymore. I'm losing myself to it . . . falling.
His arms around me and my insides light up with his down-slanted, hooded eyes. It feels so good the way they're staring into mine. For a second I've never felt so alive. Then I'm gone.
Rex
I miss a shot. An easy shot. My mid-range jumper always drops. Always. But man, I can't stop thinking about that girl. About how she passed out in my arms. How, for a second, I thought she might've been dead, and it was somehow my fault.
I was so scared I started crying. I didn't even stop when I saw her chest rising. Rising and falling, again and again, underneath her royal-blue warm-ups. It took four whole breaths for my eyes to convince my head of what my heart was afraid to trust. Good thing my back was to everyone else.
"Carli!" her team's trainer called out, running onto the court. She was a tiny woman, five feet at best. "Lay her down flat on the floor," she ordered with a steady downward motion of her right arm.
I did what I was told.
"Carli!" she shouted again, and lifted Carli's legs up about twenty degrees.
Kneeling beside Carli, I leaned in close and said her name for the first time, feeling the ar wobble in my throat.
"Back up, back up," the trainer yelled at me. "Give her some space!"
She could hang that up. I wasn't going anywhere. I reached down and scraped Carli's big, sweaty hair off the sides of her face. Even in a ponytail, it was everywhere. I was about to say her name again⎯
"I said back up!" the trainer yelled, like I can only imagine a mama would after she's repeated herself for the last time and you'd better listen this time if you know what's good for you.
I stood, backed up, and Carli's eyelashes fluttered like she didn't want me to leave. But the rest of her team immediately crowded me out. I stayed close, though, looking over the tops of their heads, watching her eyes tremble and go still.
The trainer waved something under her nose that made her eyes open wide, but only for a second. Then the paramedics came and rolled her out on a stretcher.
I hope she's okay. She has to be okay, right? They wouldn't let us keep playing if she wasn't okay. Right?
---
Excerpt from All the Things We Never Knew, by Liara Tamani. Copyright © 2020 by Liara Tamani; reprinted by permission of Greenwillow Books, An Imprint of HarperCollinsPublishers.