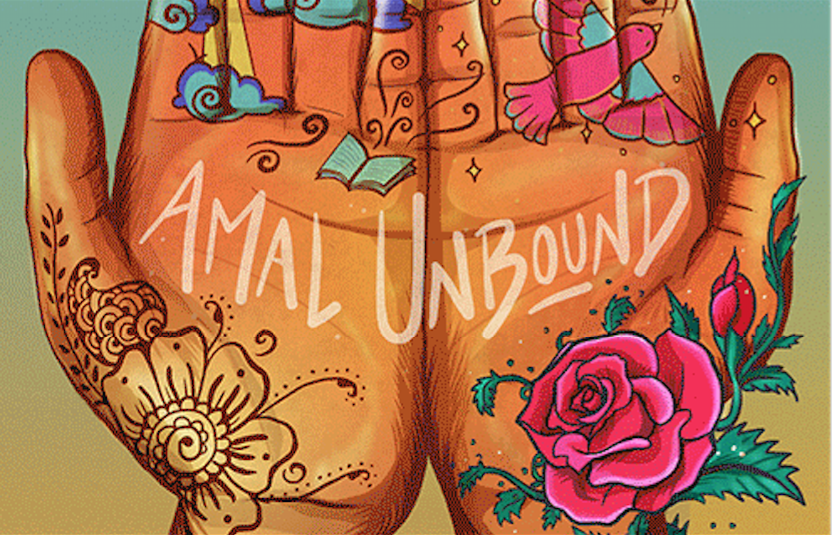 Children's
Cover Reveal: AMAL UNBOUND by Aisha Saeed
This content contains affiliate links. When you buy through these links, we may earn an affiliate commission.
Amal Unbound, a new middle grade book set in Pakistan by Written in the Stars author Aisha Saeed, will come out in 2018. I was able to chat with Aisha and the cover designer Shehzil Malik about the book's inspiration, writing while battling morning sickness, and what young people can do to affect change in their communities.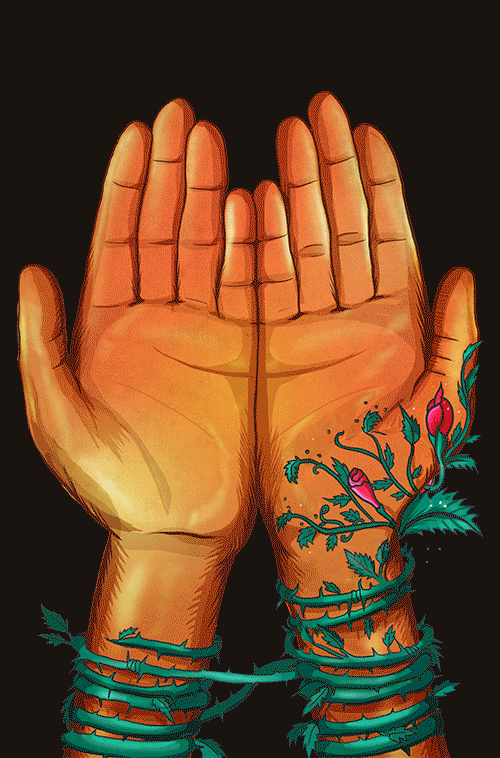 Tell me a little bit about Amal Unbound. What first gave you the idea to write about indentured servitude?
Aisha: Amal Unbound follows the life of twelve-year-old Amal, whose hopes and dreams of becoming a teacher are dashed when she accidentally insults a member of a powerful local family. As punishment they force her to work as a servant in his home to pay off her family's debts. Once she is in their home, however, Amal learns just how deadly this family can be and must summon her bravery and courage if she has any hope of saving her village.
In our present-day world, there are many young people working in the way of justice, often at great personal risk, but continue to do so because they believe it is the right thing to do. While we might hear about a few of them (for example, Malala) most will never see their names in the headlines. It was this that inspired me to write about a girl who many might presume to be helpless instead take on her challenging circumstances to fight on behalf of herself and her community.
What type of research did you do for AMAL UNBOUND?
Aisha: I am often drawn to write about Pakistan because of my ancestral ties to it, and just as with my debut novel Written in the Stars, Amal's story is set in a fictionalized village based on my own family's ancestral Punjabi village in Pakistan. Working on this story, in addition to my own memories, I relied on both primary and secondary sources as I researched. While it is true that indentured servitude is an issue affecting people in Pakistan, my research showed me how wide spread and global the problem truly is, and that it also affects people here in the United States as well.
Did you encounter any road blocks when writing this story? If so, how did you work through it?
Aisha: While all books come with the fear of the blank page for me, for Amal Unbound, I had the additional challenge of battling nausea and morning sickness, and then, a newborn baby (plus two other little boys) as I worked on writing this book. Finding time and creative mental space was definitely a challenge. But thanks to a supportive spouse who took the kids on many a park playdate solo, I managed to work through the challenges and found the time and the space to write and complete this book.
What do you hope young readers will take away from reading AMAL UNBOUND?
Aisha: We live in challenging times these days. Many young people (and adults, as well for that matter) are anxious, worried about the future and what they can do to affect change. It can often feel that our actions amount to very little in the face of the daily onslaught of disturbing and terrifying headlines. My hope is that by reading Amal's story, young readers can see that we each have the capacity within us to stand against inequality and fight for justice. Even if our work may not make the headlines it doesn't mean the work wasn't important.
Was your main character (or aspects of your main character) inspired by anyone in particular?
Aisha: I was an educator working with children and a lawyer who represented children before I became an author. Because of this I had the privilege of meeting many young people who continue to inspire me with their strength and bravery and insights. Some of my students had been through unspeakably difficult circumstances but continued to hold on to hope and optimism. Amal is not based on any one particular child but she was inspired by the bravery and courage and optimism of the many children I was fortunate enough to work with.
I loved Written in the Stars, which was YA. How did it feel, writing a middle grade book?
Aisha: Thank you so much! For me, it's the voice of the main character that tells me what sort of story the book will end up being. In Written in the Stars, the voice that came to me was a young-adult narrator. For Amal Unbound, I initially considered writing her as a young-adult character since I had just written a young-adult character with my debut—but as I wrote the story the voice speaking to me was much younger. Because of this, Nancy Paulsen, my editor, suggested that this book may be meant to be a middle grade book and once I switched it to middle grade, the story just clicked because that was who the protagonist was meant to be this entire time. It's been incredible to write a middle grade book particularly as I am a huge fan of middle grade books.
What can young people / readers do to stand against inequality and fight for justice?
Aisha: Start local. I know I can often feel immobilized when I see the overwhelming (and continuous) headlines on the news. It can often feel like whatever we do—that letter to our local congress people or the organized march to protest an injustice—isn't much. But it is something and it matters. Starting local, looking into our communities and what we can do to make them better. Doing our part, however small it may feel, is huge because doing what we can to make the world a better place is never an action that is wasted.
Shehzil: I think one way is to simply treat people as you would like to be treated. The one person whose actions you can control are your own, so make sure you are kind to others. All of us caring about other people makes for a more loving, just world.
What are you working on right now, if you can share?
Aisha: I've fallen in love with middle grade and have some middle grade projects I'm working on as well some picture book ideas. I hope to be able to share more about them soon!
Shehzil: I've recently launched a feminist fashion line in collaboration with a local clothing retailer called Generation and right now I'm enjoying seeing the artwork come to life and people respond to it!
Aisha, what middle grade titles are you excited about for 2018?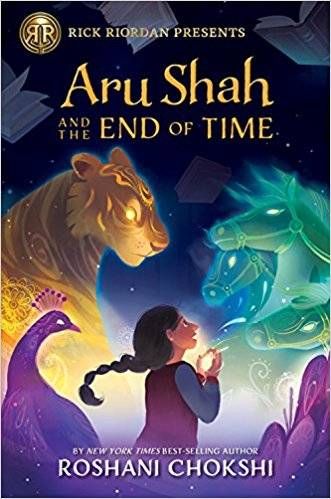 I am super excited to read Roshani Chockshi's middle grade debut Aru Shah and The End of Time. The cover is incredible.
Rebound by Kwame Alexander comes out next year and is another one I can't wait to read (even if most of his books make me cry!)
And as always I can't wait for Meg Medina's latest work because I devour everything she writes and her middle grade Merci Suarez Changes Gears will be coming out Fall 2018!
The cover design is stunning. Shehzil, can you tell us a bit about the process of creating it?
Shehzil: Thanks! The thought process for it was to have henna-adorned hands held together with a thorny rose bush, implying that while Amal may be held captive she has a vivid dream of freedom, education and beauty that will set her free. Henna is worn in times of celebration, and the hands are held together as if for a prayer for hope. Amal envisions a better life for herself and she will make her dreams a reality.
Can you share some of the ways you use your art to bring important issues to light?

Shehzil: Art has the power to create empathy. Whether it's through a blog post or the projects I choose to take up, I usually think about how the art can help a social cause or bring to light subjects not normally discussed. I'm still figuring it out as I go along, and I think what I'm able to do with art will always remain a learning experience.