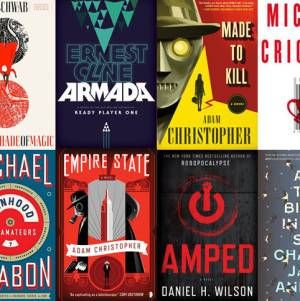 Fiction
By the Cover: Meet Will Staehle, Freelance Designer
This content contains affiliate links. When you buy through these links, we may earn an affiliate commission.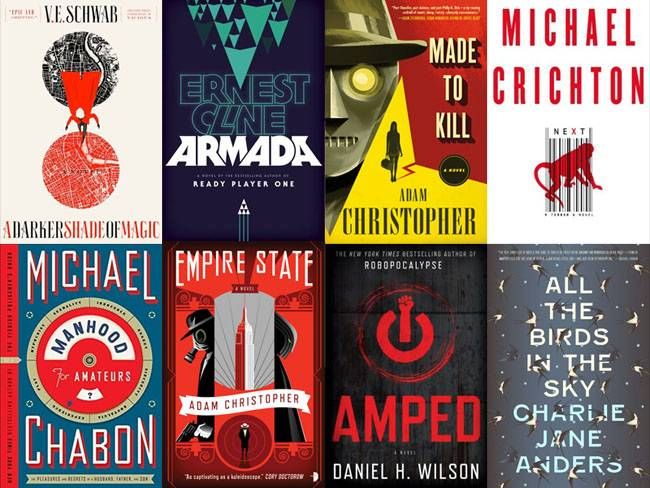 There's a lot that goes into the production of the books you love, you know, in addition to all the writing. Publicity, sales, editorial, production… there are so many parts that come together to make a book happen and get it into your favorite local bookstore. And there's one in particular we notice quite often, but never really dig deep into.
The cover.
Just who is it that makes our books look so lovely? Can you tell when a book is designed by a particular designer or illustrator? You'd be surprised. Welcome to By the Cover, where I'll be spotlighting some of those artists that make your books look so gorgeous.
WILL STAEHLE is a freelance book designer residing in Seattle, Washington, and the former Art Director for HarperCollins. From his iconic work on Michael Crichton's novels to his colorful, vibrant covers for Michael Chabon, if you're a book lover, you've seen his iconic work. Some of his recent covers include Victoria Schwab's A Darker Shade of Magic and Ernest Cline's Armada.
Will answered some questions on how he got his start in publishing, some of his favorite projects, and covers that didn't quite make it.
How did you get your start, working in publishing and designing books?
As I was winding down my senior year in art college, I entered a national design contest and was awarded two second place awards (in the design and illustration categories). The award show was being held at the Guggenheim in New York, so I flew out to the gala and went from zero job offers in my college town, to two job offers that night in NY. I soon began working at HarperCollins Publishers as a senior designer, and eventually worked my way up to become the art director there.
Do you have a favorite project in particular? What about it made it so special?
I've been lucky enough to have quite a few "favorite" projects over the years. My very first printed cover at Harper was for Michael Crichton's Prey. While not my favorite cover of all time, I'll never forget when they told me (fresh out of college) that it was approved, and that they'd be printing over a million copies of my design.
Other personal favorites include Michael Chabon's The Yiddish Policemen's Union, Jacob Rubin's The Poser, Michael Crichton's Next, Adam Christopher's Made to Kill, V.E. Schwab's A Darker Shade of Magic, and Ernest Cline's Armada.
How many books do you find yourself working on each year? Do you often get a chance to read the entire book before working on a cover?
Well, I've designed thousands of covers over the years, but it always varies a bit year to year. I never quote count, but I would guess that I do about 50 covers a year.
That being said, this year I took a bit of a cover sabbatical to focus on some other projects, including my first original middle-grade project, Warren the 13th for Quirk Books.
Does it matter if you don't fall in love with the book?
Yes, it does matter. I will always do my best to stay professional about it, but outside of really enjoying a book, there are two extreme possibilities:
1.) You fall in-love with a book TOO much, and then the pressure is on to deliver something super-amazing, which can play mind-tricks with you, or
2.) You just can't get into a book, after you've already taken on the project. And this can be for a variety of reasons… I've had books that sounded great in premise, but that I didn't enjoy reading, or worse, a book by an author that's so intelligent, that I spend most of my time reading and re-reading, just hoping to decipher what the heck is going on!
Those are by far the most difficult for me. And often on these kinds of books, you receive a very minimal, or cryptic synopsis. But one of my design tricks is to sketch cover ideas initially after I've read the quick cover brief, and then do an second batch of designs after a full read of the manuscript. Thus giving me two "perspectives" on the cover. A general approach, and a more specific approach.
How many mock-ups and comps do you generally whip up, before leading up to your final?
Too many! I tend to overdo it on my first pass of covers. Personally, for me there is nothing worse than getting that email from an art director, saying: "Nothing really grabbed us, can you start over?" So I do my best to alleviate the issue, by over-delivering on round one of designs.
Do you have any favorite unused covers you can share with us?
Exactly how long do you want this article to be? I kid, sure. There are plenty!
Any advice for aspiring book designers?
Aspiring designers always ask if they should do re-designs of existing books, or design lesser-known indie titles by their friends or networks, and I'm not sure what the "correct answer" is. I guess I would error on the side of do "real" work. A comp title or two is ok, but the more real experience you can acquire, the better.
And finally, can you show us some of your favorite projects? We'll share them below.
Indeed! Behold! Years of work, compressed into JPEGS! ; )