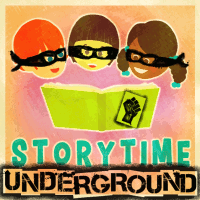 Children's
Cool Stuff Librarians Do: Storytime Underground
This content contains affiliate links. When you buy through these links, we may earn an affiliate commission.
This is not your mama's storytime. It's not even your own storytime. I'm a fairly bookish person, and I remember storytime when I was little: one book, one reader, one circle of kids sitting quietly and listening. That's they way it was, and we liked it. But storytime for kids today has busted free of the original flavor simple sauce: it is ON FIRE. And no one brings it like the librarians collectively known as Storytime Underground. These youth services librarians don't just read a story – they ROCK the story to get children and their caretakers excited about books, and in love with literacy.
Just consider this the next time you're worrying about networking or giving a presentation for school or work: a typical storytime for Brooke Newberry, Children's Librarian at the La Crosse Public Library in WI, can have anywhere from 15-50 kids, along with their caregivers, interacting with her in the library for 20-30 minutes. "The typical format for a storytime involves a welcome song, books, fingerplays, rhymes, and fun activities like using a parachute or having play time. Each storytime can be vastly different from person to person and it can all depend on how your group is feeling that day. I've had days where everyone was perfect and we read books and had lots of interactions, but I've also had days where kids just couldn't handle it and we sang and danced for the majority of the time."
It can get pretty daunting to think of fresh ways to keep the youngsters entertained, work new stories into the mix, and keep your sanity. And so Storytime Underground was born, after the success of an American Library Association (ALA) Annual Conference collaboration of youth services librarians. Cory Eckert, a librarian and the initial mastermind behind the group, had the realization that there was a huge potential to rally Youth Services (YS) librarians and form a supportive community. Storytime Underground is "collective of youth services librarians and professionals who firmly believe literacy is not a luxury. Our mission is threefold: We support each other; We promote each other; and We train each other." Sharing through through social media and in-person training sessions, Storytime Underground is where librarians can talk to each other, get support, share ideas, and expand their storytime skills. Brooke, one of the Storytime Joint Chiefs, Harry Potter aficionado, and, in my book, a Supreme Mugwump of Storytime, adds that "everyone has something to add to the conversation regardless of degree or experience, so we want to make sure their voices are being heard."
Their Facebook group has over 2,400 members and counting. Check them out if you have questions about a book you can't remember the name of, want recommendations for your own children's reading, or if you're a librarian running up against storytime funding or programming concerns. On their website, there's a weekly Ask a Storytime Ninja series, including a round-up highlighting "some amazing youth services work." There are also resources like advocacy stories, and Storytime University, a free, collaborative, and interactive way to make sure you are growing as a youth services professional. "All you have to do is complete a task and get rewarded with a digital badge. It's a fun and easy way to keep track of what you've accomplished," Brooke notes. Tasks consist of things most librarians are already doing in storytime, and range from the La La La badge for using a new song (recorded or acapella) in storytime, to the Web Presenter badge – for presenting a webinar related to storytime, libraries, literacy, etc.
And finally, you can get the tools to rock your own storytime at Storytime Underground's Guerrilla Storytime. Brooke describes it as "A grassroots event where librarians pose questions, or pick from a challenge cup, and listen to a plethora of answers from the other librarians in attendance. Each Guerrilla Storytime is different and it's always surprising how much you can learn at one. Everything from tips to grab a child's attention, craft ideas, to what to do if a fire truck shows up outside your window can be covered."
The goal of storytimes, for librarians in the Storytime Underground force, is to make it fun while educating caregivers about early literacy skills (skills children need before they are able to read and write) and encouraging a love of reading at home. For Brooke, the most exciting part of being a librarian is working with children every day. "The opportunity to see a child grow and develop in my storytime sessions and see their love of reading first hand is just amazing. Plus, it really is the best job in the entire world."
If you're trying it at home, Brooke recommends sticking to short picture books that have little to no text. Favorite books for storytime that look so fun I've already ordered several for my own private storytime needs include:
Clip-Clop by Nicola Smee
A Kiss Means I Love You by Kathryn Madeline Allen
The Book With No Pictures by B.J. Novak [side note: OMG watch the fun!] and
Count the Monkeys by Mac Barnett – both great for older children.
Public libraries serve everybody. Regardless of ethnicity, sexual orientation, language, immigrant status – everyone can come in and get assistance from the public library near you. If you are in search of information, need to use a free computer, if you're looking for a quiet place to read, have questions about getting covered under the Affordable Care Act, want to rent a movie – come on down. As the ALA's Public Library Association (PLA) notes, "It's a challenging and exciting time for public libraries. As the needs of your community change, public librarians are being asked to do more with less." The librarians behind Storytime Underground know that firsthand, as they are part of the army of youth services librarians "providing safe, welcoming spaces for parents to gain skills that will help their children succeed."
Talk, sing, read, write and play. These are five simple things you can do with children, now, wherever you are, to support early childhood literacy. It's what Storytime Underground, and youth services librarians everywhere, live and breathe. So go support your local library, hug your youth services librarian, then check out the map to see if Storytime Guerrillas will be training in a library near you. And three cheers for Storytime Underground: growing potential future Book Rioters, one story at a time.
____________________
Follow us on Twitter for more bookish goodness!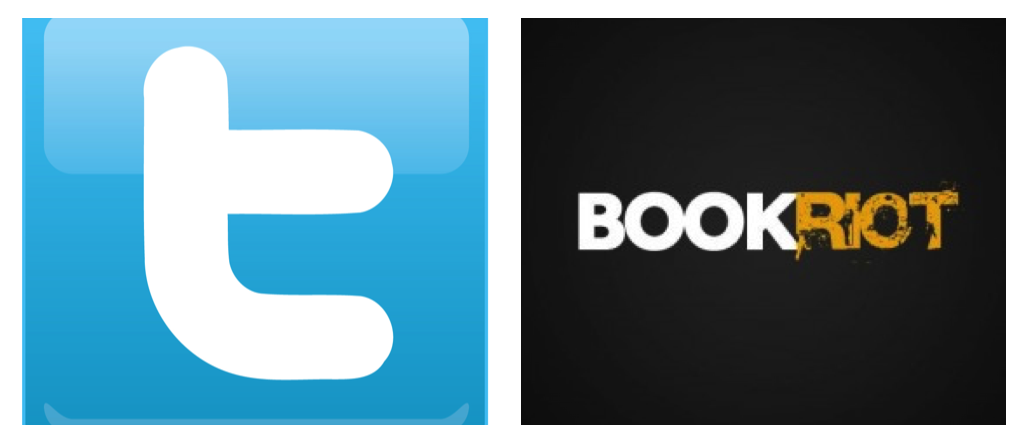 Save