This content contains affiliate links. When you buy through these links, we may earn an affiliate commission.
"It was here. It was here. Whatever REDRUM was, it was here."
In August, my boyfriend and I flew out to Colorado for a family vacation, but before we met up with everyone, we spent a night at the Stanley Hotel in Estes Park, which you may recognize as Stephen King's inspiration for The Shining. You may also recognize the Stanley Hotel from its many appearances on shows like Ghost Hunters and Ghost Adventures, because the hotel is haunted as shit. And if there's anything I love more than a good haunted hotel, it's a haunted hotel with ties to Stephen King.
"She could see the highway clinging to the side of this cathedral spire…Further up, seemingly set directly into the slope itself, she saw the grimly clinging pines give way to a wide square of green lawn and standing in the middle of it, overlooking all this, the hotel. The Overlook."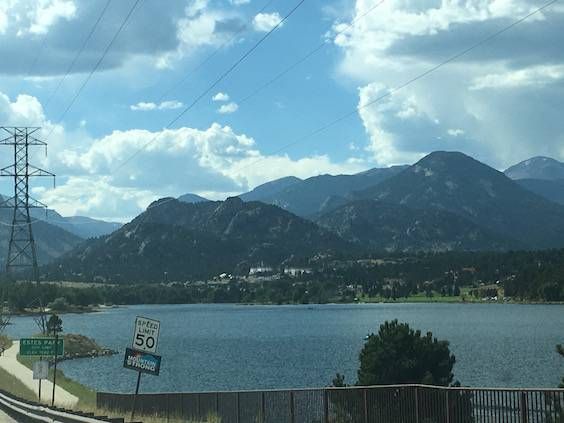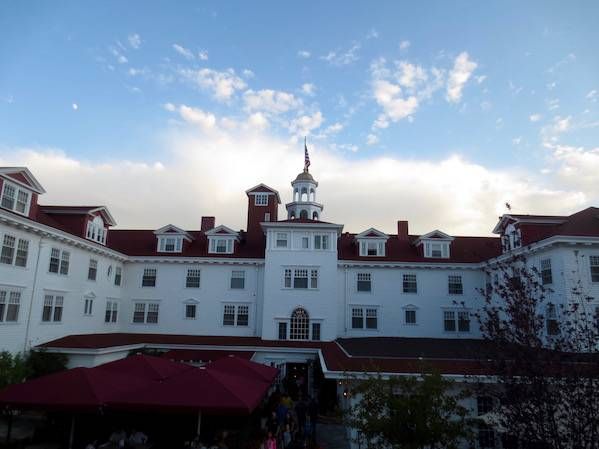 Unfortunately, due to a wedding and a couple business retreats that were being hosted there that weekend, we were given a room in a brand new building on the property (read: definitively NOT haunted), but that didn't stop us from doing the evening ghost tour and wandering around the hotel in our spare time, looking for recognizable features from the book.
The Lobby
"The lobby was a bustle of activity…Bellboys shuttled in and out with suitcases and there was a line at the desk, which was dominated by a huge brass cash register…to their right, down toward a pair of tall double doors that were pulled closed and roped off, there was an old-fashioned fireplace now blazing with birch logs. Three nuns sat on a sofa that was drawn up almost to the hearth itself."
Room 217
"'That was in Room 217, and I want you to promise me you won't go in there, Danny. Not all winter. Steer right clear.'"
Not only is 217 the room that Stephen King and his wife stayed in on their first visit, it's also one of the most haunted (and most frequently requested) rooms in the hotel. I didn't get to go inside, so I had to settle for pointing excitedly at a closed door.
The Elevator
"They stepped into the elevator together. It was ornately scrolled in copper and brass, but it settled appreciably before Ullman pulled the gate across…Ullman threw the lever over, and for a moment there was nothing but a shuddering beneath their feet and the tortured whine of the motor below them. Wendy had a vision of the four of them being trapped between floors like flies in a bottle and found in the spring…with little bits and pieces gone…like the Donner party."
The Stanley still has its original elevator from 1909, although thankfully, this one was a lot safer to ride.
The Mini-Overlook
"He went first to the playhouse, the perfect scale model of the Overlook itself."
This wasn't part of the original hotel – it was created for The Shining miniseries in the mid-'90s – but it's on display on the first floor.
The Fire Hose
"Something made him pause there and he wasn't sure what for a moment. Then he remembered that directly around this corner, on the way back to the stairs, there was one of those old-fashioned fire extinguishers curled up against the wall. Curled there like a dozing snakeWhen he was alone, he always skittered past these extinguishers as fast as he could go. No particular reason. It just felt better to go fast. It felt safer."
The hose extinguishers aren't there anymore, but the hardware is still attached to the walls.
The Bar
"But now, lit only murkily by the light which filtered through from the dining room…he thought he saw ranks and ranks of bottles twinkling mutedly behind the bar, and syphons, and even beer dripping from the spigots of all three highly polished taps."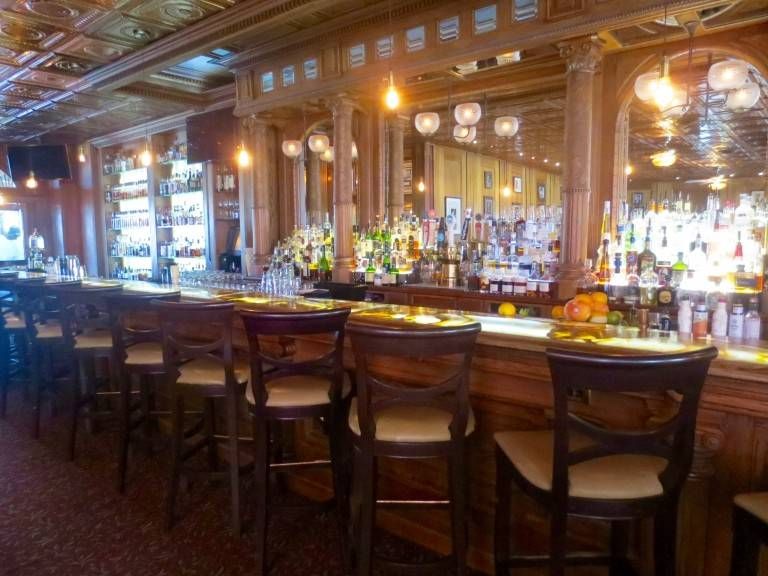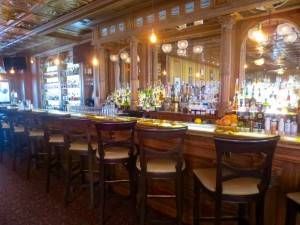 Sadly, there were no creepy bartenders named Lloyd.
"Down a long hall, panting and gasping. Around a corner. Up a flight of stairs. And as he went, the walls that had been so high and remote began to come down…the doors became numbered again and behind them the parties that were all one went on and on, populated by generations of guests."
Even though we didn't encounter any of the Stanley Hotel's former generations of guests, we fully intend to go back and hopefully spend the night in one of the haunted rooms. Maybe even Room 217.