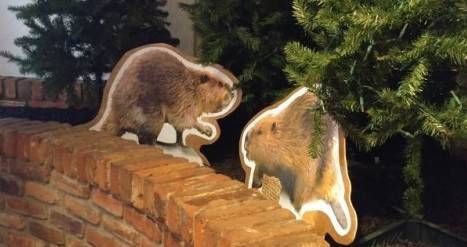 This content contains affiliate links. When you buy through these links, we may earn an affiliate commission.
If you ever find yourself in Lancaster, Pennsylvania, then you simply must take the time to visit this Inklings-inspired coffee shop/pub/used bookstore. Tucked away on the lower level of the Place Marie building near the Lancaster Central Market, the Rabbit and Dragonfly is a haven for fans of all things J.R.R. Tolkien and C.S. Lewis.
As you come into the entryway, Mr. and Mrs. Beaver are there to greet you.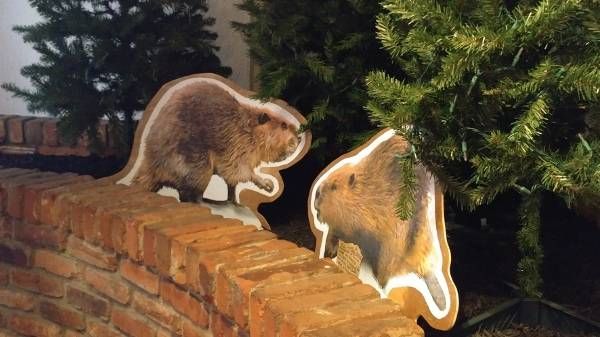 When you enter the space itself, an alcove to the right offers space to hang your coat—or perhaps follow Lucy and Mr. Tumnus into Narnia.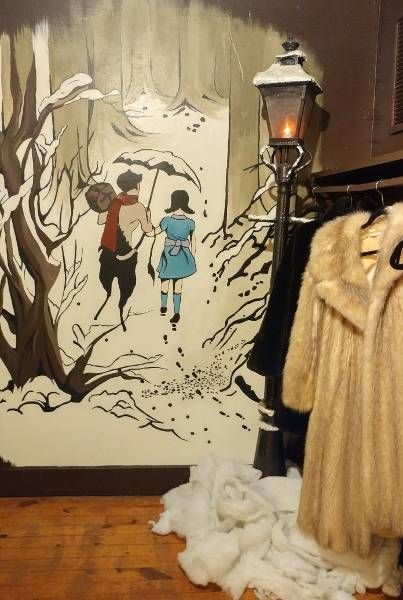 A fireplace mantel near the wardrobe features photos of Lewis and Tolkien and a clock set to Oxford time. The Lewis tribute continues with a typewriter spilling out the first pages of The Lion, the Witch, and the Wardrobe.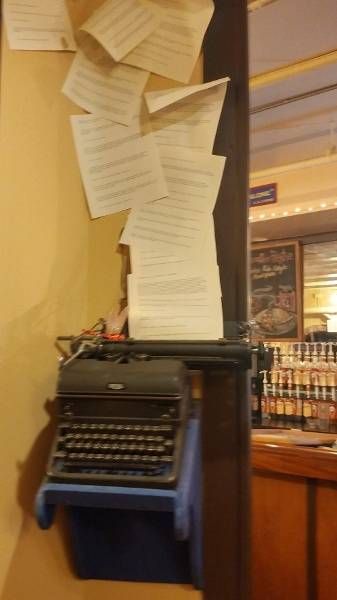 If you're looking for something to read, you'll find a bookshelf tree that displays used books by the Inklings and close associates. On the day of my visit, there were books by Lewis, Tolkien, George MacDonald, and Dorothy L. Sayers. The nearby display case offers particularly daring readers bookish "blind dates" (books wrapped in brown paper with a hint to their contents written on the tag). I struggled to choose between the date with a ghost baby and the date for learning about the Black Lives Matter movement. A larger collection of used books for sale is near the back of the space. It's a small, but well-curated collection that leans to the classics and science fiction/fantasy, as well as children's books.
The food and drink offerings continue the theme, with such selections as Mr. Tumnus's tea and toast, the My Precious Chai, and the Hamwise Gamgee sandwich. Drink sizes range from Hobbit to Ent.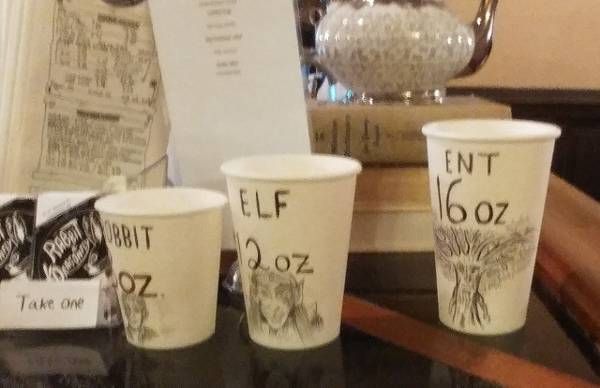 The Rabbit and Dragonfly is clearly meant to be a place for lingering. I spotted a chess set (Lord of the Rings-themed, of course) on one of the tables, and there are lots of games on the bookcases. Their website states, "We aim to promote community, collaboration, and creative inspiration that will fuel connections and promote life in our city." They hold regular events, including weekly open mics, game nights, dance classes, writers' groups, drawing times, and storytime or Cereal and Cinema on Saturdays. They also have live music and receptions for local artists whose work is displayed there. I know that if I lived in Lancaster, it would be a regular haunt!