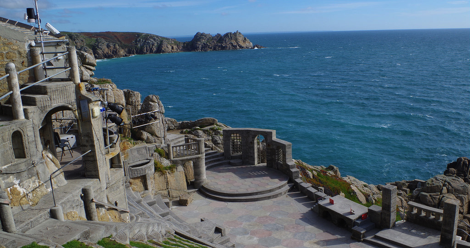 This content contains affiliate links. When you buy through these links, we may earn an affiliate commission.
I recently had my mind blown after visiting one of the coolest theatres I've ever been to: The Minack Theatre.
Located in Porthcurno in Cornwall, UK, the Minack is an open-air theatre that has been carved out of the side of a cliff.
You might think that I'm exaggerating with that statement but I'm not, it actually is carved out of the side of a very steep cliff. I'm also not joking when I say that if a performer forgot where they were supposed to be, there is a very good chance of falling off said cliff to the ocean below.
The Minack Theatre was the brainchild of Rowena Cade. Rowena bought the land after World War One for £100 ($128 US) and let her friends perform Shakespeare in her garden.
Rowena decided that the rocky gully below her house would provide a better setting for plays and six months later she and her two friends had constructed a makeshift theatre that was lit by car headlights.
The first performance at the Minack was The Tempest on August 16th 1932. Audience members went into Rowena's house where tickets were handed out at her kitchen table.
History was made, The Times did an article on her theatre and demand was soon on for more shows. The players changed costumes in Rowena's house and the audience still got their tickets from Rowena's table, but year after yea Rowena and her friends worked on improving the theatre.
Throughout the years the Minack has seen some changes, there's a big parking lot, a café, gift shop and a ticket office but at its core it remains the same.
Audience members sit on rock seats with a grassy ledge to put their feet. There is no cover, the shows go on rain or shine. There is a path down to the beautiful beach below but you traverse it at your own caution. There are steps on this path and then there are "steps" that are simply natural flat areas of the cliff.
I was very fortunate to have seen two performances at the Minack. Romeo and Juliet and a traditional Cornish storyteller or "Droll Teller" as they were known in the 19th century.
To be honest, I think you could watch an amateur production of Zoolander 2 at the Minack and still have your breath taken away. Behind the performers you can hear the waves slamming against the rocks below, the sea air is naturally crisp but at the Minack it's got an added shot of electricity when the show is on.
Sometimes the fog rolls in over the players, creating an eerie sense of foreboding even when it's not warranted.
You're crammed in with the other members of the audience but it's a good feeling, the feeling of a positive shared experience that only live theatre can provide.
Rowena worked on the Minack every year until her death at the age of 89 in 1983. I like to think that she'd be happy with what the Minack is today, a simple yet powerful experience for people of all ages. A place for friends to get together to watch a show and have a good time, just like her friends did in her back garden in the 1920s.
If you ever visit the UK, make your way to the Minack. It is a magical, eerie and inspiring place.
Save
Save