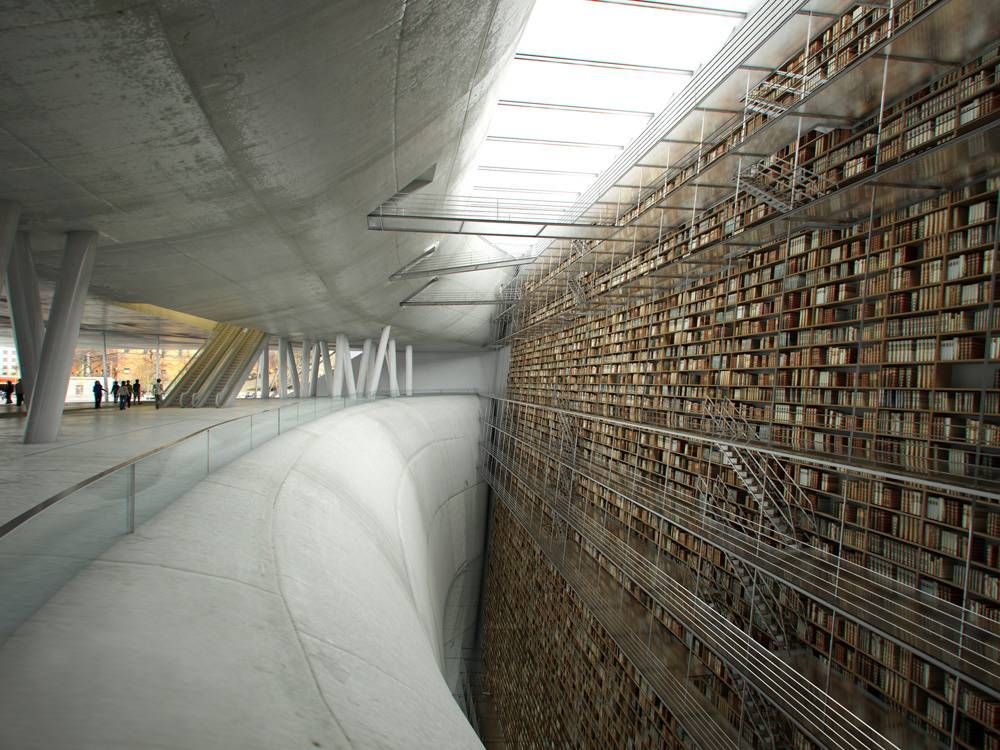 These days, we tend to take for granted that libraries will let us browse to our hearts' content. But in the longer history of libraries, that's actually pretty unusual. Before the twentieth century, and especially in Europe, most libraries had closed stacks: You applied for access (sometimes giving character references), and then you requested a book from a librarian, who would have it fetched for you. Not exactly a recipe for serendipitous browsing.
In 1928, the first Swedish library built on the open-shelf principle opened in Stockholm. Designed by Gunnar Asplund, after a study of U.S. libraries, it took openness seriously as a design feature. And it's fantastic.
The exterior of the building is a bit stark in its abstract monumentality, though it's certainly distinctive:
But the interior is where open access really comes into play. Taking the open-shelf ethos in a beautiful direction, the inside of that main rotunda is a grand reading room lined with shelves and packed with books:
The roundness makes a sort of endless, book-laden wall, without even corners to get in the way. Walk the walls, and the books are yours:
A few years ago, some design students took this idea to an even greater (and playfully unworkable) extreme in a proposal for what they call "an infinite wall of books, with a concrete wave access" at the Stockholm Public Library. It's a bit ridiculous, sure, but it's also incredible. ALL THOSE BOOKS:
I'm not sure I'd want to use it (the acrophobic in me quails at the thought), but it's certainly fun to look at.
____________________
We run a pretty sweet little bookish Instagram account, if we do say so ourselves (and we do). Come check it out.