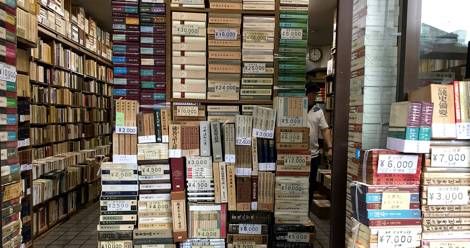 While there are plenty of awesome literary cities in the world, Tokyo has one up on all of them: there's an entire neighborhood devoted to books. Called Jimbocho–sometimes written as Jinbōchō–it centers around the intersection of two streets in the center of Tokyo, Yasukuni-Dori and Hakusan-Dori. It's packed with over 180 bookstores, publishing houses, and some of Tokyo's most prestigious literary clubs. You can find everything here from antique volumes to manga and mass market paperbacks, and the stores are fascinating to browse through even if you can't read Japanese.
It all started in 1913, when a fire leveled the district. In the wake of the devastation, a university professor named Shigeo Iwanami opened the first Jimbocho publishing house. Called Iwanami Shoten, today it's one of Japan's largest publishing companies. Iwanami's success attracted more publishers to the area, then bookstores, then cafes. By the 1920s, Jimbocho was Tokyo's equivalent of Paris' Left Bank, a habitual hangout of artists, writers, intellectuals, and bohemians.
Today, Jimbocho maintains its status as the center of secondhand bookselling and literary life in Tokyo, not least because it's within walking distance of five major universities. Taken together, Jimbocho isn't just the largest secondhand book market in Tokyo, it's one of the largest in the entire world. Some dire reports state the neighborhood has shrunk severely in recent years due to the encroachment of ebooks–but even if true, Jimbocho still has the highest concentration of bookstores I've ever seen in my life, and they are crammed with people. The subway station walls are decorated with images of books, the cafes are full of people reading and talking books, and the subway seems to have an unusually large number of passengers carrying at least one book. Bibliophiles of the world! This is your homeland!
As you walk down Yasukuni-Dori, one of the two major streets in Jimbocho, you might notice all the bookstores are on one side of the street only. The other side consists of yummy-looking cafes, bakeries, and restaurants. That isn't an accident: the booksellers stay on the south side of the street so that their books aren't damaged by direct sunlight.
If you can't read Japanese, a few good bookstores with foreign language sections are:
Kitazawa Books, located on the second floor of Book House Jimbocho, which specializes in English books. They also carry antique books dating from the middle ages.
Isseido specializes in foreign-language books about fine arts and archaeology, and has whole sections devoted to micro topics like mountaineering. They also have a large collection of manuscripts and woodblock prints.
Sanseido is a huge bookstore with a seemingly endless series of floors, a cafe, and other stores in addition to books (for example, in the middle of shopping for books you can get an eyeglass prescription). You can find English books and magazines on the second floor, although their selection is small compared to Kinokuniya's.
That said, most of the bookstores in Jimbocho carry Japanese language books only, which I admit kind of takes the fun out of book browsing for those who can't speak it. However! There's still plenty to discover in these secondhand stores. Many carry woodblock prints, of either the original or knock-off variety, and some have whole collections of old magazines, even in English. Who would want old magazines? The Japanese, apparently.
Here are some Japanese-language bookstores in Jimbocho that might be worth your time:
Magnif Zinebocho specializes in vintage fashion magazines, which are always fun to browse through.
The Bohemian's Guild carries art books covering both Japanese and Western artists.
Book Tokyodo is a trendy bookshop that sells new books. Unfortunately they only have Japanese books, but the street view cafe is a nice place to take a break and people watch.
Ready to go? Here are a few tips first:
If you want to visit specific stores, check the hours. Japanese bookstores–and Asian retail stores in general–don't keep the sort of hours Americans are used to.
Japanese used bookstores are organized to the nth degree. If you're searching for something specific, you (or the shop owner) should be able to determine if the shop has it or not relatively quickly.
To access Jimbocho, take the Tokyo Metro Hanzōmon Line, Toei Mita Line, or Toei Shinjuku Line to Jimbocho Station. Then follow the signs for the A7 exit, also known as "Book Street."
Don't forget about the Jimbocho book festival, which takes place in late October/early November!