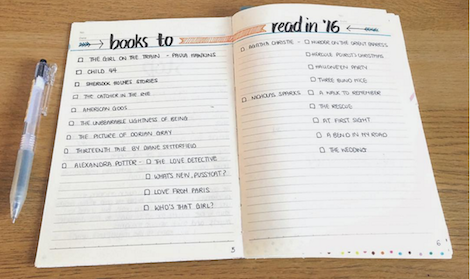 Crafting
Cool Bookish Ideas for Your Bullet Journal
Are you familiar with bullet journals? It's a style of journaling that organizes a journal into a hybrid diary/planner/to-do list for paper and pen lovers, but gives users flexibility to personalize according to their needs. I was intrigued when I first learned about bullet journaling (#bujo), and I even started one myself. I quickly went rogue on the organizational system (so many rules!), but I enjoy certain aspects of how a bullet journal is put together—modules, page-numbering, and an index to keep track of it all.
It also appealed to my compulsion to make bookish lists. At any given time, I have about fifteen lists of books—to-read, to-buy, to-write about, etc.–fluttering around my house and stuffed into notebooks. I also keep a small journal of all of the books I've read since 2010 (it's almost full!) with nothing more than title and date finished, but I don't love how my lists aren't all in one place. Surely there was a way to apply the #bujo organization magic on this madness! So I went looking for inspiration:
Keep to-read lists, with little handy boxes to shade in when you've read a book so you can track your progress at a glance! Perfect for working your way through a set list.
the pin
Image via https://www.thelazygeniuscollective.com/blog/how-to-bullet-journal.
Create a module to track the books you read, but also their attributes like publication date, genre, page length, and whether the book was written by a male or female writer:
the pin
Image via https://www.lovelaughterinsanity.com/2016/06/bullet-journal-show-and-tell.html.
You can also use this opportunity to make your to-read list look absolutely beautiful. It looks like this user left room to mark when she had read a book, and a rating.
the pin
Image via https://bookmarksandbrushpens.tumblr.com/post/147019054659/this-was-actually-a-rock-your-handwriting-prompt.
Do large to-read lists intimidate you? Keep it simple with this little weekly to-read list, and an adorable little illustration of books on a shelf:
Image via https://succulentstudy.tumblr.com/post/140696557473/so-i-got-an-anonymous-ask-wanting-a-tutorial-on.
Level up your have-read list by making a very visual list! Draw blank books on a shelf, and fill them in with the title as you finish a book.
the pin

Image via https://readbeforeyouwrite.tumblr.com/image/146569519122.
(And if you're looking at those adorable bookshelf drawings and despairing over your lack of artistic skills, don't worry—you can buy bullet journal book stencils on Etsy!)
I also love how these #bujo users keep track of their reading challenges by giving them their own modules!
This one puts "Books to Read" and "Books Read" side by side, which makes tracking your reading super easy:
the pin

Image via https://productivecoffee.tumblr.com/post/146358868373/6-23-2016-happy-thursday-everyone-heres-an.
Here's a Goodreads Challenge:
the pin

Image via https://grangergrades.tumblr.com/post/146495729270/260616-a-new-addition-to-my-bujo-pages-i.
And here is Rioter Rincey Abraham's module for the Book Riot Read Harder Challenge!
Sometimes you need a little extra motivation to get through those longer books, so create a module for the book and break it down into bite-sized pieces, like chapters or sections. (This is a great tool for books you're studying for school!) You can view: https://lovely-little-studyblr.tumblr.com/post/146437995441/i-made-a-bullet-journal-spread-to-motivate-myself.
This photo shows how one user tracks watching her TV shows, but I think the method could easily translate into tracking your progress through long series, or studying extra-long books.
I like how this user's to-read list is also an author to-read list–it's a good way to track authors you lose and make your way through some backlist titles!
The coolest thing about the bullet journal system is that it is highly adaptable to your needs, and it can do whatever you want it to. So go forth and journal your bookish inclinations! And if you do something really cool with your bullet journal, share in the comments!