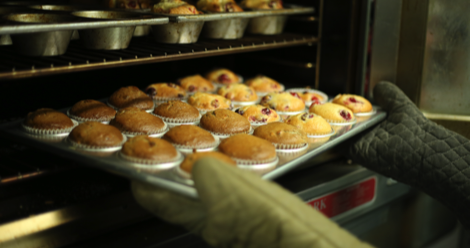 Nonfiction
5 Cookbooks That Will Make Your Holidays Sweeter
This content contains affiliate links. When you buy through these links, we may earn an affiliate commission.
For me the holidays have always been associated with baking. From my great-gran's shortbread to butter tarts to peanut butter marshmallow squares, our house was always full of baked goods for all of December. My Mom even hosts a massive cookie decorating party every year for friends and family. As an adult, I've done everything I can to continue this tradition in my own small apartment. With varying degrees of success. This year I've gathered a bunch of new cookbooks to help fill our house with amazing holiday cookies and breads, which I decided to share with all of you. Here is a list of five sweet cookbook recommendations for holiday bakers. Ready, set, bake!
For those of you who are Great British Bake Off (The Great British Baking show in North America) fans, you will already know about the queen of baking, Mary Berry. If you aren't, you should probably go binge-watch it now. You can also grab this cookbook and learn all about British baking for the holidays. This cookbook is perfect for traditional bakers that want to learn to bake the classics, such as a Victorian Christmas cake.
Food Network star Ree Drummond offers up some great heart-warming recipes for holidays throughout the year in this book; including caramel apple rolls and Christmas rum cake. This is perfect for those bakers who like traditional home baking that is simple but delicious.

Best known for her work as judge for The Holiday Baking Championship on The Food Network, this model turned chef has some fantastic recipes in this book. However, this isn't for the faint of heart, with recipes like chestnut empanadas and baked Alaska with champagne and strawberries. This is a great option for bakers who love to stretch themselves and make beautiful show-stopping bakes.
A modern approach to traditional Jewish baking from pastry chef Paula Shoyer. The recipes range from rosemary nut brittle to vegan matzoh cookies to green tea hamentaschen. It's sure to be a hit for those bakers who celebrate Hanukah or those who want to cook for Jewish friends and family over the holidays.
Nadiya was a contestant and winner of the GBBO/Great British Baking Show. Since the show she has made a name for herself through her cookbook writing. Her latest blends children's stories with holiday recipes to help bakers pass on the baking tradition to the next generation. This is the perfect fit for those who love to bake with the children in their lives.