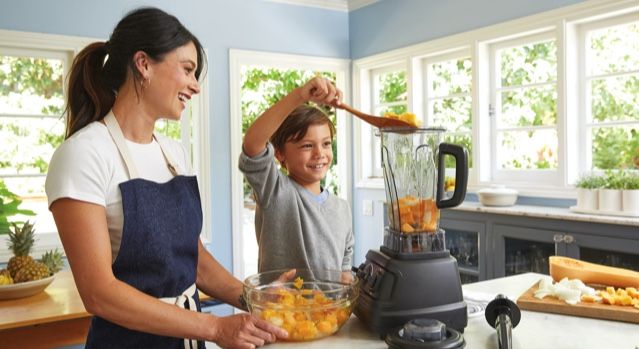 Lists
20 Cookbooks to Get the Most Out of Your Gifts
This content contains affiliate links. When you buy through these links, we may earn an affiliate commission.
This time of year, my social feeds are filled with folks who just received an Instant Pot, Air Fryer, or another trendy kitchen gadget and they're looking for recipes to make the most out of their gifts. Since I am an avid home cooking fan and a gadget nerd, I put together this list to get ahead of those posts this year!
Instant Pot Cookbooks
You probably want to start with this one first because I feel like a lot of people end up abandoning their Instant Pot after a month or two because they don't really understand it. Just the other day when I told a friend she should use less water than the standard crockpot recipe if she was using the standard Instant Pot lid, she had no idea! Shumski explains all the key functions of the Instant Pot, discusses how to convert recipes you already love, and offers 100 recipes to get you started.
With 500 recipes, there is a little something for everyone in this one. Whether you're looking for breakfast, main dishes, soups, meat, seafood, vegetarian, or sides, you'll walk away from this book with a list of recipes to try.
I know a lot of people are looking to go Keto for health reasons and Pitre is on a mission to make the Ketogenic Diet a bit more convenient. This book includes an introduction to Keto as well as the Instant Pot, and over 65 recipes with a maximum of 12g net carbs per serving.
Going to high school on Guam, I became very familiar with Filipino food thanks to my wonderful neighbors. When I saw this book, I knew it would make a great combo since so many Filipino dishes rely on a slow simmer or other kinds of wet heat. The six authors also weave in family stories throughout the book, making for a warm-hearted read.
Many of the recipes I first came upon after acquiring my Instant Pot were meat-based, so this book is a wonderful resource for those who don't eat meat or (in my case) don't eat very much of it. In addition to 75 recipes, the book also provides ingredient substitution guidance, ideas for leftovers, and Instant Pot basics.
Find more recommendations for Instant Pot cookbooks here!
Slow Cooker Cookbooks
For this cookbook, Cho adopted classic family favorites to be easy and require minimum prep work, fully taking advantage of the slow cooker's merits. She includes a culinary map of Asia with flavor profiles of the most common flavors in many Asian cuisines, including Chinese, Korean, Thai, Filipino, Indian, and Sri Lankan.
I just love the idea of a slow cooker recipe for every day of the year—even though the main advantage for me is being able to eat for several days off of one crockpot meal. This book is based off of O'Dea's very popular blog and every recipe is written with gluten-free options.
Even if you aren't vegan or vegetarian, working more plant-based meals into the rotation is never a bad thing. The aim of this book is to make it even easier for you to do that, with recipes featuring simple ingredients, minimal prep work, and just a few steps.
Find more recommendations for slow cooker crockpots here!
Sous Vide Cookbooks
Even after reading dozens of sous vide recipes, I didn't really understand the technique until I read this book. It's a great starter's guide, as well as providing over a hundred recipes.
As a recipe collector, I love books with hundreds of recipes because I know there are going to be some I haven't seen before. This one even has recipes for cocktails and liquor infusions as well as a 30-day meal plan to help you plan an entire month's worth of meals.
If you're looking to make a nice variety of meats with your sous vide machine, this is the book for you. Stewart is the Executive Chef for the International Sous Vide Association, so his passion for this kind of cooking shines all the way through this cookbook.
Find more recommendations for sous vide cookbooks here!
Air Fryer Cookbooks
I am a fan of the Skinnytaste blog and all of Homolka's cookbooks, so Skinnytaste is the first place I turned to when I got my air fryer and she did not disappoint. The air fryer seems like it was made for someone like Gina Homolka, whose entire brand is making lighter versions of meals that still taste great'which is my favorite thing about the air fryer.
You may have noticed by now that I'm a fan of cookbooks with a lot of recipes, and this is the biggest one on this list. It has almost everything you could want to try in an air fryer. Unfortunately, my air fryer is on the smaller side, so it doesn't work for some of the larger dishes, but I still found a lot of great recipes to try.
Aside from pork chops, my favorite things to make in my air fryer are plant based. The way that it crisps vegetables can turn anyone into a believer. This book offers 75 plant-based recipes to try out in your new gadget.
Find more recommendations for air fryer cookbooks here!
Toaster Oven Cookbooks
Perhaps this is a micro-trend made up entirely of my friends, but I notice a lot of single folks or couples without children are turning to toaster ovens for more of their cooking. This book is perfect for those looking to branch out from bagels and grilled cheese, with some truly gratifying dishes.
From pancakes to calamari to pie, this book offers quite a few easy but satisfying dishes to take advantage of a toaster oven's versatility. It's the oldest book on this list, so make sure you check for power differences and adjust accordingly.
Mixer or Other Baking Supplies
Since Great British Baking Show is single-handedly responsible for getting me interested in baking again, this seemed like an apropos book to start learning the basics. I refer to it over and over again.
I included this on my 50 Must-Read Baking Books list in February and am still enamored with it. If you're wanting to take your baking to the next level and make it look nearly professional, this is a great resource.
Multiple Gadgets
If you were lucky enough to receive not one, but more kitchen gadgets, you may want to pick up a cookbook or two that covers multiple cooking methods.
There's already one Skinnytaste book on this list, but I did say she was my favorite and go-to for great-tasting recipes that don't make me regret my choices. For some recipes, she even provides multiple cooking options, which is great when I don't feel like pulling the Instant Pot out and have the time for a simmer on the stove.
This book has a little bit of everything and had me wishing I had a waffle iron of my own. With recipes for spiralizers and muffin tins, it is a must-have for the kitchen gadget lover.
---
I hope you've enjoyed my list of cookbook recommendations to make the most out of whatever kitchen gadget you received this year. What are some of your favorite cookbooks that integrate specialty gadgets?