Children's
10 Cookbooks Inspired By Children's Books
This content contains affiliate links. When you buy through these links, we may earn an affiliate commission.
Cookbooks are great, but cookbooks based on books are greater still. There's nothing better than reading about a meal and then having the opportunity to make it.
Here are ten cookbooks that give the opportunity to do precisely that. From recipes inspired by such children's classics as My Naughty Little Sister through to Moomins, these books quite literally allow you to have your cake and then eat it.
Paddington Bear's marmalade, a Neopolitan pizza with Elena Ferrante, afternoon tea at Manderley…Here are 100 delicious recipes inspired by cookery writer Kate Young's well-stocked bookshelves.
Join Anne Shirley and her friends in Avonlea with the charming recipes in The Anne of Green Gables Cookbook, a recipe collection inspired by L.M. Montgomery's famous children's book series, Anne of Green Gables.
Now readers can prepare a feast Moomin-style! The Moomins Cookbook contains all the secrets to the tasty dishes prepared by the unflappable Moominmamma for the lovely little characters that live in Moominvalley. The recipes are a wonderful introduction to Finnish cuisine, presented by season, and include over 150 different forest dishes ranging from salads, soups, fish, meat and desserts plus all the delicacies of Finnish life, from breakfast at the end of a sunny Nordic summer night to garden parties, campfires and birthday celebrations.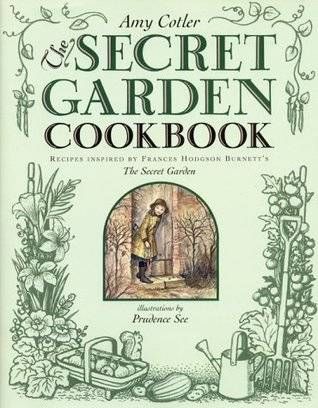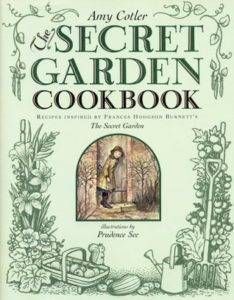 A compilation of recipes for foods served in England during the Victorian Era and inspired by characters and events in "The Secret Garden" by Frances Hodgson Burnett.
A wonderfully nostalgic cookery book, it will take you straight back to your favourite children's books and show you how to cook the feel-good foods that feature so strongly in them. So, you'll find recipes for Swallows and Amazons Squashed-Fly Biscuits, the Famous Five's Gorgeous Ginger Beer, and a Gloriously Sticky Marmalade Roll from The Lion, the Witch and the Wardrobe, amongst others.
A unique combination of storybook and cookbook, with all recipes and stories devised and written by Nadiya herself, Nadiya's Bake Me a Story brings families into the kitchen to spend time together sharing stories and cooking.
Jolly Good Food by Enid Blyton and Allegra McEveedy
Have you ever dreamed of having picnics with the Famous Five, midnight feasts with the Malory Towers girls, or party teas with the Folk of the Faraway Tree? With this cookbook, inspired by Enid Blyton's stories, you can! Packed full of yummy recipes, lively artwork and extracts from Enid Blyton's stories, this cookbook will inspire children—and the whole family—to get busy in the kitchen.
Is your tummy beginning to rumble? Make your own owl ice cream, scrambled snake and roasted fox, and of course…Gruffalo crumble! With twenty-four recipes specially designed for adults to use with children, easy-to-follow, step-by-step instructions and lots of hints and tips on what to do next, Gruffalo Crumble and Other Recipes is a great way to introduce Gruffalo fans to cooking and baking.
Ever read a Redwall novel and wonder exactly what Abbot's Special Abbey Trifle is? Or how to make Shrimp 'N Hotroot Soup, that delicacy of otters everywhere? Or Mole's Favourite Turnip and Tater Deeper 'N Ever Pie? From the simple refreshment of Summer Strawberry Fizz to Great Hall Gooseberry Fool, they're all here, along with dozens of other favorites sure to turn young hands into seasoned chefs, illustrated in full color with all the charm and magic that is Redwall.
More than one hundred easy recipes, some with Nancy's special cooking secret. Includes "Detective Burgers," "Double Jinx Salad," "Twisted Candles Peach Crisp," and many more.
Want to read more like this? Check out Five Literary Cookbooks for some more suggestions, including a Game of Thrones cookbook and a Harry Potter Cookbook; or an introduction to three Literary Food Blogs.