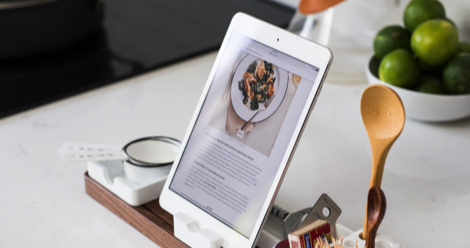 This content contains affiliate links. When you buy through these links, we may earn an affiliate commission.
I've been a member of a few book clubs in my time, but my favorite is cookbook club. Here's how it works: We pick a cookbook, and then each member brings a dish from that book for our monthly potluck meetings. I wrote about how to start a cookbook club last year, but now that my club has been meeting for a year, I thought I'd share the six cookbooks we loved our first year!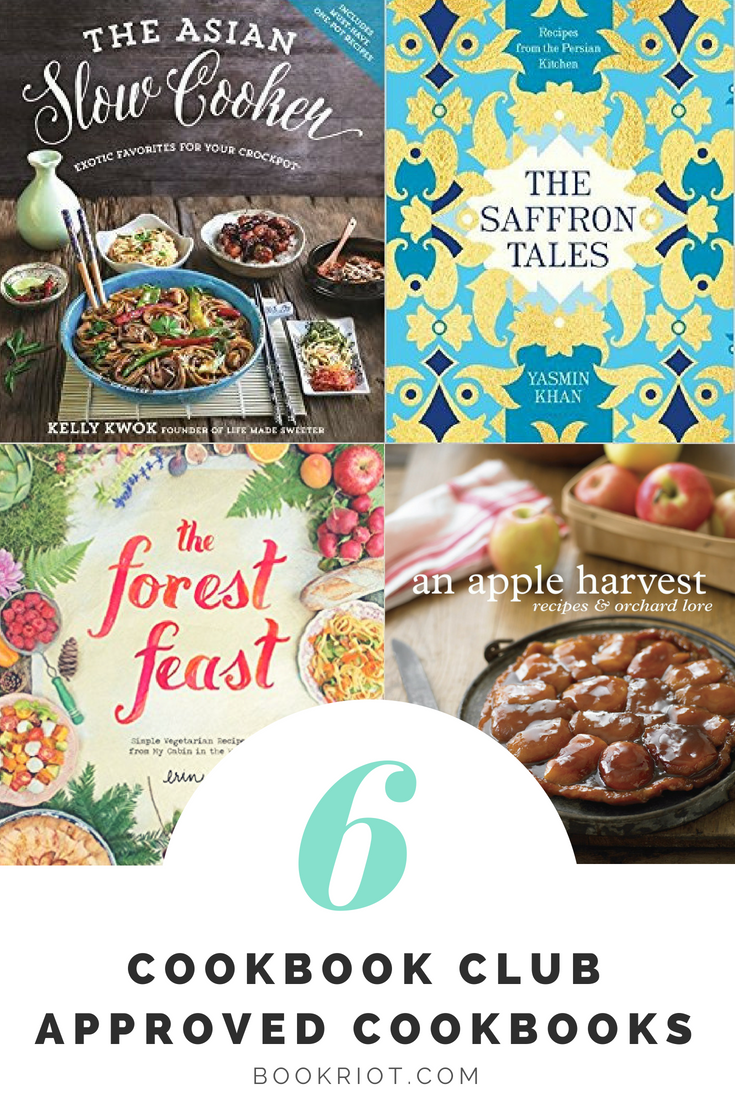 We have about 8–12 people with diverse tastes, and our cookbook selection process is pretty democratic, with members bringing cookbooks to each meeting so we can all take a peek inside and get ideas before voting. We stick with the same cookbook for two months, just because we're a small group and cookbooks have so many recipes.
We picked this book first because it was accessible and the recipes looked pretty doable, which was important because we all were a little uncertain about what the heck we had just committed to. As a starter cookbook, it turned out to be perfect! Owning a slow cooker is pretty much requisite for living in the Midwest, so that wasn't an issue, and the group really enjoyed the wide range of Asian fusion recipes. The book is helpfully divided into the following sections: Ditch the Take-Out, 5 Ingredients or Less, One-Pot or Skillet, Skip the Stovetop, Fiery Favorites, Meatless Mondays, Sensational Soups, and Delectable Desserts. The Asian Slow Cooker definitely satisfied our group's varying degrees of adventurousness; however, fair warning: most of these recipes aren't just chop and toss into the slow cooker. Many require a bit of searing or prep work, and we learned that just because you can cook something in a slow cooker doesn't mean you should. (I'm looking at you, black sesame seed brownies!) However, this book is really great if you have zero knowledge of Asian cooking or are overwhelmed by the long ingredient lists for some recipes (don't be afraid of oyster sauce!). Once you've cooked a few dishes, I guarantee you'll be going rogue with your wok. (Oh, you'll acquire a wok, too. Don't fight it.)
From the looks on everyone's faces when I first uttered the words "vegetarian cookbook," you'd be shocked to learn that The Forest Feast turned out to be one of the club's absolute favorite books! We cooked from The Forest Feast at the peak of farmer market season in Michigan, and this book really encourages you to take advantage. No one in our group is vegetarian, so some were wary about meatless meals, but these recipes prove that vegetarian food can be exciting and filling. I would also be remiss if I didn't mention just how gorgeous this book is, with its enchanted forest photographs and watercolor spreads. We all bought our own copies of this book just for the book design—and then most of us went on to buy her other cookbook, too! I loved the cocktail recipes and how this book helped me use up every last bit of my CSA basket in a way that doesn't feel like a chore. My favorite dishes were the zucchini and carrot fettuccini, for helping me ease back on my indulgence of pasta, and the cauliflower corn tacos, for helping me finally see cauliflower as something more than white, boring broccoli.
Look, we're from a small town in the Midwest where the only place you can buy cookbooks is the Walmart, and the only cookbooks that the Walmart stocks are Betty Crocker and Pioneer Woman. Of course we were going to fall under Ree Drummond's spell eventually. I wasn't completely averse to this (my best pasta salad recipe is from her blog), but I didn't go in expecting to enjoy the meal as much as I did. Her cooking is so very American and so very hearty, which was fine for a Sunday night. We all had to admit that her mac 'n cheese was damn good, and the freezer tips were pretty smart, and the Greek yogurt pancakes were so simple and smart that we all wondered why we hadn't thought of it before. In fact, a lot of her recipes are like that—not too taxing, with just a dash of cleverness that we all felt a bit stung that Ree thought it up and wrote the cookbook before we did, but more power to her. The only quibbles we really had were that the instructions read vertically rather than horizontally (whyyyyyy), and that her 16 minutes meals had us wondering if she was superhuman or a liar. Then again, as one group member pointed out, if we all stocked our pantries like she suggests at the beginning of the book, we too could be prepared for a zombie apocalypse/capable of whipping up a four-course meal under 20 minutes. I didn't purchase this book, but you can pry my spicy pasta salad with smoked gouda recipe from my cold, dead hands.
This pick was a no-brainer for fall in the Midwest, where you're smacked with apple everything each time you turn around. This book feels like something your grandma would give you, packed with the gentle recommendations and apple facts. I really appreciated the spectrum of down-homey-ness to fancy dishes in this cookbook. (For the record, fanciness in my book is duck—who actually cooks duck on the regular?) I was also really impressed with the authors' commitment to using apples in every possible dish and every possible way. They quietly shamed me for giving up halfway through September after freezing whatever apples I have left, and chucking the rest into the horse pasture. The club was able to come up with a delightfully well-rounded meal, and the apple sorbet with ginger one member prepared made me completely rethink my feelings on sorbet (i.e. ice cream's boring little cousin). I also indulged in the sausage, stewed apples, and biscuits a LOT once the snow hit. As a paperback, it was one of our more affordable picks, which is good because while I loved this cookbook, it feels a bit more seasonal than the others. However, I look forward to pulling this one out again the second Labor Day hits.
You know how when you Google a recipe and find what you want on a snazzy food blog with mouth-watering photographs, but first you have to scroll through a novella's worth of commentary about the blogger's evolution of the recipe, cut with childhood memories and a not-so-quick anecdote about how their kid/husband/dog is a picky eater, but not so when it comes to this recipe? I hate that. But. Deb Perelman is the only food blogger whose commentary I will not only read, but never skip because she is funny and down-to-earth, and she will not inadvertently shame you for your choices. We picked her latest because of her Smitten Kitchen fame, and we all really enjoyed it. Her chicken meatball marsala recipe alone was worth the time we spent with this cookbook, and I know that our club's meal was enjoyable, even if it wasn't super-duper memorable. I went mildly insane on Sunday afternoon trying to get her pelmini recipe to turn out (I've got tips, hit me up in the comments), but I feel like that was more indicative of my amateur cook status than a lack of clarity on Deb's part. But here's the thing: Deb's strengths are, in my opinion, desserts. Everything else is good, and her dessert section in this book was hefty, but I couldn't help but feel mildly disappointed that this cookbook wasn't just a dessert-fest. Then again, we have her blog for that…
The Saffron Tales: Recipes from The Persian Kitchen by Yasmin Khan
This cookbook produced one of the absolute best meals our cookbook club has ever consumed. I'm not just saying that—multiple members of the club said it first. As far as cookbooks go, this is the most adventurous we've even gotten, and it proved to be a little bit of a challenge considering our geography. We had to acquire saffron, and some of us learned firsthand the trials and tribulations of ordering spices from Amazon. But in the end, it was so, so worth it. The chicken and prune stew is outstanding. I was thrilled to discover just how easy it is to make naan at home, because I always forget to walk across the grocery store to the weird, shadowy deli corner where they stash it. Saffron rice is my new favorite, and I will probably go broke to sate my appetite for it. One of our members made freaking lamb. The desserts, oh the desserts! Chocolate pistachio tort. Rhubarb cardamom cheesecake. Sour cherry chocolate cookies. You want to join my cookbook club now, don't you? True story: This meal was so good that halfway through, a labradoodle magically appeared, lured by the wonderful scents. I initially borrowed this book from the library, but after this meal, I bought my own copy.
What're some of your favorite cookbooks? Throw some recommendations our way because we have a meeting coming up and we need to pick our next book!