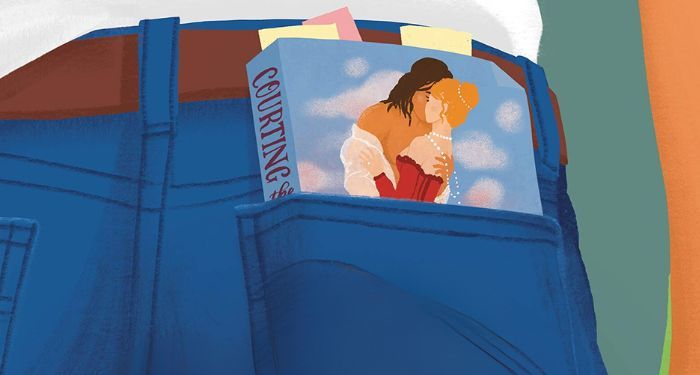 Lists
10 Contemporary Romance Book Recommendations for Straight Men
This content contains affiliate links. When you buy through these links, we may earn an affiliate commission.
Not long ago, I wrote a piece about why more men should read romance novels. It was pretty good (if I do say so myself) and my points are valid. But I made a huge oversight (thanks ADHD). I didn't give a list of books that straight men could read to get started.
Why straight men? According to RWA, in 2017 18% of romance readers were men and 82% were women. The sexuality breakdown has 86% heterosexual or straight readers; 9% bisexual, pansexual, or other bi+ identity; 2% gay or lesbian. So if 82% of readers are women and 86% are straight, then there's a serious vacancy for straight men.
If more straight men read romance novels, there would be less confusion about what straight women want. Turns out, it's mostly mutual respect, kindness, and communication about emotions. I don't think straight men understand what a big turn on vulnerability can be for women, and reading romance can show them that. Many dismiss romance because they say that it holds men to unrealistic expectations since the genre is full of billionaires and cowboys and dukes. While dating someone with no financial worries would be nice, a job resume is not the takeaway here, it's the motivation behind the actions. Respect, kindness, and communication are modeled over and over throughout all the sub-genres.
Speaking of sub-genres, the romance genre is vast. This is another misconception about romance, that it's all heaving bosoms and clinch covers. You can find any interest explored in the sub-genres. There's romantic suspense with spies, action, adventure; there's paranormal with vampires, orcs, mythological creatures; there's historical, the sub-genre that typically comes to mind for people when the romance genre is mentioned; there's erotica, dark romance, and everything in between. For the sake of easing in, I'm only recommending contemporary romance novels here. Those are romances written in the present day with everyday people.
This is a good place for newbies to start because they are the most like real life and are easy to draw parallels to in the reader's own life. The books I've picked cover a lot of emotional territory. There are big, soft, sweet cinnamon roll heroes, grumpy heroes, heroes with over the top personalities, and considerate guys. There is a hero in this list that you will be able to relate to, admire, and learn from.
Once you wet your whistle and want to go down an even deeper romance rabbit hole, you should check out the 20 most popular romance novels of 2022 and the 24 best romance novels of all time. Then you should check out which romance to read based on which romcom movie you liked. Also, here's why romance novels do not, in fact, ruin relationships.