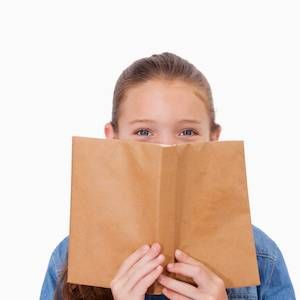 This content contains affiliate links. When you buy through these links, we may earn an affiliate commission.
While we at the Riot are taking this lovely summer week off to rest (translation: read by the pool/ocean/on our couches), we're re-running some of our favorite posts from the last several months. Enjoy our highlight reel, and we'll be back with new stuff on Wednesday, July 8th.
This post originally ran Feb. 2, 2015.
_________________________
I grew up in a maniacally pro-reading home, but it was also a conservative Mormon household. I tried to be circumspect with the books I brought home, but circumspection is not the bailiwick of most fifth graders.
And no matter how well-intentioned I was–I was a good kid, far too timid for serious misbehavior–when I stepped into the bookmobile for the first time, my judgment deserted me.
Books books books. Even better, books in a giant van!
I immediately looked for the books with the most pages, the surest indicator of quality to my young, literary soul.
Enter Misery by Stephen King. I took it home and read one hundred pages, then had a delicious, squirmy time being too scared for sleep.
In the morning, my book was gone. When I went into the living room my mom was there, Misery on her lap.
She wanted to know if I had read the book. I said I'd read some. She said she wasn't forbidding me to read it, but that I was too young for it and that it had made her sick. She asked if I knew that the nurse had been killing kids? My eyes went wild with questions and she saw that her plan was in danger of backfiring. She said that the nurse in Misery cuts off the author's foot with an ax, and did I think that was appropriate for a fifth grader? Then, despondent, she pulled the book away as I frantically tried to grab it from her.
"Not yet," she said. "You can choose to read it when you're older."
I read it as soon as I got back to school and got another copy from the bookmobile.
Then, the next time the bookmobile came I borrowed It, also by Stephen King. It was way too big to read solely at school. I'd never finish it before the bookmobile returned. I'd have to take it home. But, if my mom hadn't approved of Annie Wilkes and her ax, she wasn't going to warm to Pennywise The Clown and the piles of dead kids he left in his wake.
And so began a subterfuge and caper that would put The Thomas Crown Affair and the Oceans 11 crew to shame.
Running parallel to the burgeoning Stephen King obsessions was my love for Piers Anthony's Xanth series. The Xanth books were harmless. Fantasies about a magic kingdom where each novel's mystery usually revolved around an awful pun or riddle.
So I checked out It and one of the Xanth books, whose cover was the same size as It. I switched their covers, then taped them down. Utter genius, delivered via school-issued adhesive.
I all-but-waved that Piers Anthony book in my mom's face. Hey, have you noticed who isn't reading Stephen King these days?
Unfortunately, the book whose cover I had taken was called The Color of Her Panties. Again, this was as benign as it gets. The color of the eponymous panties was the key to some dumb riddle in the book.
It never seemed to cross my mind that my conservative Mormon mother, with her healthy mistrust of murder and mayhem as entertainment for her eleven year old son, might also be skeptical of a book about panties.
She grabbed the book out of my hand, then saw the botched tape job. She pulled the cover off and brandished It between us. Would this be the rift? Would she send me to the orphanage? Were we about to become the subjects of a future Lifetime Channel original called Tattered Pages?
No, thankfully. After promising to return It to the bookmobile, I broke my promise, read it as quickly as possible, and continued to check out things I shouldn't have been reading at that age. But I left them at school, the better to discuss them with other wild-eyed kids.
If the bookmobile had ceased its visits to Spring Creek Elementary, perhaps I could have stopped. But it was that way, and not some other way.