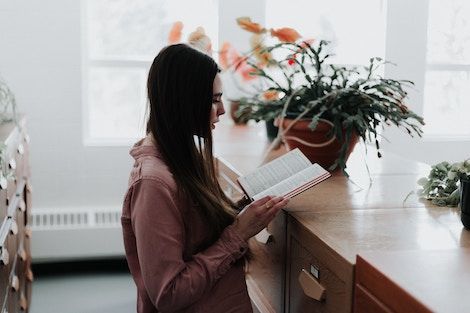 Sponsored
50 Must-Read Completed YA Book Series
This content contains affiliate links. When you buy through these links, we may earn an affiliate commission.
This collection of 50 must-read completed YA book series is sponsored by the Jackaby series by Will Ritter from Algonquin Young Readers.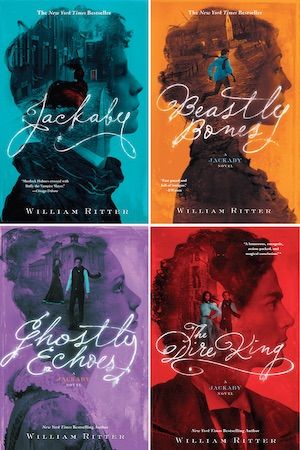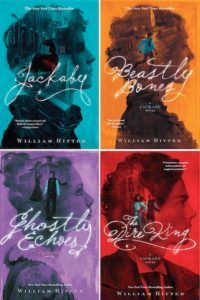 Newly arrived in New Fiddleham, New England, 1892, and in need of a job, Abigail Rook begins working for R. F. Jackaby, an investigator of the unexplained with a keen eye for the extraordinary – including the ability to see supernatural beings. Abigail has a gift for noticing ordinary but important details, which makes her perfect for the position of Jackaby's assistant. "Sherlock Holmes meets Buffy the Vampire Slayer" (Chicago Tribune) in this series brimming with cheeky humor and a dose of the macabre.
---
I'm not a big series reader. I prefer my books to be stand-alone, and that's not because I think a story needs to begin and end with just one volume. Rather, I find myself wanting to read the next book in a series the minute I complete the first title, and if I'm reading early editions of books, that often means I can't. I might end up waiting a year or more for the next book. What I can do, though, are dig into completed YA book series and not worry about the inevitable feeling of sadness. A completed YA book series ensures that I can grab an entire stack of titles and read them cover-to-cover and back-to-back.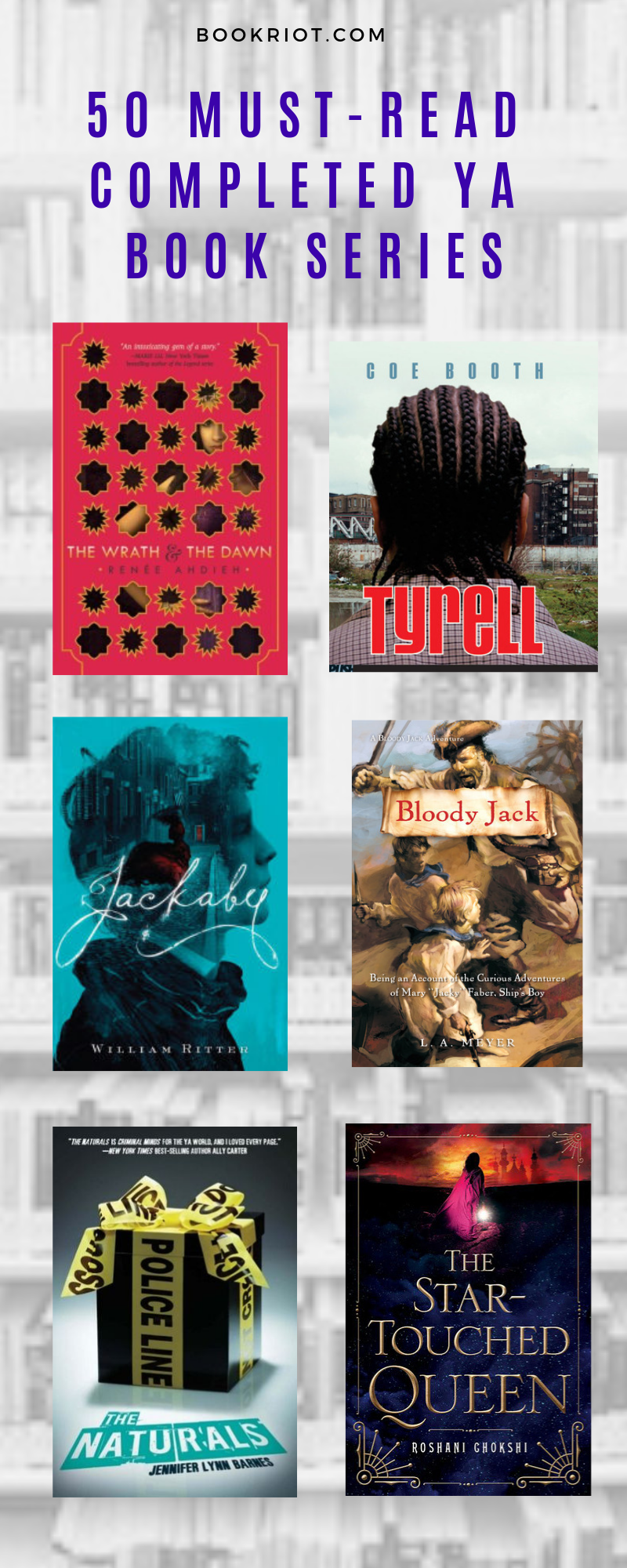 Completed YA book series span genres, as well as spanning lengths. I've pulled together 50 of the best series that you can read start to finish right now, ranging from duologies to books that have upwards of five, six, or seven titles. I've organized them by length so readers who are looking for a certain series length (i.e. they want a quick series or one that spans many volumes) can locate those titles quickly.
These must-read completed YA book series include some well-known and well-loved series, but they also leave out many of the best-known YA series. I've done this on purpose in order to offer as wide a range of voices, stories, perspectives, and adventures possible. Your favorite might not be here, but you're always welcome to drop it into the comments. Again: these are completed series. I've not included books that, as of early 2019, are waiting for additional volumes. Likewise, I've limited to one book series per author, so some authors here might have additional completed YA book series to discover.
Descriptions are pulled for the first book in each series and are from Amazon. This'll avoid spoilers. I've listed book series by the name of the series as listed in Goodreads, along with the book which launches the series. Note that many of the series here also include short stories or digital companion shorts worth seeking out as well. Those are not counted toward the series volume totals here, though, as these are bonus stories and not vital to the series itself. I have counted books that are continued series; that is, series that were added upon other series which are also complete (for example, Julie Kagawa's "The Iron Fey" series also includes "The Iron Fey: Call of the Forgotten" books).
Plan your spring, summer, fall, and winter reading with the help of these great titles.
50 Must-Read Completed YA Book Series
Duologies
Adaptation by Malinda Lo (Begin with Adaptation)
Across North America, flocks of birds hurl themselves into airplanes, causing at least a dozen to crash. Thousands of people die. Fearing terrorism, the United States government grounds all flights, and millions of travelers are stranded.
Reese and her debate team partner and longtime crush David are in Arizona when it happens. Everyone knows the world will never be the same. On their drive home to San Francisco, along a stretch of empty highway at night in the middle of Nevada, a bird flies into their headlights. The car flips over. When they wake up in a military hospital, the doctor won't tell them what happened, where they are–or how they've been miraculously healed.
Things become even stranger when Reese returns home. San Francisco feels like a different place with police enforcing curfew, hazmat teams collecting dead birds, and a strange presence that seems to be following her. When Reese unexpectedly collides with the beautiful Amber Gray, her search for the truth is forced in an entirely new direction–and threatens to expose a vast global conspiracy that the government has worked for decades to keep secret.
Akata Witch by Nnedi Okorafor (Begin with Akata Witch)
Sunny Nwazue lives in Nigeria, but she was born in New York City. Her features are West African, but she's albino. She's a terrific athlete, but can't go out into the sun to play soccer. There seems to be no place where she fits in. And then she discovers something amazing—she is a "free agent" with latent magical power. And she has a lot of catching up to do.
Soon she's part of a quartet of magic students, studying the visible and invisible, learning to change reality. But as she's finding her footing, Sunny and her friends are asked by the magical authorities to help track down a career criminal who knows magic, too. Will their training be enough to help them combat a threat whose powers greatly outnumber theirs?
Cas Lowood has inherited an unusual vocation: He kills the dead.
So did his father before him, until he was gruesomely murdered by a ghost he sought to kill. Now, armed with his father's mysterious and deadly athame, Cas travels the country with his kitchen-witch mother and their spirit-sniffing cat. They follow legends and local lore, destroy the murderous dead, and keep pesky things like the future and friends at bay.
Searching for a ghost the locals call Anna Dressed in Blood, Cas expects the usual: track, hunt, kill. What he finds instead is a girl entangled in curses and rage, a ghost like he's never faced before. She still wears the dress she wore on the day of her brutal murder in 1958: once white, now stained red and dripping with blood. Since her death, Anna has killed any and every person who has dared to step into the deserted Victorian she used to call home.
Yet she spares Cas's life.
The Girl From Everywhere by Heidi Heilig (Begin with The Girl From Everywhere)
As the daughter of a time traveler, Nix has spent sixteen years sweeping across the globe and through the centuries aboard her father's ship. Modern-day New York City, nineteenth-century Hawaii, other lands seen only in myth and legend—Nix has been to them all.
But when her father gambles with her very existence, it all may be about to end. Rae Carson meets Outlander in this epic debut fantasy.
If there is a map, Nix's father can sail his ship, The Temptation, to any place and any time. But now that he's uncovered the one map he's always sought—1868 Honolulu, the year before Nix's mother died in childbirth—Nix's life, her entire existence, is at stake. No one knows what will happen if her father changes the past. It could erase Nix's future, her dreams, her adventures . . . her connection with the charming Persian thief, Kash, who's been part of their crew for two years.
Half World by Hiromi Goto (Begin with Half World)
Melanie Tamaki is an outsider. As the unpopular and impoverished only child of a loving but neglectful mother, she is just barely coping with school and life. But everything changes on the day she returns home to find her mother is missing, lured back to Half World by a vile creature calling himself Mr. Glueskin. Soon Melanie embarks on an epic and darkly fantastical journey to Half World to save her mother. What she does not yet realize is that the state of the universe is at stake…. Award-winning author Hiromi Goto's novel is an adventurous, genre-bending fantasy of shape-shifting characters, tortured half-lives, and redemption.
Balsa was a wanderer and warrior for hire. Then she rescued a boy flung into a raging river — and at that moment, her destiny changed. Now Balsa must protect the boy — the Prince Chagum — on his quest to deliver the great egg of the water spirit to its source in the sea. As they travel across the land of Yogo and discover the truth about the spirit, they find themselves hunted by two deadly enemies: the egg-eating monster Rarunga . . . and the prince's own father.
Proxy by Alex London (Begin with Proxy)
Syd's life is not his own. As a proxy he must to pay for someone else's crimes. When his patron Knox crashes a car and kills someone, Syd is branded and sentenced to death. The boys realize the only way to beat the system is to save each other so they flee. The ensuing cross-country chase will uncover a secret society of rebels, test the boys' resolve, and shine a blinding light onto a world of those who owe and those who pay.
This fast-paced thrill ride of a novel is full of breakneck action, shocking twists and heart-hammering suspense that will have readers gasping until the very last page.
Seraphina by Rachel Hartman (Begin with Seraphina)
Seraphina is a half-dragon, descended from a dragon mother who took human form and a father who has no particular fondness for Seraphina's kind.
Not that anyone else does either. Hers is a world where dragons and humans live and work side by side—but below the surface, tensions and hostilities are on the rise. Seraphina guards her true self with all of her being, but when a member of the royal family is brutally murdered, she's suddenly thrust into the spotlight, drawn into the investigation alongside the dangerously perceptive Prince Lucian.
As the two uncover a sinister plot to destroy the wavering peace of the kingdom, Seraphina's struggle to protect her secret becomes increasingly difficult . . . and its discovery could mean her very life.
The Star-Touched Queen by Roshani Chokshi (Begin with The Star-Touched Queen)
Maya is cursed. With a horoscope that promises a marriage of Death and Destruction, she has earned only the scorn and fear of her father's kingdom. Content to follow more scholarly pursuits, her whole world is torn apart when her father, the Raja, arranges a wedding of political convenience to quell outside rebellions. Soon Maya becomes the queen of Akaran and wife of Amar. Neither roles are what she expected: As Akaran's queen, she finds her voice and power. As Amar's wife, she finds something else entirely: Compassion. Protection. Desire…
But Akaran has its own secrets — thousands of locked doors, gardens of glass, and a tree that bears memories instead of fruit. Soon, Maya suspects her life is in danger. Yet who, besides her husband, can she trust? With the fate of the human and Otherworldly realms hanging in the balance, Maya must unravel an ancient mystery that spans reincarnated lives to save those she loves the most. . .including herself.
The Wrath and The Dawn by Renée Ahdieh (Begin with The Wrath and the Dawn)
Every dawn brings horror to a different family in a land ruled by a killer. Khalid, the eighteen-year-old Caliph of Khorasan, takes a new bride each night only to have her executed at sunrise. So it is a suspicious surprise when sixteen-year-old Shahrzad volunteers to marry Khalid. But she does so with a clever plan to stay alive and exact revenge on the Caliph for the murder of her best friend and countless other girls. Shazi's wit and will, indeed, get her through to the dawn that no others have seen, but with a catch . . . she's falling in love with the very boy who killed her dearest friend.
She discovers that the murderous boy-king is not all that he seems and neither are the deaths of so many girls. Shazi is determined to uncover the reason for the murders and to break the cycle once and for all.
Trilogies
Across The Universe by Beth Revis (Begin with Across the Universe)
WHAT DOES IT TAKE TO SURVIVE ABOARD A SPACESHIP FUELED BY LIES?
Amy is a cryogenically frozen passenger aboard the spaceship Godspeed. She has left her boyfriend, friends–and planet–behind to join her parents as a member of Project Ark Ship. Amy and her parents believe they will wake on a new planet, Centauri-Earth, three hundred years in the future. But fifty years before Godspeed's scheduled landing, cryo chamber 42 is mysteriously unplugged, and Amy is violently woken from her frozen slumber.
Someone tried to murder her.
Now, Amy is caught inside an enclosed world where nothing makes sense. Godspeed's 2,312 passengers have forfeited all control to Eldest, a tyrannical and frightening leader. And Elder, Eldest's rebellious teenage heir, is both fascinated with Amy and eager to discover whether he has what it takes to lead. Amy desperately wants to trust Elder. But should she put her faith in a boy who has never seen life outside the ship's cold metal walls? All Amy knows is that she and Elder must race to unlock Godspeed's hidden secrets before whoever woke her tries to kill again.
The Bone Witch by Rin Chupeco (Begin with The Bone Witch)
Let me be clear: I never intended to raise my brother from his grave, though he may claim otherwise. If there's anything I've learned from him in the years since, it's that the dead hide truths as well as the living.
When Tea accidentally resurrects her brother from the dead, she learns she is different from the other witches in her family. Her gift for necromancy means that she's a bone witch, a title that makes her feared and ostracized by her community. But Tea finds solace and guidance with an older, wiser bone witch, who takes Tea and her brother to another land for training.
In her new home, Tea puts all her energy into becoming an asha―one who can wield elemental magic. But dark forces are approaching quickly, and in the face of danger, Tea will have to overcome her obstacles…and make a powerful choice.
The Cahill Witch Chronicles by Jessica Spotswood (Begin with Born Wicked)
Everybody thinks Cate Cahill and her sisters are eccentric. Too pretty, too reclusive, and far too educated for their own good. But the truth is even worse: they're witches. And if their secret is discovered by the priests of the Brotherhood, it would mean an asylum, a prison ship–or an early grave. Then Cate finds her mother's diary, and uncovers a secret that could spell her family's destruction. Desperate to find alternatives to their fate, Cate starts scouring banned books and questioning rebellious new friends, all while juggling tea parties, shocking marriage proposals, and a forbidden romance with the completely unsuitable Finn Belastra. But if what her mother wrote is true, the Cahill girls aren't safe–not even from each other.
Todd Hewitt is the only boy in a town of men. Ever since the settlers were infected with the Noise germ, Todd can hear everything the men think, and they hear everything he thinks. Todd is just a month away from becoming a man, but in the midst of the cacophony, he knows that the town is hiding something from him — something so awful Todd is forced to flee with only his dog, whose simple, loyal voice he hears too. With hostile men from the town in pursuit, the two stumble upon a strange and eerily silent creature: a girl. Who is she? Why wasn't she killed by the germ like all the females on New World? Propelled by Todd's gritty narration, readers are in for a white-knuckle journey in which a boy on the cusp of manhood must unlearn everything he knows in order to figure out who he truly is.
The Conqueror's Saga by Kiersten White (Begin with And I Darken)
NO ONE EXPECTS A PRINCESS TO BE BRUTAL. And Lada Dragwlya likes it that way. Ever since she and her gentle younger brother, Radu, were wrenched from their homeland of Wallachia and abandoned by their father to be raised in the Ottoman courts, Lada has known that being ruthless is the key to survival. She and Radu are doomed to act as pawns in a vicious game, an unseen sword hovering over their every move. For the lineage that makes them special also makes them targets.
Lada despises the Ottomans and bides her time, planning her vengeance for the day when she can return to Wallachia and claim her birthright. Radu longs only for a place where he feels safe. And when they meet Mehmed, the defiant and lonely son of the sultan, who's expected to rule a nation, Radu feels that he's made a true friend—and Lada wonders if she's finally found someone worthy of her passion.
But Mehmed is heir to the very empire that Lada has sworn to fight against—and that Radu now considers home. Together, Lada, Radu, and Mehmed form a toxic triangle that strains the bonds of love and loyalty to the breaking point.
Curse Workers by Holly Black (Begin with White Cat)
Cassel comes from a family of curse workers—people who have the power to change your emotions, your memories, your luck, all by the slightest touch of their hands. Since curse work is illegal, they're all criminals. But not Cassel. He hasn't got the magic touch, so he's an outsider—the straight kid in a crooked family—as long as you ignore one small detail: He killed his best friend, Lila. Now he is sleepwalking, propelled into the night by terrifying dreams about a white cat. He also notices that his brothers are keeping secrets from him. As Cassel begins to suspect he's part of one huge con game, he must unravel his past and his memories. To find out the truth, Cassel will have to outcon the conmen.
Around the world, black handprints are appearing on doorways, scorched there by winged strangers who have crept through a slit in the sky.
In a dark and dusty shop, a devil's supply of human teeth grown dangerously low.
And in the tangled lanes of Prague, a young art student is about to be caught up in a brutal otherwordly war.
Meet Karou. She fills her sketchbooks with monsters that may or may not be real; she's prone to disappearing on mysterious "errands"; she speaks many languages–not all of them human; and her bright blue hair actually grows out of her head that color. Who is she? That is the question that haunts her, and she's about to find out.
When one of the strangers–beautiful, haunted Akiva–fixes his fire-colored eyes on her in an alley in Marrakesh, the result is blood and starlight, secrets unveiled, and a star-crossed love whose roots drink deep of a violent past. But will Karou live to regret learning the truth about herself?
The Dragon King Chronicles by Ellen Oh (Begin with Prophecy)
Kira's the only female in the king's army, and she's also the prince's bodyguard. A demon slayer and an outcast, she's hated by nearly everyone in her home city of Hansong. And she's their only hope. . . .
Murdered kings and discovered traitors point to a demon invasion, sending Kira on the run with the young prince. He may be the savior predicted in the Dragon King's prophecy, but the legendary lost ruby treasure just might be the true key to victory. With only the guidance of the cryptic prophecy, Kira must battle demon soldiers, an evil shaman, and the Demon Lord himself to find what was once lost, while raising a prince into a king.
Embassy Row by Ally Carter (Begin with All Fall Down)
This exciting new series from New York Times best-selling author Ally Carter focuses on Grace, who can best be described as a daredevil, an Army brat, and a rebel. She is also the only granddaughter of perhaps the most powerful ambassador in the world, and Grace has spent every summer of her childhood running across the roofs of Embassy Row. Now, at age 16, she's come back to stay in order to solve the mystery of her mother's death. In the process, she uncovers an international conspiracy of unsettling proportions, and must choose her friends and watch her foes carefully if she and the world are to be saved.
Graceling Realm by Kristin Cashore (Begin with Graceling)
Graceling tells the story of the vulnerable-yet-strong Katsa, who is smart and beautiful and lives in the Seven Kingdoms where selected people are born with a Grace, a special talent that can be anything at all. Katsa's Grace is killing. As the king's niece, she is forced to use her extreme skills as his brutal enforcer. Until the day she meets Prince Po, who is Graced with combat skills, and Katsa's life begins to change. She never expects to become Po's friend. She never expects to learn a new truth about her own Grace—or about a terrible secret that lies hidden far away . . . a secret that could destroy all seven kingdoms with words alone.
The Hunger Games by Suzanne Collins (Begin with The Hunger Games)
In the ruins of a place once known as North America lies the nation of Panem, a shining Capitol surrounded by twelve outlying districts. The Capitol keeps the districts in line by forcing them all to send one boy and one girl between the ages of twelve and eighteen to participate in the annual Hunger Games, a fight to the death on live TV.
Sixteen-year-old Katniss Everdeen regards it as a death sentence when she steps forward to take her sister's place in the Games. But Katniss has been close to death before-and survival, for her, is second nature. Still, if she is to win, she will have to start making choices that weigh survival against humanity and life against love.
Illuminae Files by Amie Kaufman and Jay Kristoff (Begin with Illuminae)
This morning, Kady thought breaking up with Ezra was the hardest thing she'd have to do. This afternoon, her planet was invaded.
The year is 2575, and two rival megacorporations are at war over a planet that's little more than a speck at the edge of the universe. Now with enemy fire raining down on them, Kady and Ezra—who are barely even talking to each other—are forced to evacuate with a hostile warship in hot pursuit.
But their problems are just getting started. A plague has broken out and is mutating with terrifying results; the fleet's AI may actually be their enemy; and nobody in charge will say what's really going on. As Kady hacks into a web of data to find the truth, it's clear the only person who can help her is the ex-boyfriend she swore she'd never speak to again.
Told through a fascinating dossier of hacked documents—including emails, maps, files, IMs, medical reports, interviews, and more—Illuminae is the first book in a heart-stopping trilogy about lives interrupted, the price of truth, and the courage of everyday heroes.
Killer of Enemies by Joseph Bruchac (Begin with Killer of Enemies)
Years ago, seventeen year old Apache hunter Lozen and her family lives in a world of haves and have-nots. There were the Ones (people so augmented with technology and genetic enhancements that they were barely human) and there was everyone else who served the Ones.
Then the Cloud came, and everything changed. Tech stopped working. The world plunged back into a new steam age. The Ones' pets — genetically engineered monsters — turned on them and are now loose on the world.
Lozen was not one of the lucky ones pre-C, but fate has given her a unique set of survival skills and magical abilities. She hunts monsters for the Ones who survived the apocalyptic events of the Cloud, which ensures the safety of her kidnapped family. But with every monster she takes down, Lozen's powers grow, and she connects those powers to an ancient legend of her people. It soon becomes clear to Lozen that she is not just a hired gun… Lozen is meant to be a hero.
Legend by Marie Lu (Begin with Legend)
What was once the western United States is now home to the Republic, a nation perpetually at war with its neighbors. Born into an elite family in one of the Republic's wealthiest districts, fifteen-year-old June is a prodigy being groomed for success in the Republic's highest military circles. Born into the slums, fifteen-year-old Day is the country's most wanted criminal. But his motives may not be as malicious as they seem.
From very different worlds, June and Day have no reason to cross paths – until the day June's brother, Metias, is murdered and Day becomes the prime suspect. Caught in the ultimate game of cat and mouse, Day is in a race for his family's survival, while June seeks to avenge Metias's death. But in a shocking turn of events, the two uncover the truth of what has really brought them together, and the sinister lengths their country will go to keep its secrets.
Full of nonstop action, suspense, and romance, this novel is sure to move readers as much as it thrills.
The Lumatere Series by Melina Marchetta (Begin with Finnikin of the Rock)
Finnikin was only a child during the five days of the unspeakable, when the royal family of Lumatere were brutally murdered, and an imposter seized the throne. Now a curse binds all who remain inside Lumatere's walls, and those who escaped roam the surrounding lands as exiles, persecuted and despairing, dying by the thousands in fever camps. In a narrative crackling with the tension of an imminent storm, Finnikin, now on the cusp of manhood, is compelled to join forces with an arrogant and enigmatic young novice named Evanjalin, who claims that her dark dreams will lead the exiles to a surviving royal child and a way to pierce the cursed barrier and regain the land of Lumatere. But Evanjalin's unpredictable behavior suggests that she is not what she seems — and the startling truth will test Finnikin's faith not only in her, but in all he knows to be true about himself and his destiny.
March by John Lewis, Andrew Aydin, and Nate Powell (Begin with March)
Congressman John Lewis (GA-5) is an American icon, one of the key figures of the civil rights movement. His commitment to justice and nonviolence has taken him from an Alabama sharecropper's farm to the halls of Congress, from a segregated schoolroom to the 1963 March on Washington, and from receiving beatings from state troopers to receiving the Medal of Freedom from the first African-American president.
Now, to share his remarkable story with new generations, Lewis presents March, a graphic novel trilogy, in collaboration with co-writer Andrew Aydin and New York Times best-selling artist Nate Powell (winner of the Eisner Award and LA Times Book Prize finalist for Swallow Me Whole).
March is a vivid first-hand account of John Lewis' lifelong struggle for civil and human rights, meditating in the modern age on the distance traveled since the days of Jim Crow and segregation. Rooted in Lewis' personal story, it also reflects on the highs and lows of the broader civil rights movement.
Book One spans John Lewis' youth in rural Alabama, his life-changing meeting with Martin Luther King, Jr., the birth of the Nashville Student Movement, and their battle to tear down segregation through nonviolent lunch counter sit-ins, building to a stunning climax on the steps of City Hall.
Many years ago, John Lewis and other student activists drew inspiration from the 1958 comic book "Martin Luther King and the Montgomery Story." Now, his own comics bring those days to life for a new audience, testifying to a movement whose echoes will be heard for generations.
Precious Stone Trilogy by Kerstin Gier, translated by Anthea Bell (Begin with Ruby Red)
Gwyneth Shepherd's sophisticated, beautiful cousin Charlotte has been prepared her entire life for traveling through time. But unexpectedly, it is Gwyneth who in the middle of class takes a sudden spin to a different era!
Gwyneth must now unearth the mystery of why her mother would lie about her birth date to ward off suspicion about her ability, brush up on her history, and work with Gideon—the time traveler from a similarly gifted family that passes the gene through its male line, and whose presence becomes, in time, less insufferable and more essential. Together, Gwyneth and Gideon journey through time to discover who, in the 18th century and in contemporary London, they can trust.
Shadow and Bone by Leigh Bardugo (Begin with Shadow and Bone)
Soldier. Summoner. Saint. Orphaned and expendable, Alina Starkov is a soldier who knows she may not survive her first trek across the Shadow Fold―a swath of unnatural darkness crawling with monsters. But when her regiment is attacked, Alina unleashes dormant magic not even she knew she possessed.
Now Alina will enter a lavish world of royalty and intrigue as she trains with the Grisha, her country's magical military elite―and falls under the spell of their notorious leader, the Darkling. He believes Alina can summon a force capable of destroying the Shadow Fold and reuniting their war-ravaged country, but only if she can master her untamed gift.
As the threat to the kingdom mounts and Alina unlocks the secrets of her past, she will make a dangerous discovery that could threaten all she loves and the very future of a nation.
Welcome to Ravka . . . a world of science and superstition where nothing is what it seems.
The Vespertine by Saundra Mitchell (Begin with The Vespertine)
It's the summer of 1889, and Amelia van den Broek is new to Baltimore and eager to take in all the pleasures the city has to offer. But her gaiety is interrupted by disturbing, dreamlike visions she has only at sunset—visions that offer glimpses of the future. Soon, friends and strangers alike call on Amelia to hear her prophecies. However, a forbidden romance with Nathaniel, an artist, threatens the new life Amelia is building in Baltimore. This enigmatic young man is keeping secrets of his own—still, Amelia finds herself irrepressibly drawn to him.
When one of her darkest visions comes to pass, Amelia's world is thrown into chaos. And those around her begin to wonder if she's not the seer of dark portents, but the cause.
The Vicious Deep by Zoraida Córdova (Begin with The Vicious Deep)
He was gone for three days. Sucked out to sea in a tidal wave and spit back ashore at Coney Island with no memory of what happened. Now his dreams are haunted by a terrifying silver mermaid with razor-sharp teeth.
His best friend Layla is convinced something is wrong. But how can he explain he can sense emotions like never before? How can he explain he's the heir to a kingdom he never knew existed? That he's suddenly a pawn in a battle as ancient as the gods?
Something happened to him in those three days. He was claimed by the sea…and now it wants him back.
Quartets
The Agency by Y.S. Lee (Begin with The Agency)
Rescued from the gallows in 1850s London, young orphan (and thief) Mary Quinn is surprised to be offered a singular education, instruction in fine manners — and an unusual vocation. Miss Scrimshaw's Academy for Girls is a cover for an all-female investigative unit called The Agency, and at seventeen, Mary is about to put her training to the test. Assuming the guise of a lady's companion, she must infiltrate a rich merchant's home in hopes of tracing his missing cargo ships. But the household is full of dangerous deceptions, and there is no one to trust — or is there? Packed with action and suspense, banter and romance, and evoking the gritty backstreets of Victorian London, this breezy mystery debuts a daring young detective who lives by her wits while uncovering secrets — including those of her own past.
Finishing School by Gail Carriger (Begin with Etiquette and Espionage)
Fourteen-year-old Sophronia is a great trial to her poor mother. Sophronia is more interested in dismantling clocks and climbing trees than proper manners–and the family can only hope that company never sees her atrocious curtsy. Mrs. Temminnick is desperate for her daughter to become a proper lady. So she enrolls Sophronia in Mademoiselle Geraldine's Finishing Academy for Young Ladies of Quality.
But Sophronia soon realizes the school is not quite what her mother might have hoped. At Mademoiselle Geraldine's, young ladies learn to finish…everything. Certainly, they learn the fine arts of dance, dress, and etiquette, but they also learn to deal out death, diversion, and espionage–in the politest possible ways, of course. Sophronia and her friends are in for a rousing first year's education.
Once a century, one person is chosen for greatness. Elisa is the chosen one. But she is also the younger of two princesses. The one who has never done anything remarkable, and can't see how she ever will. Now, on her sixteenth birthday, she has become the secret wife of a handsome and worldly king—a king whose country is in turmoil. A king who needs her to be the chosen one, not a failure of a princess.
And he's not the only one who seeks her. Savage enemies, seething with dark magic, are hunting her. A daring, determined revolutionary thinks she could be his people's savior. Soon it is not just her life, but her very heart that is at stake.
Elisa could be everything to those who need her most. If the prophecy is fulfilled. If she finds the power deep within herself. If she doesn't die young. Most of the chosen do.
Jackaby by William Ritter (Begin with Jackaby)
Newly arrived in New Fiddleham, New England, 1892, and in need of a job, Abigail Rook meets R. F. Jackaby, an investigator of the unexplained with a keen eye for the extraordinary–including the ability to see supernatural beings. Abigail has a gift for noticing ordinary but important details, which makes her perfect for the position of Jackaby's assistant. On her first day, Abigail finds herself in the midst of a thrilling case: A serial killer is on the loose. The police are convinced it's an ordinary villain, but Jackaby is certain the foul deeds are the work of the kind of creature whose very existence the local authorities–with the exception of a handsome young detective named Charlie Cane–seem adamant to deny.
The Lunar Chronicles by Marissa Meyer (Begin with Cinder)
Humans and androids crowd the raucous streets of New Beijing. A deadly plague ravages the population. From space, a ruthless lunar people watch, waiting to make their move. No one knows that Earth's fate hinges on one girl. . . .
Cinder, a gifted mechanic, is a cyborg. She's a second-class citizen with a mysterious past, reviled by her stepmother and blamed for her stepsister's illness. But when her life becomes intertwined with the handsome Prince Kai's, she suddenly finds herself at the center of an intergalactic struggle, and a forbidden attraction. Caught between duty and freedom, loyalty and betrayal, she must uncover secrets about her past in order to protect her world's future.
With high-stakes action and a smart, resourceful heroine, Cinder is a Cinderella retelling that is at once classic and strikingly original.
The Naturals by Jennifer Lynn Barnes (Begin with The Naturals)
Seventeen-year-old Cassie is a natural at reading people. Piecing together the tiniest details, she can tell you who you are and what you want. But, it's not a skill that she's ever taken seriously. That is, until the FBI come knocking: they've begun a classified program that uses exceptional teenagers to crack infamous cold cases, and they need Cassie.
What Cassie doesn't realize is that there's more at risk than a few unsolved homicides-especially when she's sent to live with a group of teens whose gifts are as unusual as her own. Soon, it becomes clear that no one in the Naturals program is what they seem. And when a new killer strikes, danger looms close. Caught in a lethal game of cat and mouse with a killer, the Naturals are going to have to use all of their gifts just to survive.
"From now on I'm Alan of Trebond, the younger twin. I'll be a knight."
And so young Alanna of Trebond begins the journey to knighthood. Alanna has always craved the adventure and daring allowed only for boys; her twin brother, Thom, yearns to learn the art of magic. So one day they decide to switch places: Disguised as a girl, Thom heads for the convent; Alanna, pretending to be a boy, is on her way to the castle of King Roald to begin her training as a page. But the road to knighthood is not an easy one. As Alanna masters the skills necessary for battle, she must also learn to control her heart and to discern her enemies from her allies. Filled with swords and sorcery, adventure and intrigue, good and evil, Alanna's first adventure begins—one that will lead to the fulfillment of her dreams and make her a legend in the land.
Tantalize by Cynthia Leitich Smith (Begin with Tantalize)
Are you predator or prey?
CLASSIFIED ADS: RESTAURANTS
SANGUINI'S: A VERY RARE RESTAURANT IS HIRING A CHEF DE CUISINE. DINNERS ONLY.
APPLY IN PERSON BETWEEN 2:00 AND 4:00 PM.
Quincie Morris has never felt more alone. Her parents are dead, and her hybrid-werewolf first love is threatening to embark on a rite of passage that will separate them forever. Then, as she and her uncle are about to unveil their hot vampire-themed restaurant, a brutal murder leaves them scrambling for a chef. Can Quincie transform their new hire into a culinary Dark Lord before opening night? Can he wow the crowd in his fake fangs, cheap cape, and red contact lenses – or is there more to this earnest face than meets the eye? As human and preternatural forces clash, a deadly love triangle forms, and the line between predator and prey begins to blur. Who's playing whom? And how long can Quincie play along before she loses everything?
What if all the crushes you ever had found out how you felt about them…all at once?
Sixteen-year-old Lara Jean Song keeps her love letters in a hatbox her mother gave her. They aren't love letters that anyone else wrote for her; these are ones she's written. One for every boy she's ever loved—five in all. When she writes, she pours out her heart and soul and says all the things she would never say in real life, because her letters are for her eyes only. Until the day her secret letters are mailed, and suddenly, Lara Jean's love life goes from imaginary to out of control.
When Philip Digby first shows up on her doorstep, Zoe Webster is not impressed. He's rude and he treats her like a book he's already read and knows the ending to. But before she knows it, Digby—annoying, brilliant and somehow…attractive? Digby—has dragged her into a series of hilarious and dangerous situations all related to an investigation into the kidnapping of a local teenage girl. A kidnapping that may be connected to the tragic disappearance of his own sister eight years ago.
When it comes to Digby, Zoe just can't say no. Digby gets her, even though she barely gets herself. But is Digby a hero, or is his manic quest an indication of a desperate attempt to repair his broken family and exercise his own obsessive compulsive tendencies?
A romance where the leading man is decidedly unromantic, a crime novel where catching the crook isn't the only hook, a friendship story where they aren't even sure they like each other—this is a contemporary debut with razor-sharp dialogue, ridiculously funny action, and the most charismatic dynamic duo you've ever met.
Tyrell by Coe Booth (Begin with Tyrell)
Tyrell is a young African-American teen who can't get a break. He's living (for now) with his spaced-out mother and little brother in a homeless shelter. His father's in jail. His girlfriend supports him, but he doesn't feel good enough for her — and seems to be always on the verge of doing the wrong thing around her. There's another girl at the homeless shelter who is also after him, although the desires there are complicated. Tyrell feels he needs to score some money to make things better. Will he end up following in his father's footsteps?
Uglies by Scott Westerfeld (Begin with Uglies)
Tally is about to turn sixteen, and she can't wait. In just a few weeks she'll have the operation that will turn her from a repellent ugly into a stunningly attractive pretty. And as a pretty, she'll be catapulted into a high-tech paradise where her only job is to have fun.
But Tally's new friend Shay isn't sure she wants to become a pretty. When Shay runs away, Tally learns about a whole new side of the pretty world—and it isn't very pretty. The authorities offer Tally a choice: find her friend and turn her in, or never turn pretty at all. Tally's choice will change her world forever.
Unwind Dystology by Neal Shusterman (Begin with Unwind)
In America after the Second Civil War, the Pro-Choice and Pro-Life armies came to an agreement: The Bill of Life states that human life may not be touched from the moment of conception until a child reaches the age of thirteen. Between the ages of thirteen and eighteen, however, a parent may choose to retroactively get rid of a child through a process called "unwinding." Unwinding ensures that the child's life doesn't "technically" end by transplanting all the organs in the child's body to various recipients. Now a common and accepted practice in society, troublesome or unwanted teens are able to easily be unwound.
With breathtaking suspense, this book follows three teens who all become runaway Unwinds: Connor, a rebel whose parents have ordered his unwinding; Risa, a ward of the state who is to be unwound due to cost-cutting; and Lev, his parents' tenth child whose unwinding has been planned since birth as a religious tithing. As their paths intersect and lives hang in the balance, Shusterman examines complex moral issues that will keep readers turning the pages until the very end.
Long Series For A Long Marathon Reading Session
Bloody Jack by L.A. Meyer (Begin with Bloody Jack)
Life as a ship's boy aboard HMS Dolphin is a dream come true for Jacky Faber. Gone are the days of scavenging for food and fighting for survival on the streets of eighteenth-century London. Instead, Jacky is becoming a skilled and respected sailor as the crew pursues pirates on the high seas.
There's only one problem: Jacky is a girl. And she will have to use every bit of her spirit, wit, and courage to keep the crew from discovering her secret. This could be the adventure of her life–if only she doesn't get caught. . . .
The Iron Fey by Julie Kagawa (Begin with The Iron King)
Something has always felt slightly off in Meghan's life, ever since her father disappeared before her eyes when she was six. She has never quite fit in at school…or at home.
When a dark stranger begins watching her from afar and her prankster best friend becomes strangely protective of her, Meghan senses that everything she's known is about to change. But she could never have guessed the truth.
For Meghan is the daughter of a mythical faery king…and a pawn in a deadly war. Now Meghan will learn just how far she'll go to save someone she cares about, stop a mysterious evil no faery creature dare face…and find love with a young prince who might rather see her dead than let her touch his icy heart.
The Princess Diaries by Meg Cabot (Begin with The Princess Diaries)
Mia Thermopolis is pretty sure there's nothing worse than being a five-foot-nine, flat-chested freshman, who also happens to be flunking Algebra. Is she ever in for a surprise.
First Mom announces that she's dating Mia's Algebra teacher. Then Dad has to go and reveal that he is the crown prince of Genovia. And guess who still doesn't have a date for the Cultural Diversity Dance?
The Princess Diaries is the first book in the beloved, bestselling series that inspired the feature film starring Anne Hathaway and Julie Andrews.
Princesses of Myth by Esther M. Friesner (Begin with Nobody's Princess)
Helen of Sparta wants to be more than a princess and a pretty face—she wants to be a hero.
The traditions of ancient Sparta would have Helen know her place: a beautiful princess, a loyal daughter, a perfect bride. But Helen wants adventure, and she's not looking back. Not one to count on the gods to take care of her, she sets out to see the world and seek her own fate with steely determination. Her rebellious will makes Helen dangerous enemies—such as the self-proclaimed "son of Zeus" Theseus—but it also gains her true friends, from the famed huntress Atalanta to the young priestess who is the Oracle of Delphi. If she is strong enough, if she is cunning enough, if she is brave enough, Helen will find her destiny . . . but what does destiny have in store for her?
In Nobody's Princess, author Esther Friesner deftly weaves together history and myth as she takes a new look at the girl who will become Helen of Troy. The back of the book includes further facts about Helen of Troy and Ancient Greece. Hand to readers who love Tamora Pierce and Leigh Bardugo, particularly if they just finished Wonder Woman: Warbringer and want to know more about Helen of Troy.
Throne of Glass by Sarah J. Maas (Begin with Throne of Glass)
After serving out a year of hard labor in the salt mines of Endovier for her crimes, 18-year-old assassin Celaena Sardothien is dragged before the Crown Prince. Prince Dorian offers her her freedom on one condition: she must act as his champion in a competition to find a new royal assassin.
Her opponents are men-thieves and assassins and warriors from across the empire, each sponsored by a member of the king's council. If she beats her opponents in a series of eliminations, she'll serve the kingdom for three years and then be granted her freedom.
Celaena finds her training sessions with the captain of the guard, Westfall, challenging and exhilirating. But she's bored stiff by court life. Things get a little more interesting when the prince starts to show interest in her… but it's the gruff Captain Westfall who seems to understand her best.
Then one of the other contestants turns up dead… quickly followed by another. Can Celaena figure out who the killer is before she becomes a victim? As the young assassin investigates, her search leads her to discover a greater destiny than she could possibly have imagined.
The Tiger Saga by Colleen Houck (Begin with Tiger's Curse)
The last thing teenager Kelsey Hayes thought she'd be doing over the summer was meeting Ren, a mysterious white tiger and cursed Indian prince! When she learns she alone can break the Tiger's curse, Kelsey's life is turned upside-down. The unlikely duo journeys halfway around the world to piece together an Indian prophecy, find a way to free the man trapped by a centuries-old spell, and discover the path to their true destiny.
---
Want more YA book series? Check out these YA book series to devour (there's some crossover, but not a lot!) and take this fun quiz to discover your next perfect YA fantasy series.