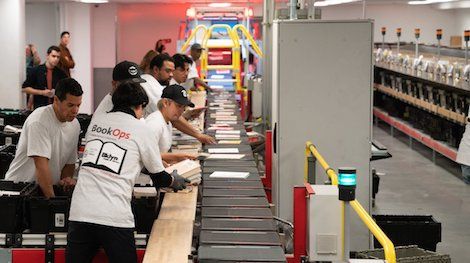 The Competitive Book Sorters Who Spread Knowledge Around New York: Critical Linking, November 16, 2018
Critical Linking is sponsored by our $250 All the Books Barnes and Noble gift card giveaway!

---
In each sorting team, one member stacks arriving books, while the other deftly shuttles them onto the pads. It's a simple proposition but a complicated task, requiring the nimble dexterity and improvisational flair of a jazz drummer. The sorting teams are in sequence along the belt, so not every pad is unoccupied as it passes by—the pattern is always changing. Sometimes, five open pads roll by in a row, allowing Angel Cortez to lay books down at evenly timed intervals, gently flicking them so that each one lands with an audible "thwack." But just as his wrist locks into rhythm, it's now every other pad that's open, so he adjusts. Then it devolves into a random free-for-all, and it becomes far easier to miss one—or several. Missed pads are inevitable, sure, but each one chips away at that goal of 12,800.
Competitive library book sorting. This is amazing!
____________________
The best of this year's fiction deals with prisons of all kinds — literal ones, but also dead-end jobs, luxury apartments and uncomfortable home states. Vibrant protagonists struggle against the confines of their worlds in novels by the likes of Rachel Kushner, Tayari Jones, Ottessa Moshfegh and more. But as with all great stories, there's hope to be found in these pages. There's resilience to be gained and hard-earned escapes to be savored. Here, the best fiction books of 2018.
Time Magazine picks their top 10 fiction titles of the year. Agree? Disagree?
____________________
The CW is developing a drama series based on the book "The Strange Case of the Alchemist's Daughter" by Theodora Goss, Variety has learned.
The series is set in Victorian London and follows two radically different young women–one the daughter of Dr. Jekyll; the other, Mr. Hyde. They discover they're half-sisters when a series of gruesome murders appear connected to their deceased father. They unite with other unsung but remarkable daughters of famous literary figures to rise above societal norms and unearth the mystery of their origins.
Ohhh!!!