This post was originally published at Panels, our sister site about all things comics! Check out more from them here.
_______________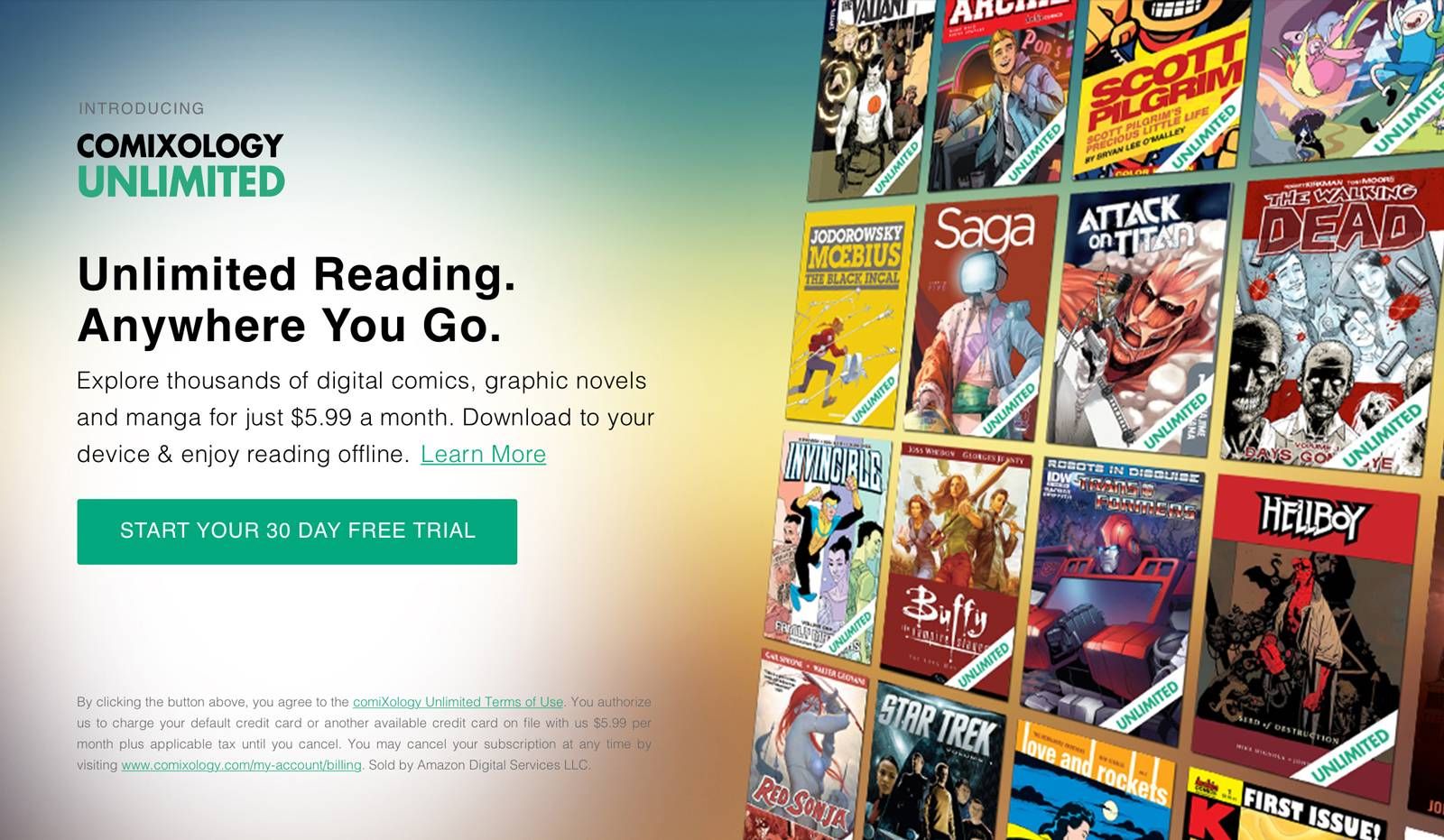 We at Panels do everything we can to bring new readers into comics and help people find new-to-them comics, so you can imagine that the Panels hive mind was intrigued when we saw that Comixology was debuting an unlimited service. For $5.99 a month, you can read as many comics as you want, as long as they are available on their Unlimited platform.
Of course, I signed up for this the first second I could, and I've had time to take it for a test drive, and I actually think it's pretty great if you think of it as a discoverability service and not a binge-reading service. Here's a breakdown of how the service works, and what your $5.99 a month gets you (and what it doesn't).
First, not every title is included. Not even most titles are included. The Big 2, Marvel and DC, are not available, but titles from publishers such as Image, Dark Horse, BOOM!, Fantagraphics, and many more are. If you're looking for your daily dose of capes and tights comics, Marvel Unlimited is the way to go. (Sorry, DC fans.)
Second, it's mostly first volumes. This isn't a subscription service that you get in order to binge every series you've ever wanted. This is much more of a discovery service. Find a series you like, read the first volume (popular series such as Saga, Lumberjanes, Attack on Titan, and The Wicked + The Divine are included), and then go buy the rest of the series if it interests you. I've seen quite a bit of complaining about this on Twitter, but it's actually very smart. I've always advocated for pricing first volumes very low because it encourages people new to comics to pick them up (and that usually spurs them to pick up more and more and more comics). The Comixology Unlimited service makes them accessible, easy to find, and easy to read. And at a price point less than a single trade per month, very affordable.
"But I want to binge read series," you might say (and indeed, that was my first thought, so I don't blame you). At this price point, it's not financially viable. There's room for Comixology to introduce a higher priced tier that includes full series, and they may very well do it if this initial subscription service does well. (And I would probably subscribe to this). But this is much more of a discoverability service than "binge read everything" service, and I'm pretty impressed with it. It allows you to find new series at a set low cost while still being supportive of creators by buying later volumes in the series—encouraging readers to find series they like and immediately go buy the rest of it.
Third, titles will cycle in and out. Like Netflix, the titles that are available now will not always be available. Again, makes sense with licensing agreements. The breadth of titles available currently is pretty great.
Fourth, the experience is all within one app and is seamless with your current Comixology library. This is important, because you don't have to download a second app in order to use the Unlimited service — it's all on the same app, which makes using it really easy, especially if you already use Comixology.
Fifth, it's U.S. only right now. Even our friendly northern neighbors, Canada, aren't able to sign up. (This caused much consternation in the Panels back channels.)
There are still a lot of questions about the app—How often will titles be updated? What are the royalties like for creators?—but my first impressions are very positive, within the confines of what Comixology says they are trying to do: target newer readers of comics or people looking to discover new comics. This service seems tailor made for them, and I'm definitely planning on keeping my subscription active—after all, it's really really hard to argue with that price point.
Sign up for a 30-day free trial of Comixology Unlimited, $5.99 a month after the first month.