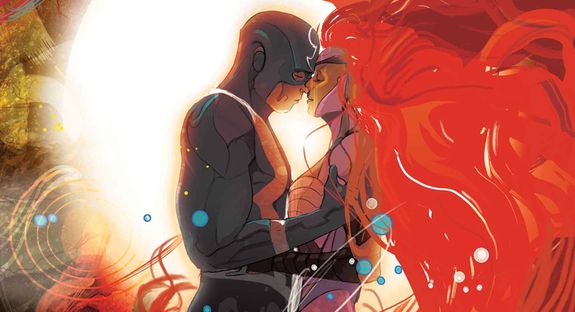 This content contains affiliate links. When you buy through these links, we may earn an affiliate commission.
The first week in April, alas, brought us the final issue of Saladin Ahmed and Christian Ward's Hugo nominated Black Bolt. The 12 issue run is remarkable for many things: the Inhuman king's first solo outing, the exploration of this most royal of Inhuman's humanity, and for Black Bolt's previously impossible reconciliation with his son and his Queen.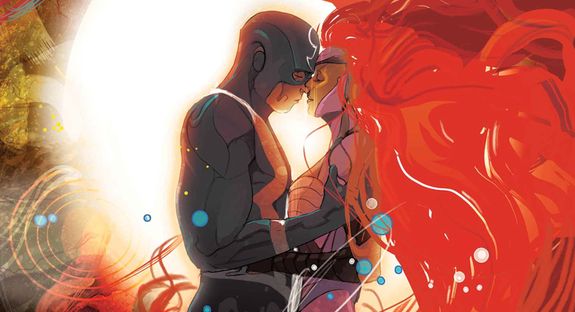 One of the most incredible things about the comic, however, is Christian Ward's art.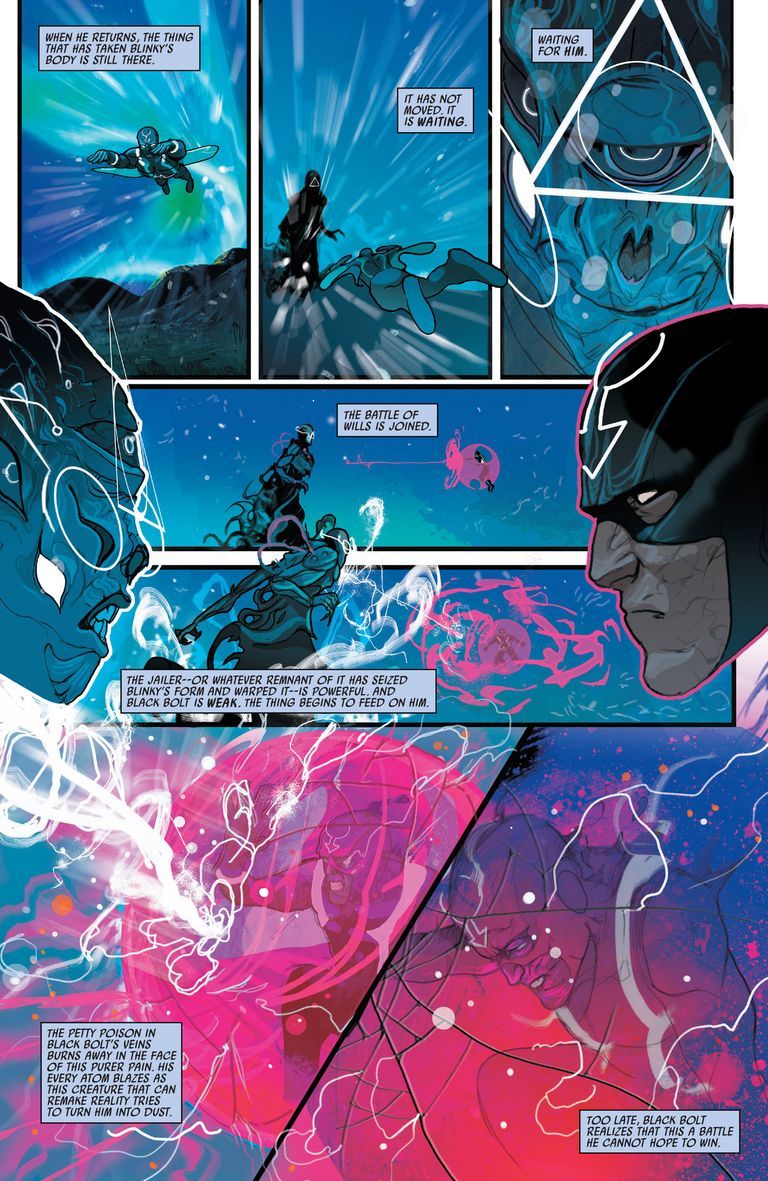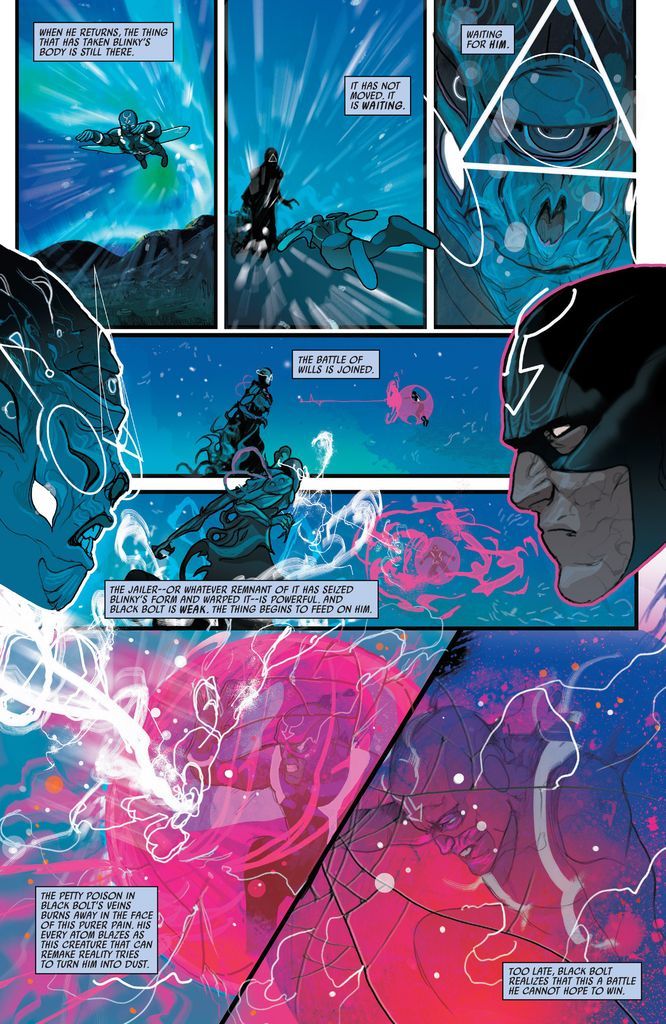 Kinetic, frenetic, and vivid, Ward uses a palette increasingly popular among comic artists, one that is a far and welcome cry from the limited primary colors of yesteryear. The neon pinks and blues, in direct contrast with the darkness of the story, accentuate the terrible and terrifying moments while lifting the joyous ones; the deeper tones ground the fantastic and connect the worlds, even those in deep space, to our own.
Yeah, I'm going to miss this one.
Fear not though friends! While there's nothing quite like Black Bolt, there are other books out there whose art you'll fall in love:
ODY-C by Matt Fraction and Christian Ward (Image)
This one flew a bit under the radar, which is a shame, because its beauty is otherworldly and it's a gender-flipped, queer, future-set version of The Odyssey. This was the first Ward book I saw (though not his first book) and I was immediately hooked on his style. It's also much like I imagine the experience of living through the '60s was, in art form. Quite frankly, I'm a sucker for artists who do their own colors (there are, of course, some most excellent colorists out there) especially in books that stand apart from the capes and tights brigade, because I feel, in many of those instances, I get to absorb a more cohesive vision and get inside the artist's head a bit, which, as a former art history minor, I'm always thrilled to do. Especially since, as a former art history minor, I remain a terrible artist myself but continue to adore studying the innovations and changes therein.
The Mighty Thor by Jason Aaron, Russell Dauterman, Valerio Schiti, and Matthew Wilson (marvel)
In complete contrast to what I said about ODY-C, Mighty Thor uses pencilers, inkers, and a colorist to no less effect than many books where one artist is filling all of the roles. Though I don't have many good things to say about Marvel Comics at the moment, I will give their editorial staff kudos for an ability to put together artistic teams who work well as cohesive units. This book has, for the last several years, been one of my favorites art-wise (and story-wise), with Dauterman and Schiti giving weight and gravitas and physical presence to the characters and Wilson adding the necessary flair of fantastical with otherworldly colors and an incredible command of texture and reflectivity.
Blackbird by Sam Humphries and Jen Bartel (Image)
There isn't much information available on Blackbirds yet; it doesn't launch until October. What we do know is that it's the story of a young woman who believes in magic—and is eventually proven right. As though being described as "Harry Potter meets Riverdale" at this year's Image Expo wasn't enough to whet your appetite, Bartel's involvement means the art will be magical in and of itself; her ability to human and badass seamlessly, to capture subtle emotion in the set of an eyebrow or the position of a hand, to use color and shadow to enhance one another, is something very special for anyone who has the opportunity to experience it.
Curse Words by Charles Soule, Ryan Browne, and Jordan Boyd
Curse Words is pure, unadulterated fun. It's about a bunch of wizards and demons who run back and forth between our world and the Hole Dimension, some of whom intend to do harm and some of whom think they're attempting to do good. All of them are straight up dicks with the exception of Margaret, a mysterious figure who, as we set out on our journey with her human, Wizord, inhabits the body of a koala, and who later transforms into a platypus. Wizord, whose level of magical charge is indicated by the length of his wizardly beard and who lives the life of a rock-star while screwing up just about every attempt to protect humanity from the blatant baddies (he, for example, evaporates a whole stadium full of people. And the stadium), is brought to glorious life by Browne as a sort of sexy young Gandalf who enjoys bright colors, reflective shades, and blowing stuff up. Like the art in Black Bolt, Curse Words is almost eerily kinetic, as close as we're ever going to come to the moving pictures which illustrate books in Harry Potter's world, and every time I pick up an issue I'm impressed anew by how alive Wizord, Margaret, and their compatriots are. I also laugh my ass off, so win/win. Warning: this one is for mature audiences only.
Monstress by Marjorie Liu and Sana Takeda
Takeda uses a much more muted palette to illustrate Liu's mythological, kaiju-infused steampunk epic, but her style grips the reader as surely as Browne's supercharged lightening or Ward's nebulas. The characters inhabit this world of swirling mists and filigree, of soft fur and brutal metal, as surely as Black Bolt does his prison or Earth. I always feel as though if I touch the pages of Monstress, I'll be able to experience the story with all five of my senses—and not in the way my synesthesia lets me taste green when I look at a Van Gogh, but solidly, the same way I do when I eat grapes or wrap up in a blanket straight of the dryer or get caught in the rain. While the story itself is fantastic, the art adds an immersive layer that can sometimes be off-putting, but, in the case of Monstress, is so masterful you can't help but be drawn in.
It used to be that writing comics wasn't considered "real" writing. As characters and stories have become more sophisticated, as authors move between short and long form, as comics have entered mainstream pop culture rather than being relegated to "kid" stuff, that's changed. Unfortunately, the view of comic artists is lagging behind and there's a lot of chatter about whether or not comic art is "real" art. It is. Go enjoy it as such.