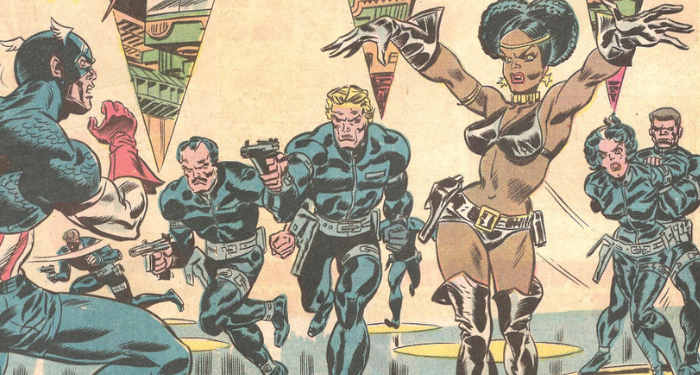 This content contains affiliate links. When you buy through these links, we may earn an affiliate commission.
What is a superhero without a supervillain? Not much. Some supervillains, however, are worth a lot more than others. I have therefore decided to spotlight some lesser-known villains. Are they underrated gems or irredeemable losers who deserve to be forgotten? You decide! Today's subject: Deadly Nightshade!
Tilda Johnson grew up poor in Harlem, where she learned there were only two ways to make something of yourself: study hard, or turn to crime. Tilda did both, teaching herself about just about every topic imaginable and using that knowledge in a disparate series of illegal schemes.
Tilda first appeared in the absolutely bonkers Captain America #164. Calling herself Deadly Nightshade, Queen of the Werewolves, she used funds from the villain Yellow Claw to develop a serum that turned prisoners into werewolves, whom she called her "babies." She has total control over the werewolves and, as we later learn, men in general…but only at night or with no direct sunlight around.
Upon catching wind of her plot, Cap and Falcon went to investigate. Cap noticed right away how "childlike" she seemed. In a later issue, she claims she was born in 1957, which would make her 16 here.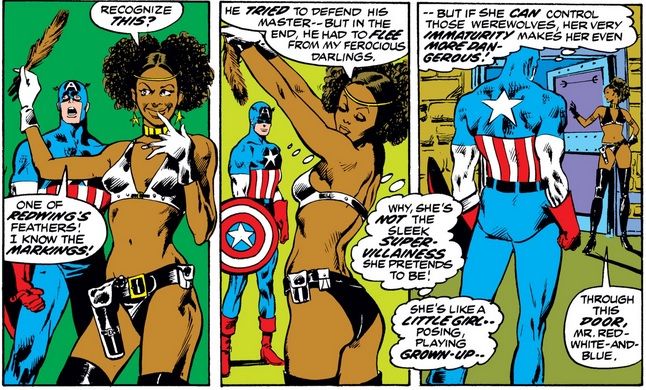 When her scheme failed, Yellow Claw cut off her funding. Nightshade continued to demonstrate her immaturity, bursting into tears and crying how she wanted to feel important and not "hopelessness" for once. But Yellow Claw was unmoved, and Nightshade led her werewolves in a suicidal leap from the prison tower.
Notable Appearances
As revealed in Captain America #190, Nightshade survived because there was a river beneath the prison, and she just happens to be an Olympic-level diver. Her "babies" did not fare so well, but despite her pet name for them, she doesn't seem to have any actual emotional attachment and mourns them not a jot.
Captain America #389-391
This marks the beginning of a transformation for Nightshade. She traded in her skimpy outfit and immature attitude for a high-ranking position in an all-female "army" run by Superia, who wanted women to take over the world. It's a bad storyline, frankly. But Nightshade's role in it is interesting, if limited.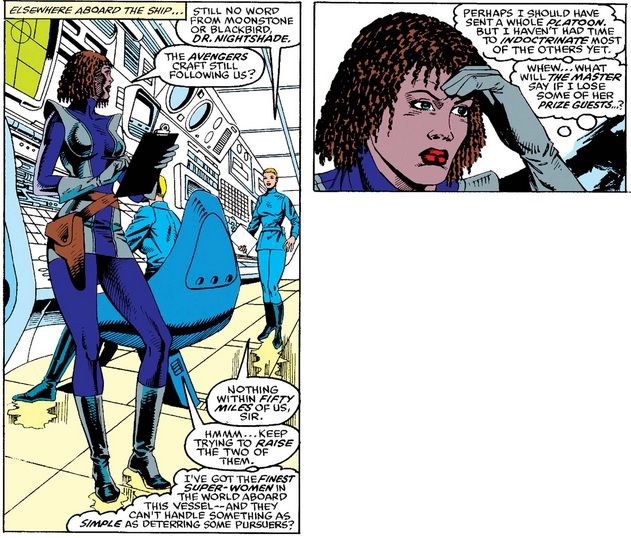 Nightshade is completely unrecognizable from her previous appearances. She even goes by "Dr. Nightshade." I don't know if she actually got a doctorate since her last appearance, but she's certainly smart enough to have earned the title regardless.
We also see that she is far smarter than Superia: Nightshade thinks that they should just kill Captain America outright, but Superia keeps him alive to experiment on him. This definitely does not backfire on her at all!
Black Panther #38-40
Nightshade first tangled with Black Panther in Issue 16, but I went with this appearance because she gets to do more — she resurrects two guys who were dead or comatose, with very bad consequences — and because this is where her backstory starts to get muddled.
Originally, she was a very self-motivated teen with little formal education. Here, they claim she actually was a genetic scientist, complete with Ph.D., who got "bored with academics." She also starts calling people "sugah," like she's from the South. South Harlem, I guess? Who knows.
She's also starting to be taken more seriously as a villain, with Iron Fist expressing a complete lack of surprise that she can take on multiple opponents simultaneously and win.
And she…knows Iron Fist's secret identity? I must have missed that issue.
Super-Villain Team-Up/M.O.D.O.K.'s 11 #1-5
This fun miniseries revealed that, after tangling with Panther, Nightshade tried to go straight. Unfortunately, she was smarter than her bosses. They did not like that.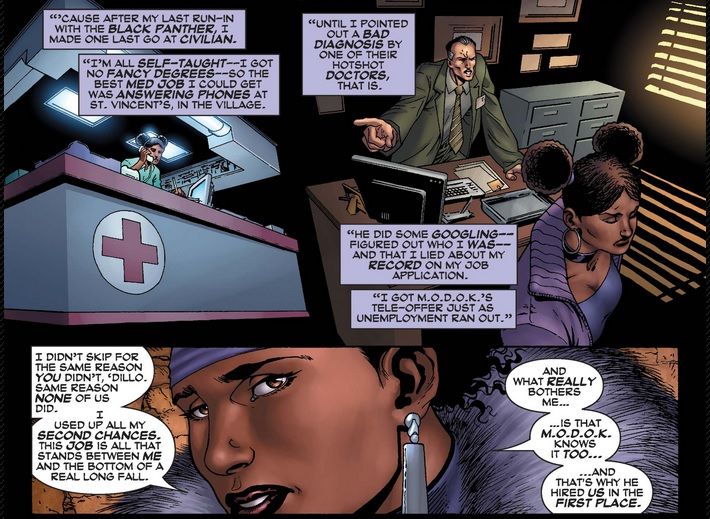 M.O.D.O.K. recruited Nightshade and other desperate, down-on-their-luck villains to steal a perpetual energy machine for him. It goes sour real fast, with each villain looking out for their own interest.
Nightshade, however, was one of a handful of M.O.D.O.K.'s "minions" to show genuine concern for others. She even risked her life to save one of her teammates, wielding a few of Mandarin's Ten Rings like a badass to do so.
Nighthawk #1-6
Nightshade eventually gave reform another shot and went to work as back-up for Nighthawk, who is basically Batman but angrier. Nightshade — now going by her real name, Tilda Johnson, even though the "night" theme was right there — does not object to the violence, but she doesn't like having to sit back at headquarters while he has all the fun.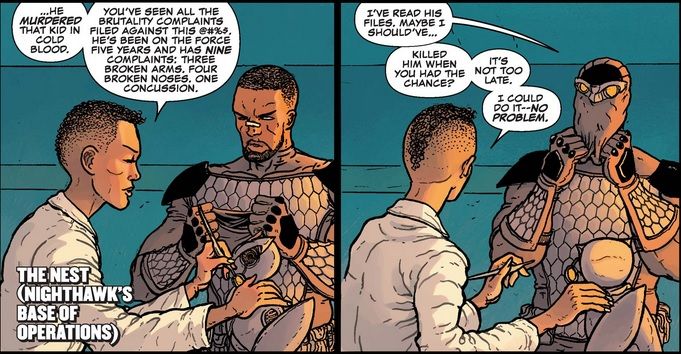 Given her hardscrabble upbringing in Harlem, it makes sense that Tilda would work for a hero who specializes in beating up crooked cops and others who systematically make life harder for Black people.
Occupy Avengers #3-9
Occupy Avengers #4 tells us why Tilda is working with Nighthawk. She fell in with a worse crowd than usual and was about to be shot to death. She had just decided that she would reform for good if she survived, and then Nighthawk saved her and threatened to kill her if she didn't work for him. A match made in heaven.
Unfortunately, this series got derailed by the "Secret Empire" event, in which Nighthawk was killed. But that did give Tilda the chance to honor his legacy by becoming the new Nighthawk. For two whole issues, she got to be an official superhero instead of a supervillain.
Anything Else?
Tilda's most recent appearance was in Captain America: Symbol of Truth earlier this year. We learned she attempted to move to Wakanda. After Sam Wilson mucked up U.S.-Wakandan relations, she and other Americans fled to Wakanda's northern neighbor, Mohannda, just before a political assassination plunged the nation into turmoil.
When Sam/Captain America showed up to try to fix the situation, Tilda was less than thrilled to see him, obviously. (And the feeling was mutual, since she turned him into a werewolf in her first appearance.) She still helped him save lives, though.
Nightshade was also featured in the novel Shuri: The Vanished as a villain. As far as I know, this is her only appearance outside of the comics to date.
As of June 2023, there is a new Nightshade in town. She will make her debut in Marvel Voices: Pride, so she is definitely L, G, B, T, and/or one of the other letters. Which one — and whether she has any connection with Tilda — remains to be seen as of this writing.
The Verdict
It's a moot point now, since Tilda is no longer a bad guy, but I'd say that she was an uncut gem in her villain days: the potential was there but never exploited.
With the really great villains, their goals and enemies are obvious. You never sit around scratching your head over what Lex Luthor wants out of life or who Doctor Doom's nemesis is. Nightshade is all over the place. Her primary area of expertise — genetics versus robotics — changes depending on what story the creators want to tell. Her schemes are just as scattered: sometimes she's stealing special artifacts, other times she wants money and power, and still other times she just wants to conduct unethical science experiments.
You can't even look to her archenemy for a sense of focus, because she doesn't have one. She's fought everybody from Captain America and the X-Men to Black Panther and Power Man, but none of them could be considered her main antagonist.
(For what it's worth, Nightshade herself seems to view Captain America as her nemesis. She mentions him several times in Nighthawk and Occupy Avengers.)
Though she's only been a hero/anti-hero since 2016, Tilda-the-good-guy seems to be facing the same problem. She pops up in different capacities wherever and whenever the writers want, with little regard for her past adventures. She's had such a fascinating character arc that it'd be a shame for her to continue wallowing in obscurity because of this. Honestly, they should have just let her be Nighthawk forever — that would be the ultimate redemption for this self-taught Harlem wunderkind.
---
Want to meet more overlooked villains? Check out my profiles on King Tut, the Matador, Peek-a-Boo, Man-Killer, Mad Mod, Big Wheel, KGBeast, the Living Monolith, Egg Fu, Mahkizmo, the One-Shot Special, M.O.D.A.M., and Lord Manga!