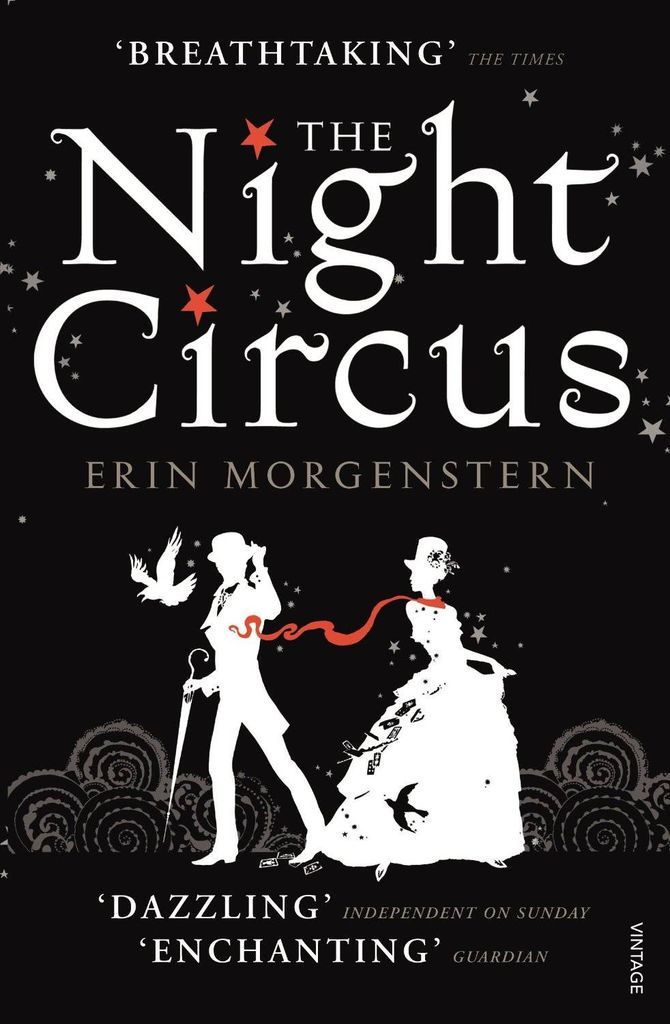 In the Comics Recommendation Engine, we recommend comics for your favorite books.
Books filled with magic and thick, rich atmosphere have always been favorites of mine. When I read The Night Circus, by Erin Morgenstern, I found those favorite qualities in spades. I felt like a kid again…as if I'd entered into a world of wonderful otherness and I didn't snap out of it until I turned the last page. If you're not familiar, The Night Circus is about two children who are raised by magicians to be magicians, and they are locked into a years-long magical duel without their consent. Their lives revolve around a mysterious traveling circus brimming with fantasy, intrigue, and pain. The characters are unique and vivid, the settings are equally so, and the sum of all the parts is one of the most immersive books I've had the pleasure of reading, and all of these comics remind me of it in some way.
Tim Burton's Edward Scissorhands film was great for a number of reasons, but so much of that draw was Burton's quirky humor, beautiful costuming and distinctive set design. It was such a rich viewing experience that reminded me very much of the imagery in The Night Circus. Dark corners, strangely talented characters too far out of the norm to exist in the mainstream, and a lurking, ominous feeling…something waiting to explode. This comic book continuation of Edward Scissorhands from IDW, by Kate Leth and Drew Rausch, is a worthy successor to the film, and it's certainly a similar reading experience to Morgenstern's creation.
Gotham Academy, by Becky Cloonan and Brenden Fletcher (DC), totally fits the bill. I hate to whip this out too soon when I'm discussing The Night Circus, but here it goes. At times, when I was reading it, I felt like I'd wandered into a grown-up version of Harry Potter. Some of that same feeling carries over to Gotham Academy. Specially-chosen students in a magical school full of mysteries, monsters, and mayhem? Yes, please! The illustrations in this series look a lot like what I pictured in my head when I was reading The Night Circus: lots of darkness and shadow with brilliant pops of color. Plus, it's so much fun.
Holly Black's young adult graphic novel series, The Good Neighbors (Kin, Kith, and Kind), definitely plays on otherworldly phenomena. Rue Silver is daughter to an unnaturally beautiful woman and a professor. Early on in the series her mother goes missing, and a local college student is killed. Rue's father is blamed for the murder, and the officials assume he's offed his wife, too. Rue refuses to believe it, and soon she's seeing very odd things: faeries. As it turns out, her mother is one, and so is she. Gorgeously illustrated, this series is all drama and intensity. Faeries are not the nice, fluttery pink and green things of Tinkerbell tales. They're beautiful, dangerous, and out to protect their own agendas just like some of the cutthroat characters from The Night Circus.
Finally, Arcane Secrets, by Angel A. Svoboda, is a comics series you may not have run across. It's published by Amigo Comics, a Spanish-owned company publishing creator-owned works. This particular series is over-the-top antics, whimsy, fun illustrations, and it reminds me of some of the lighter-hearted moments from The Night Circus. Doctor Ment and his companion, Harry Callahan, face down wonky, hilarious, scary-to-them monsters. Ancient artifacts are being lost and if these two don't retrieve them the minions of Cthulhu will! This series is meant for all ages, and I'm sure it would be a big hit with the younger set in your life.
____________________
Follow us on Facebook for more comics fun.