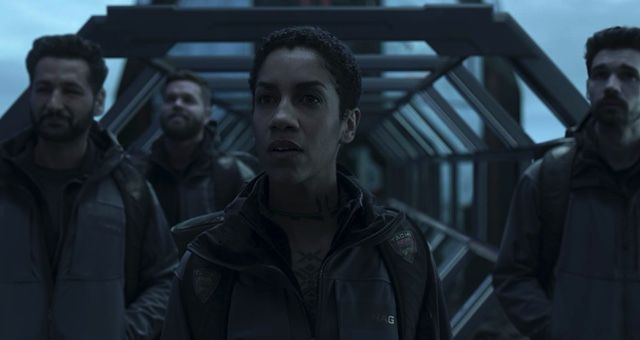 This content contains affiliate links. When you buy through these links, we may earn an affiliate commission.
The Expanse was one of the best shows on television. Until Syfy did what Syfy does and cancelled it after only three seasons. For months, fans of the show (myself included), the self proclaimed Screaming Firehawks, along with the cast, writers, and crew, lobbied for someone, anyone, to pick it up and, after what seemed like forever, Amazon Studios answered the call.
After a wait of a year and a half (during which many of us rewatched the first three seasons multiple times), seasons four dropped and we hit play, hoping that the show would be at least as good as it had been before.
It's better.
Like many streaming shows, however, The Expanse is a limited one: the new season is comprised of only nine episodes. It's a little easier to tolerate knowing season 5 is already filming but, having finished the last episode, (and The Mandalorian), I now find myself out of sci-fi…
Just kidding. I know where to find some comics like The Expanse…
The Expanse: Origins by James S.A. Corey, Hallie Lambert, Georgia Lee, and Huang Dunlan (Boom!Studios)
If you want to get literal, there are The Expanse comics written by the authors of the books (Corey together, Daniel Hanover and Ty Franck separately) and other members of the show's writing team. Each issue explores the background of one of the Rocinante's crew members, where before we've only gotten snippets in context (with the exception of Amos Burton's childhood, which was explored in the novella, The Churn). There's also a brand new Joe Miller story that hasn't been included in any other media.
Kim and Kim: Vol 3: Oh S#!t, It's Kim and Kim by Magdalene Visaggio, Eva Cabrera, Claudia Aguirre, Zaak Saam, Kirsten Thompson, and Phillip Sevy (Black Mask)
The ultimate in, "Be Gay, Do Crimes," Kim & Kim follows lesbian space bounty hunters through the trials and tribulations of being, well, lesbian space bounty hunters. The action is graphic, the dialogue hilariously snappy, and the art work kinetic and bright. Wildly colored hair, tattoos, and danger abound and the only thing that's sure in the wide universe is Kim D and Kim Q's love for one another.
On a Sunbeam by Tillie Walden (First Second)
A departure from Spinning, Walden's memoir of competitive figure skating, On a Sunbeam is a science fiction story following two timelines: one belonging to a crew that travels the universe rebuilding ruins in an attempt to understand the past and another of two girls who meet in boarding school and fall very much in love, only to suffer the pain of loss.
Martha Wells, author of the Murderbot Diaries, is quoted on the jacket: "On a Sunbeam is a slow-burn romance and a found-family space opera adventure with an engaging case of characters in a gloriously strange setting that is brilliantly original." Walden herself says, "I wanted to set a story in space. This is what happened. Includes many gays, ancient buildings, mystical creatures, boarding school and family.
You can read the entire book for free on Walden's website.
Star Wars: Lost Stars with original story by Claudia Gray and adaptation/art by Yusaku Komiyama (Yen Press)
Thane Kyrell and Ciene Ree have no intention of staying on their backwater planet forever. A chance meeting with Imperial Grand Moff Tarkin affords both the opportunity to attend the Imperial Flight Academy and realize their dreams of being not just pilots, but two of the best pilots in the galaxy. Circumstances at the Academy continue to drive wedges between the childhood friends and yet, they find ways to come together again.
At least until the destruction of Alderaan by the Death Star.
Having witnessed the massacre from the battle station, Thane can no longer in good conscience fight for the Empire, and joins the Rebellion. Ciene, though appalled, holds honor in highest regard, and hers won't allow her to violate the oaths she made to the Empire for any reason. Despite friendship having grown into love, Thane and Ciene find themselves on opposite sides of an uncrossable divide and must learn to live with the consequences of their decisions.
E.X.O.: The Legend of Wale Williams by Roye Okupe, Ayodele Elegba, Sunkanami Akinboye, and Raphael Kazeem
Now collected into two trades (Part One contains issues 1–7 and Part Two 8–15), E.X.O.: The Legend of Wale Williams is set in Nigeria, author Roye Okupe's birthplace, and in the year 2025. When William's father goes missing, Wale inherits a supersuit he has no idea what to do with and doesn't particularly want. After five years of running from destiny, Williams returns to Lagoon City and begins to investigate his father's disappearance as well as learning the suit's capabilities. Realizing that he is the only one with the power to do so, Williams begins to use the suit to save his city from attacks by the extremist group CREED.
---
Science fiction was invented by a young woman who was tired of listening to men wax poetic on the virtues of their own work (and themselves) and comics have admirably carried on the tradition of instilling wonder while challenging us to do better. To be better. To love fully, to take responsibility, to live lives that matter.
These comics also remind us excellent sci-fi doesn't have to be a weighty tome selected from that stilted and ugly edifice called canon.